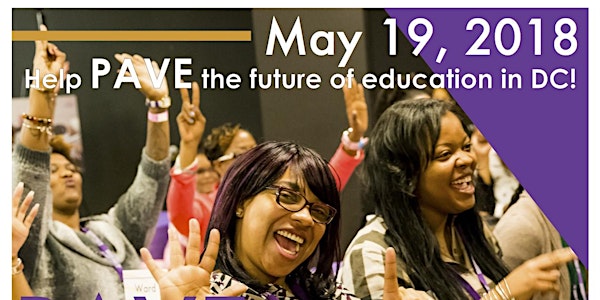 The 2018 PAVE Parent Policy Summit
When and where
Location
Elsie Whitlow Stokes PCS 3700 Oakview Terrace Northeast PAVE c/o WeWork Washington, DC 20017
Description
Please join us for the Second-Annual PAVE Parent Policy Summit!
On Saturday, May 19th, parents and caregivers from across DC will take the lead and decide the direction that PAVE (Parents Amplfiying Voices in Education) will take next year!
The PAVE Parent Policy Summit (P3 Summit) gives parents a chance to share the very issues that they have identified as most critical to their children's education. Parent vote for the two issue areas that they believe should be the focus of parent leaders' work in the coming year. By the end of the event, we will create a parent-driven policy agenda for PAVE, and help parents and attendees to come together around education issues in our city, as we work to build an education system that is created not just for, but by and with families. Breakfast, lunch, and childcare will be provided.
Event: The 2018 PAVE Parent Policy Summit
Date: Saturday, May 19, 2018
Time: 9am - 1pm
Location: EW Stokes's Brookland Campus (3700 Oakview Terrace, NE)
The event will open with breakfast and a resource fair. Organizations from around the city will have tables set up to talk with you about what they have to offer you and your family! After breakfast, programming will kick off with presentations from parent leaders and guest speakers. We will close the event with a family lunch, and will reveal the results of the parent vote for PAVE's issue areas of focus for the coming year.
For more information, please visit www.dcpave.org/ppps for updates, or contact us at organizers@dcpave.org or 202-677-9412. Para espanol, llama a Billy: 202-656-6093.
#PAVEtheway #PPPS