Description
THE 2017 MAXIM PARTY
Headlining Entertainment by Travis Scott
Special DJ Set by DJ Khaled
Saturday, February 4th, 2017 @ 8PM
Smart Financial Centre
Houston, TX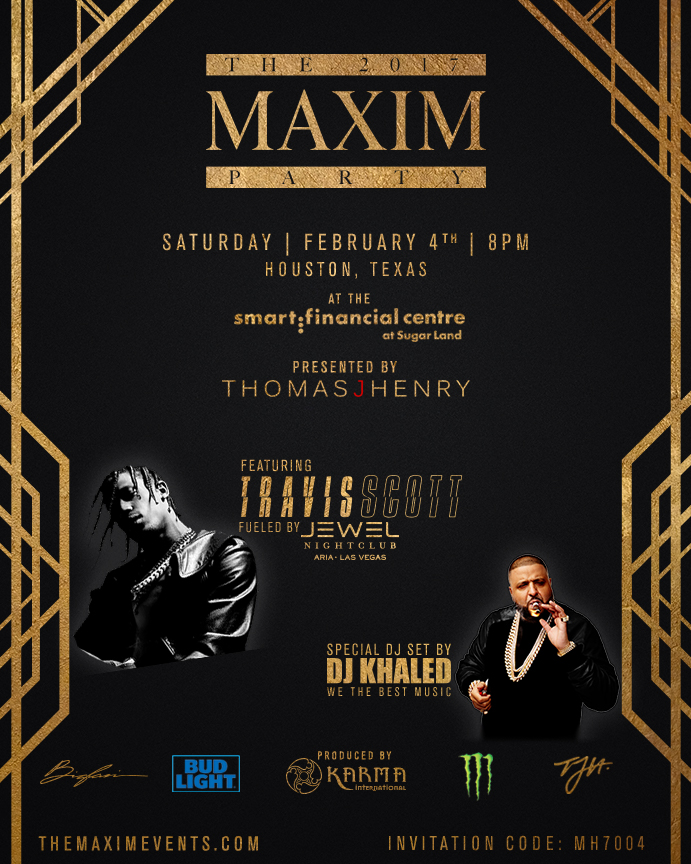 Purchase 2017 Maxim Super Bowl Party Tickets on our Official Website:

Official Invitation Code: MH7004

For the last decade, The Maxim Party has been in a class all its own as one of the most sought-after parties of the year…

In 2016, Maxim upheld its dominance in San Francisco as the #1 party for the Big Game Weekend for the 10th year in a row by taking over Treasure Island with 3,000+ attendees, celebs, VIPs, tastemakers and the world's top press.

Maxim will once again raise the bar during this milestone weekend of sports and over-the-top events in Houston, Texas on February 4, 2017 during Super Bowl weekend.

At The 2017 Maxim Party art, fashion, music, and sports collide for the ultimate immersive and exciting party experience with multiple interactive areas, live artistic vignettes, celebrity music performances, theatrical lighting, concert level sound, and several unique activations including the opportunity to participate in thrilling driving experiences.

Karma International and presenting partner Thomas J. Henry Injury Attorneys are proud to announce The Maxim Party 2017 Talent Line-up with headlining performance by Travis Scott and special set by DJ Khaled . Travis Scott, a Houston born, award winning, Grammy nominated hip hop artist with his latest album topping on the Billboard 200 and currently having 2 songs on the Hot 100 Chart. DJ Khaled is a major force in the music industry, mogul, mega producer, 2017 Grammy nominated recording artist, and known as the "Anthem King".

Expect 3,000 attendees including A-List Celebrities, VIPs, tastemakers and athletes.

:: GUEST TICKETS :: $750 each Includes admission, open premium bars, food & entertainment.

:: VIP TABLE PACKAGES ::
$8,500 VIP Table 6 Tickets 2 Bottles Premium Champagne 1 Magnum Premium Vodka 1 Bottle Premium Tequila

$12,500 VIP Table 8 Tickets 2 Bottles Premium Champagne 2 Magnums Premium Vodka 2 Bottles Premium Tequila
$16,000 VIP Table 10 Tickets 4 Bottles Premium Champagne 3 Magnums Premium Vodka 3 Bottles Premium Tequila

$22,500 VIP Table 15 Tickets 8 Bottles Premium Champagne 3 Magnums Premium Vodka 3 Bottles Premium Tequila
Book Tickets & Tables, View Photos & Videos, Read Event Details at http://www.TheMaximEvents.com/ use Invitation Code: MH7004

VIP Exclusives wishes to provide you with the highest level of personal service. We include a personal VIP Host for all the events that we offer. Our goal is to make sure that your Maxim Party 2017 experience exceeds your expectations. This will be another highlight of your Super Bowl 51 weekend experience.

Please call us at 1.877.847.6267 and speak with an Official VIP Host. We will be happy to discuss the details with you, answer all of your questions and help you plan for an amazing Maxim Party 2017 experience.

#MaximEvents #SuperbowlParties #MaximParty