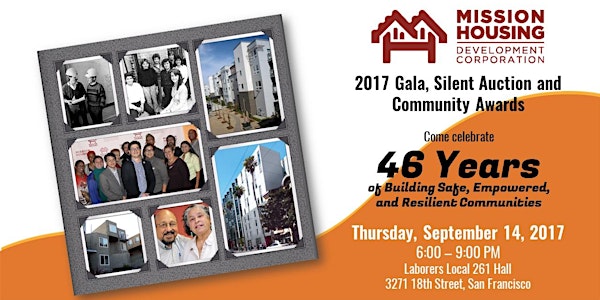 The 2017 Gala, Silent Auction and Community Awards
When and where
Location
Laborers Local 261 Hall 3271 18th Street San Francisco, California 94110
Description
September fundraising event celebrates Mission Housing anniversary; supports on-site social services
Thursday, September 14, 2017 please join Mission Housing Development Corporation for the 2017 Gala, Silent Auction and Community Awards at the Laborers Local 261 Hall in San Francisco.
The theme of the event, "46 Years of Building Safe, Empowered, and Resilient Communities" will be the basis for storytelling about Mission Housing residents who've recovered from adversity because of the affordable housing and supportive services they received.
Please join Mission Housing as we recognize two community leaders who have been empowering voices in the fight to build strong Mission District neighborhoods:
Funds raised from event sponsorships and ticket sales will strengthen and sustain important Resident Services provided to occupants of the 100% affordable housing sites operated by Mission Housing. Read about the Mission Housing Tenant Health and Wellness Fund HERE.
Several unique and interesting items will be available for bid in the silent auction. If you can donate an item to be auctioned off, please contact Marcía Contreras. Information on event sponsorships is available by contacting Tony Bear! See how your support helps Mission District residents. Watch Push Yourself from Mission Housing on Vimeo.
Developer level sponsor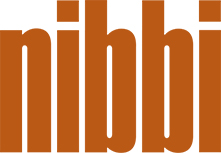 Builder level sponsor