The 2016 NYC Gifted & Talented Symposium & Benefit

Saturday, March 12, 2016 from 8:00 AM to 4:00 PM (EST)
Event Details
Parents of Pre-K through Middle School Students: 
Want a richer understanding of what it means to support your advanced learner? Considering a G&T program to support your soon-to-be kindergartener, but want to know how it differs from your gen ed, charter or districtwide options? Looking for innovative elementary and middle school programs or services to challenge your child? Want to know if your middle schooler's lack of organization is developmentally appropriate or if there are executive function deficiencies? Or are you just looking for great local & Ed Tech resources? 
The Parents of Accelerated Learners, NYC (PALNYC) is pleased to present the second biennial one-day symposium for parents, educators, education technology specialists and professionals, the 2016 NYC Gifted & Talented Symposium & Benefit on March 12, 2016.
The 2016 NYC Gifted & Talented Symposium & Benefit includes topics on talent development, social & emotional development and how to navigate the practical matters for parents and educators of NYCs high potential youth, from pre-k through middle school. As requested by NYC families, the keynote, Finding Nourishment for Advanced Learners in Today's Education Desert by Johns Hopkins Center for Talent Youth's Dr. Elaine Hansen and a Thought Leaders Conversation– The Secret Sauce: Articulating What Works in Educating High Ability Youth Citywide will focus on best practices for supporting high ability youth throughout NYC.  A Curated Exhibit Hall will feature the best and most unique programs to support the passion, interest and talent areas of our children. The Education Technology Discovery Showcase allows parents and educators to test drive innovative programs that support teachers and students in the classroom and children and their parents at home. And finally, the Michael Perelstein Discover Your Passion awardees, the third cohort of talented NYC youth with talents that include the arts, comedic performance, computer science, music and chess, will exemplify what gifted and talented education looks like in practice.
Join us Saturday, March 12 , 2016 at New York Law School in TriBeCa to:
·         Share best practices during the PALNYC Thought Leaders Roundtable– The Secret Sauce: Articulating What Works in Educating High Ability Youth Citywide, a conversation and showcase of best practices among NYCs top schools for supporting high ability learners
·         Explore a variety of schools and programs that support the cognitive, social and emotional needs of high potential youth and find the right fit for your unique child.
·         Choose from any session within multiple strands, including: Talent Development, Social & Emotional Development, Navigating the Practical, Top-of-Mind Topics and Professional Development, a dedicated strand for educators.
·         Collaborate and network with like-minded parents, principals, teachers, education consultants and specialists from some of NYC's top programs for high potential children.
·         Visit the Curated Exhibit Hall to discover local and online programs, camps and enrichment specifically focused on the talent and ability areas of your child, whether their passion is art, reading, math, animals, architecture, music, chess, dance, sports, coding, game design, theater or entrepreneurship.
·         Try out the latest at the Ed Tech Discovery Showcase with even more innovative programs available for home and school use to enhance and engage students in learning. Come see firsthand how new tools are transforming engagement and improving learning outcomes.
·         Meet the Michael Perelstein Memorial Scholarship Fund Discover Your Passion 2015 award winners, the third cohort of talented NYC youth that exemplify exceptional promise in areas such as the arts, comedic performance, computer science, music and chess.
·         Discover school programs and educational options relevant to your child, including co-ed versus single sex, boarding versus day programs, progressive versus traditional school philosophies, gifted & talented versus gen-ed programs, public versus private, charter, homeschool, online, one-to-one models– just about every option that NYC offers for your pre-K-8th grader.
The NYC Gifted & Talented Symposium & Benefit @ a Glance

Time & Date: 8:00am - 4:00pm, Saturday March 12, lunch included

Location:  New York Law School • 185 West Broadway, New York, NY

Attendees: Parents of pre-k through middle school students, educators and professionals

Registration: https://nycgt.sched.org/tickets  Tickets: $99 standard, $125 at the door

*Buy one-get one half priced; Scholarships are available for those in need

Contact: Angelique LeDoux @ 212.343.8881 or via email @ palworkshops@me.com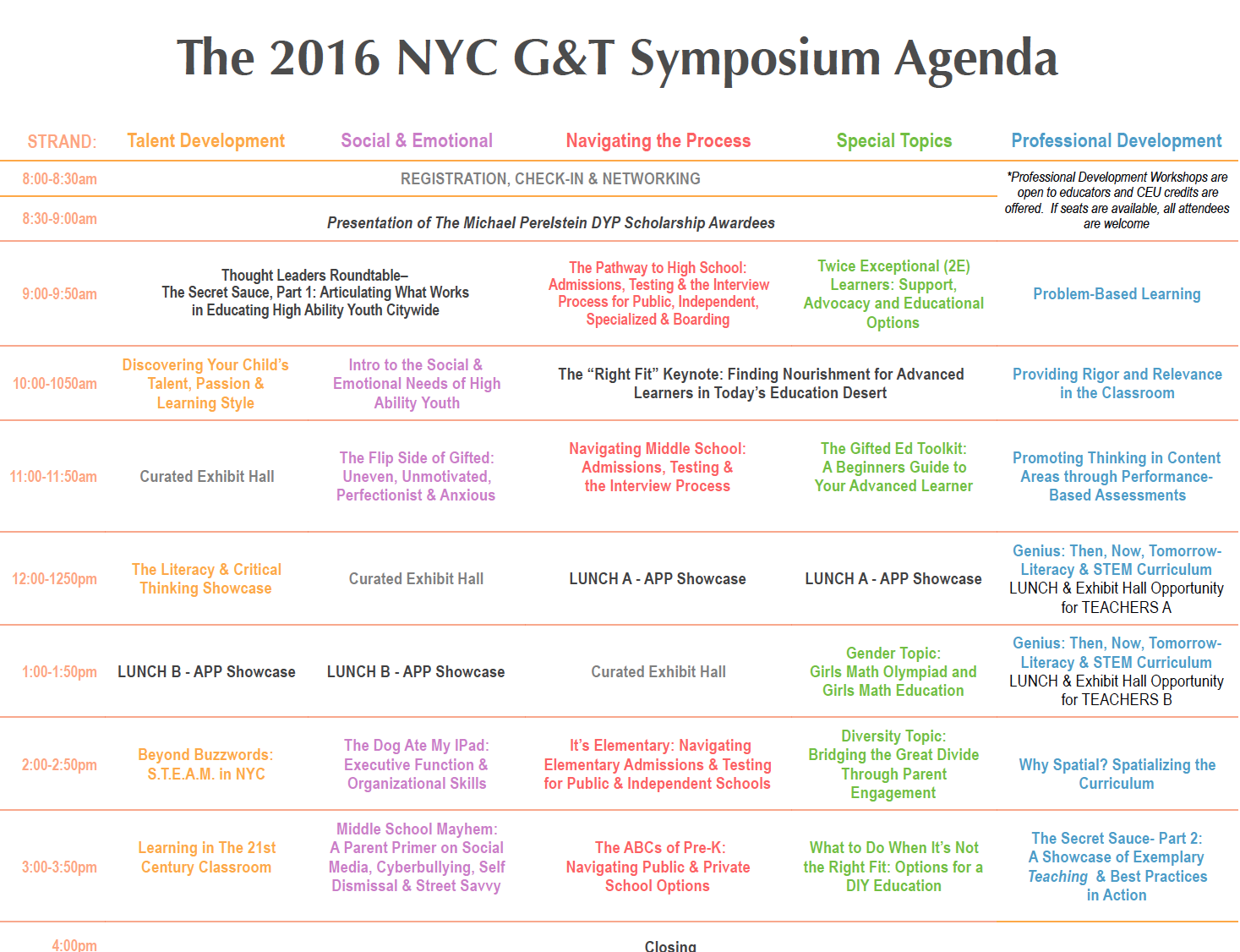 Who Should Attend?
Parents and educators, principals, mental health professionals, education researchers, ed tech specialists, consultants, school counselors, pediatricians and pediatric dentists, school nurses, and anyone who wants to join the conversation about supporting NYC's high potential youth. The content is relevant for parents and professionals from Pre-K through middle school. 
Professional Development Strand
The Symposium will also offer educators an opportunity to attend sessions for CEU in the Professional Development strand. The Professional Development strand for educators includes: Providing Rigor and Relevance in the Classroom- presented by Elissa Brown, HUNTER College; Performance-Based Assessments; Genius: Then, Now, Tomorrow- Literacy & STEM Curriculum by 92Y and Discovery Eduction; Why Spatial? Spatializing the Curriculum with Dr. Amy Shelton, Johns Hopkins Center for Talented Youth; The Secret Sauce: A Showcase of Exemplary Teaching & Best Practices in Action presented by PALNYC; Intro to Social & Emotional Needs of High Ability Youth; The Gifted Ed Toolkit: A Beginners Guide to Your Advanced Learner; Twice Exceptional Learners: Support, Advocacy and Educational Options for 2E Kids; The Dog Ate My IPad: Executive Function & Organizational Skills for Middle Schoolers; The Flip Side of 'Gifted': Uneven, Unmotivated, Perfectionist & Anxious; Math Education for Girls- Math Circles & Math Olympiads; Bridging the Great Divide through Parent Engagement and more.  To learn more about the sessions and descriptions, see The 2016 NYC Gifted & Talented Symposium & Benefit Event site.
Previous sponsors from the NYC G&T Symposium have included:
When & Where

New York Law School
185 West Broadway
New York, NY 10013


Saturday, March 12, 2016 from 8:00 AM to 4:00 PM (EST)
Add to my calendar
Organizer
The Parents of Accelerated Learners, NYC [PALNYC] mission is to collaborate with educational organizations and experts to help parents support the cognitive, social and emotional needs of their children. Our offering of support includes educational workshops for parents and teachers, talent development-based resources and programs, mentorships and networking opportunities and a discovery platform for web and app-based learning tools for kids.  
PALNYC is particularly passionate about closing the education gap in NYC by working with local outreach organizations to ensure that every parent has the resources to pursue quality education for their child.
PALNYC is the founder of the NYC Gifted & Talented Symposium, a one-day event to support parents and high potential youth. To learn more about this event or sponsorship opportunities, contact Angelique LeDoux, Executive Director and Founder of PALNYC & The P.A.L. Workshops at palworkshops@mac.com, or 212.343.8881. www.palworkshopsnyc.org.
Check out The PAL Workshops Blog for great workshops, resources and information to support your high potential learner year round. Join experts and practitioners in the field of gifted education and parent advocates in conversation about educating and nurturing NYC's high potential youth.