Description
On November 17, 2016, in cities across the U.S. and throughout the world, thousands of C-Suite and senior level executives will discuss:
Creating Change Through Collective and Individual Action: How Can We Harness Investor Influence, Legislation, Publicity, and Other Means to Accelerate Progress for Women on Boards?
---
Reception 11/16/16 - 6:00 - 8:00 PM - Sponsored by OU
Mickey Mantle's Steakhouse
7 S Mickey Mantle Drive
Oklahoma City, OK 73104
---
Main Event 11/17/16 - 7:30 AM - 12:00 PM
Oklahoma City University - Meinders School of Business
2501 North Blackwelder Avenue
Oklahoma City, OK 73106
Gardner Conference Room - 3rd FL
Emcee: Robyn Elliott, Secretary of Communications and Community Development, Chickasaw Nation
Keynote: J. Mike Stice, Dean, College of Earth and Energy, University of Oklahoma and Director, US Silica and SandRidge Energy
Table Talk with CEOs and Directors: Linda Haneborg, Principal, Linda Haneborg and Associates
Board Member Roles and Responsibilities: Jacque Fiegel, Chairman/Central Oklahoma Market, Prosperity Bank
Director Panel: Martha Burger, Co-Founder, Amethyst Investments; Nancye Green, Board Member, Hallmark; Jeffrey Hyler, Partner, Spencer Stuart; Mary Ricciardello, Board Member, Devon Energy
Acknowledgements and Meeting Close: Debbie Fleming, Adjunct Professor, Meinders School of Business; Donna Miller, Oklahoma Chapter Chair, Women Presidents' Organization
CORPORATE SPONSORS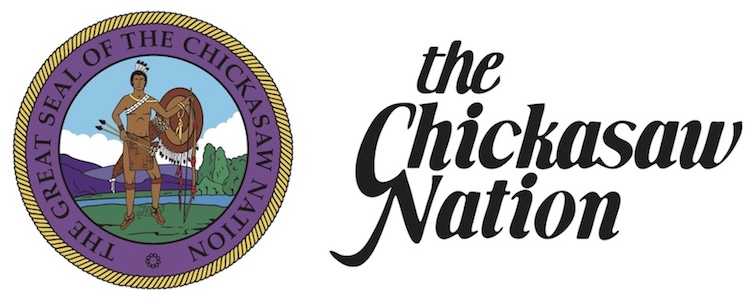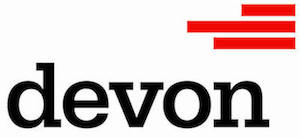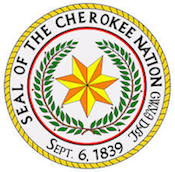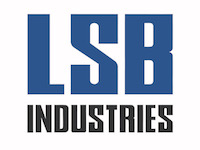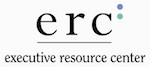 RWMS
---
2020 Women on Boards is a tax-exempt organization under Section 501(c)(3) of the Internal Revenue Code.
All contributions are tax deductible to the extent allowed by law.
---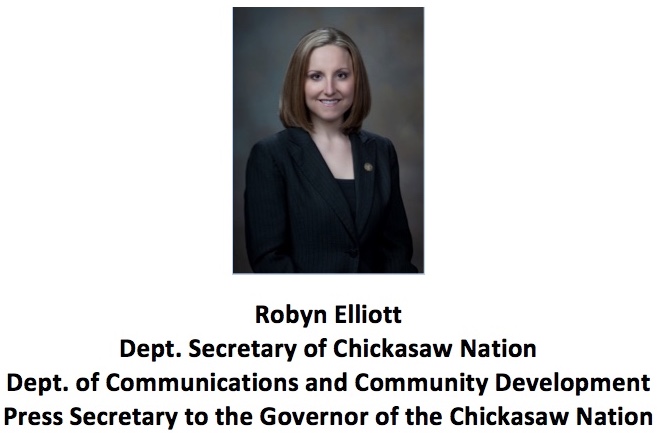 Robyn Elliott serves as the Department Secretary of the Chickasaw Nation Department of Communications and Community Development and as press secretary to the Governor of the Chickasaw Nation.
In 2002 she received her bachelor's degree in business administration from East Central University and is currently working toward her masters' of business administration at Oklahoma State University. Before being promoted to her current position, she served as administrator of the department of communications, director of public affairs for the Chickasaw Nation, and prior to that was business manager for the D.R. Management Group.
She is a 1997 graduate of Ada High School and a 2005 graduate of the Leadership Oklahoma Class XVIII.
Robyn currently serves on the Boards of Directors of the YWCA-OKC, Creative Oklahoma, Ada Jobs Foundation, East Central Alumni Association and the Chickasaw Foundation and currently serves as chair of the American Heart Association Heart Ball. She has previously served on the boards of the American Heart Association, Leadership Oklahoma, Ada Chamber of Commerce, Ada Arts District, Chickasaw Nation Small Business Development Center Citizens Advisory Committee, Girl Scouts of Eastern Oklahoma Regional Advisory Committee, the Oklahoma Women's Coalition and the Oklahoma Film Commission.
Robyn is a three time recipient of the Journal Record's 50 Women Making a Difference honor, recognized as both an Achiever Under 40 and 40 Under 40 and was honored by the Oklahoma Hospitality Club's Ladies in the News.
Robyn is married to Wayne Scribner, Secretary of Community Services for the Chickasaw Nation, and they have a son, Barrick Scribner.
---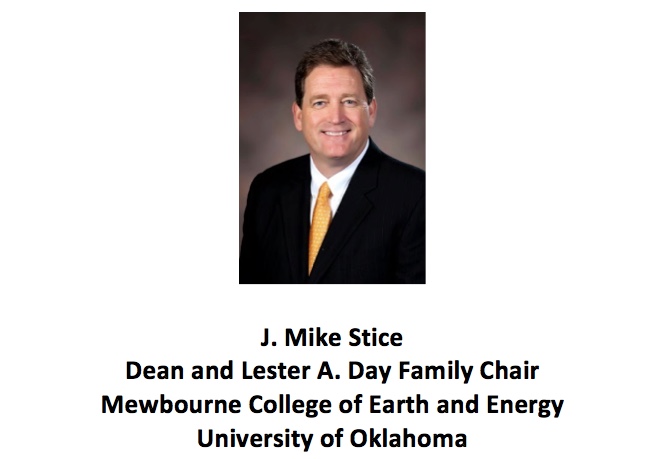 J. Mike Stice, is a University of Oklahoma alumnus and an energy leader with more than 35 years of industry experience working worldwide and is the current Dean and Lester A. Day Family Chair of the Mewbourne College of Earth and Energy at the University of Oklahoma.
Stice began his career in Oklahoma, serving for more than 28 years in technical and managerial positions with ConocoPhillips in exploration, production, midstream, and gas marketing. His global assignments included serving in leadership positions in Australia, Indonesia, Malaysia, Taiwan, Vietnam, Cambodia, Singapore and later, Qatar, where he was president of ConocoPhillips Qatar from 2006 to 2008.
In 2008, Stice joined Chesapeake and served as President of Chesapeake Midstream Development and Senior Vice President of Natural Gas Projects for Chesapeake Energy. He retired in 2015 as Chief Executive Officer of Access Midstream, formerly Chesapeake Midstream Partners.
Stice serves on the Boards of Directors for U.S. Silica and EIM, a private equity firm in Mexico. As an OU alumnus, he continues his involvement with the University, frequently serving as an adjunct professor for the Price College of Business and the College of Engineering. He serves on the Board of Visitors for the College of Engineering, the Mewbourne College of Earth and Energy and the Price College of Business at the University of Oklahoma. He also serves on the Foundation Board of Oklahoma Wesleyan University and the Board of Advisors of the Meinders School of Business at Oklahoma City University.
Stice is active in the community, following his passion for enhancing education, beating cancer and contributing to the well-being of children and families with special needs. Over the years he has served with Special Olympics, Teach for America, Make a Wish Foundation, American Cancer Society, and Boys and Girls Club of America. He currently serves on the Boards of the United Way of Central Oklahoma and Camp Blessing.
Stice earned his chemical engineering degree from OU in 1981, a master's degree in business in 1995 from Stanford University, where he served as a Sloan fellow, and an international director's diploma from Sydney University in 1997. In 2011, he completed his doctorate of education at The George Washington University.
---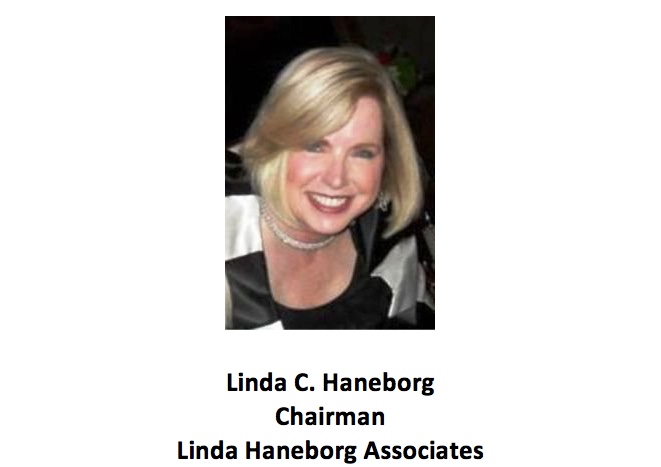 Linda C. Haneborg serves as president of Haneborg Holdings and chairman of Linda Haneborg Associates, a marketing firm specializing in reputation management.
Haneborg's national involvement includes memberships and board positions in the Association for Women in Communications (AWC), the White House Women's Information Network, the Women's Leadership Board at the Kennedy School of Government at Harvard University, the International Women's Forum, the Board of Directors of St. Gregory's University, Philanthropy World Magazine and the National Women Business Owners Corporation, and on the regional advisory boards of Allied Arts, Myriad Gardens Foundation and the Civic Center Foundation board. She is a Certified Franchise Executive and former chair of the board of the Institute for Certified Franchise Executives.
As past president of the OU Breast Institute board and former honorary chair of Children's Hospital Foundation and Children's Miracle Network, Haneborg's volunteer passions center around the health and welfare of women and children. She served as Chair of the American Heart Association 2009 Go Red for Women program, the Myriad Gardens' Splendor in the Gardens and, in 2013, was inducted into the Oklahoma Women's Hall of Fame. She serves as a Commissioner for the Oklahoma Commission on the Status of Women and on the Professional Responsibility Tribunal.
A recipient of more than 300 marketing and communications awards, Haneborg was named a Woman of Excellence from Oklahoma City University and received the Woman of the Year and the Lifetime Achievement Award from the Journal Record's Woman of the Year program.
Linda may be reached at lhaneborg@aol.com, linda.haneborg@beverlyadamsholdings.com, 405-755-2675 or 405-590-8363
---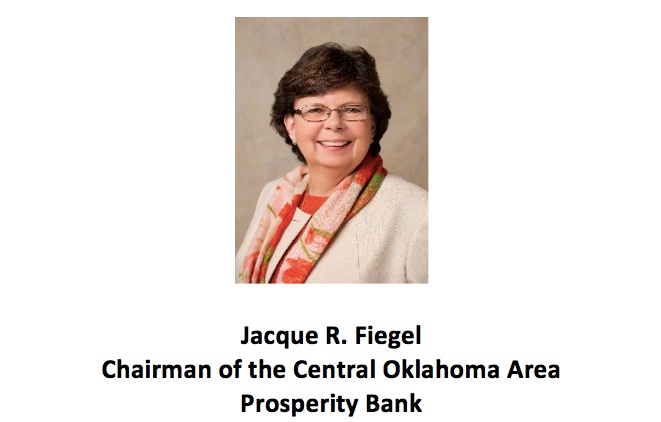 Jacque Fiegel is Chairman of the Central Oklahoma Area for Prosperity Bank. Jacque previously served as Senior Executive Vice President and Chief Operating Officer of Coppermark Bank and as a member of the Board of Coppermark Bancshares, Inc. Coppermark Bank and the bank's subsidiary, Coppermark Card Services, Inc.
Jacque currently serves on the Board of Directors of Jack Henry & Associates Inc. Fiegel is past President of the Economic Club of Oklahoma, past Chairman of the YWCA of Oklahoma City Board and a former chair of Epworth Villa. Fiegel previously served as a member of the Board of Directors for the Oklahoma City Branch of the Federal Reserve Bank of Kansas City. In addition, she has served on the board of the Oklahoma Banker's Association and as past president of the Oklahoma City University Alumni Association. Fiegel is a recipient of the Journal Record's Circle of Excellence and 50 Women Making a Difference, the Servant Leader Award awarded by Oklahoma City University and a recipient of the OK Business Ethics Consortium Pilot Award. Jacque has been recognized by U.S. Banker as one of the 25 Most Powerful Women in Banking and twice named as one of the 25 Women to Watch. Fiegel is a graduate of Leadership OKC.
Jacque resides in Oklahoma City, Ok with her husband, Chris. They have 3 grown children.
---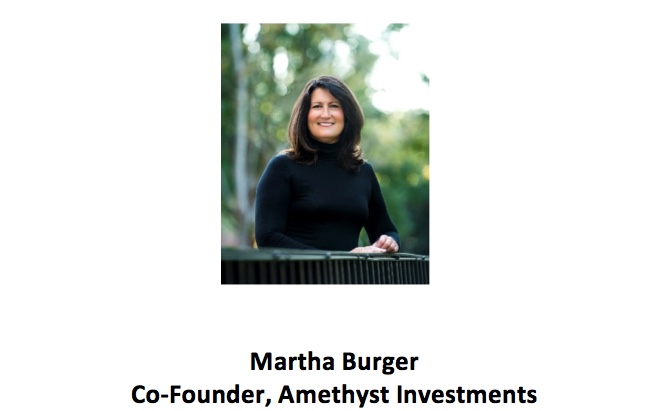 Martha A. Burger is a former executive in the energy industry. Most recently she served as Senior Vice President – Human and Corporate Resources at Chesapeake Energy Corporation. While there she provided leadership for human resources, administrative services, facilities, communications, security and ethics and the company's fitness center. She also served the company as Treasurer and Corporate Secretary.
During her tenure at Chesapeake, the company grew from less than 100 employees to over 13,000 and was recognized by FORTUNE Magazine as one of the 100 Best Companies to Work For® in the U.S. from 2008 until 2013. She was instrumental in creating and sustaining the company's vibrant, unique and nationally recognized culture.
Ms. Burger is extremely active in civic and professional organizations as well as statewide initiatives. She serves as a member of the Oklahoma State Board of Health, a trustee of Oklahoma City University and serves on several boards of directors throughout the state and region.
Ms. Burger is a co-founder of Amethyst Investments LLC and is a member of the consulting team at Giant Partners in Edmond, Oklahoma. She resides in Oklahoma City and Marco Island, Florida and travels extensively.
---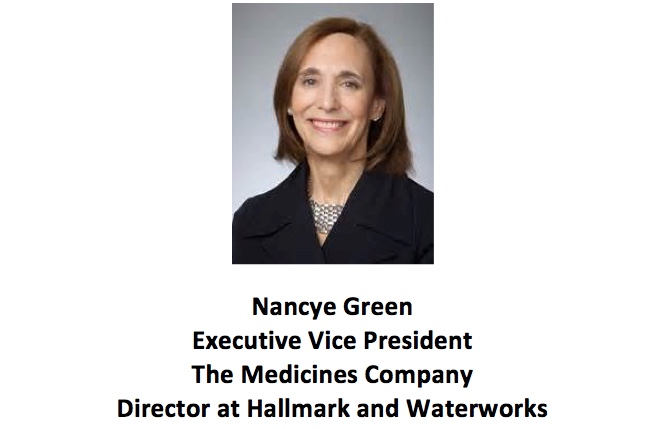 Nancye Green leads global communications & information architecture for The Medicines Company (MDCO). A designer and business leader, Nancye has had a storied career addressing the complex communication challenges of large enterprises, startup companies and non-profit organizations across industries. She has designed and produced in multiple media on behalf of clients as diverse as Hoffman-La Roche, 3M, P&G, Exxon, the Ronald Reagan Presidential Library, American Express, Sony and American Girl Place, among many others. In addition, Nancye has founded and/or served as CEO of several businesses, including design firm Donovan/Green and Waterworks, and has served on the boards of directors of several companies, including Waterworks and Hallmark.
A recognized leader in her field, she is a past president of the American Institute of Graphic Arts and the prestigious International Design Conference in Aspen.
She holds degrees from Tulane University and Parsons School of Design, and was awarded an honorary doctorate from The Corcoran School of Art in Washington, D.C.
---
Jeff Hyler leads Spencer Stuart's Houston office and is a member of the firm's global Energy Practice, focusing on CEO and other senior executive assignments for renewable energy companies, electric utilities, independent power producers, oil and gas companies and commodity trading firms. He is also a member of Spencer Stuart's Board Practice and advises clients on recruiting outside directors.
Prior to joining the firm, Jeff was a partner in Towers Perrin's executive compensation and rewards practice, and was a leader in the firm's energy and utility practice. Over his 10-year tenure, he worked with more than 50 energy companies to help align their rewards programs to their business strategy.
Many of Jeff's assignments involved ongoing advisory work with senior management and non-executive directors on a variety of compensation issues, including compensation strategy development, annual and long-term incentive plan design, executive perquisite programs, employment contracts, change-in-control agreements, competitive pay analysis and outside director pay.
Prior to joining Towers Perrin, Jeff served for eight years as a Naval Flight Officer in the U.S. Navy.
Jeff serves on the board of NextOp, a nonprofit organization that assists enlisted combat veterans in transitioning to new careers in the energy industry. He received his M.B.A. from Tulane University and a B.A. from The George Washington University.
---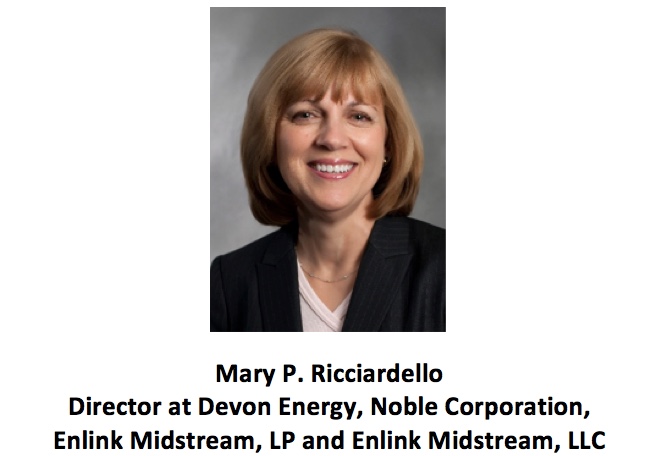 Mary P. Ricciardello is a financial executive with over thirty years of experience in the energy industry. She currently serves as a director, Audit Committee chairperson and member of the Nominating & Governance Committee at Devon Energy and Noble Corporation. She serves as the designated financial expert for each of these companies. Mary also serves as a director and Audit Committee member at Enlink Midstream, LP and EnLink Midstream, LLC. Her experience includes a period of service from 2003 to 2010 where she served as a director, Audit Committee chairperson and member of the Nominating & Governance Committee at US Concrete. She served in the same capacity at Midstates Petroleum during the 2013 to 2015 timeframe.
Mary was employed by Houston Industries and Houston Lighting & Power (successor companies Reliant Energy and CenterPoint Energy) for over 20 years. She held various accounting and finance positions including Senior Vice President and Chief Accounting Officer.
Mary has served on the board of the Houston Chapter of the National Association of Corporate Directors since 2003 and served as Program Chairperson for over five years. She joined the board of the University of St. Thomas, Houston, Texas in 2012. She served as a member of the board, Executive Committee and Finance Committee for the Archdiocese of Galveston-Houston Catholic Endowment Foundation from 2003 thru 2012.
Mary is a licensed CPA and an editorial advisor for the Journal of Accountancy. She earned her Bachelor of Science degree from the University of South Dakota and her MBA from the University of Houston. Originally from New York she now makes her home in Houston, Texas.
---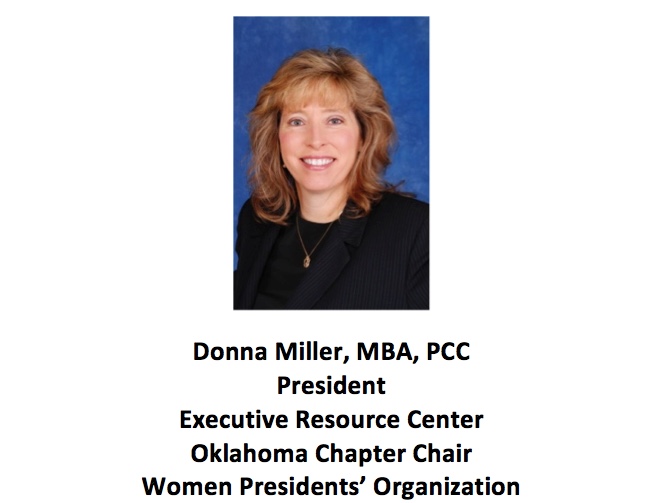 Donna Miller is the Founder and President of the Executive Resource Center, LLC. Donna has had over 30 years of business experience in the computer, telecommunications/cable, consulting and oil and gas industries. Most of her career has been spent at the executive level working with, and for, such leading companies as AT&T, Avaya, Cox Communications, Kimberly Clark Corporation, and Sun Microsystems.
The theme of Donna's career has been around initiating, driving and managing organizational transformations. Donna's work experience in fast-changing industries allows her to help clients excel in volatile, uncertain, complex and ambiguous environments that require a high degree of flexibility and innovation.
Donna combines her broad and deep real-world business experience with the best coaching tools and methods available. She is action-oriented and shares her clients' sense of urgency to deliver results. Donna is skilled at working with high-potential leaders who are at the top of their game and must be rapidly groomed for higher level positions, helping female executives balance their personal and professional lives, assimilating new executives into organizations to accelerate their effectiveness and working with those who are technically skilled or strategically important but who need to be more effective with their bosses, peers or teams.
Donna has her MBA in Organizational Development from the University of Colorado at Denver and a BA in Business Administration and Psychology from Baylor University. She is one of 6 International Coach Federation Professional Certified Coaches in the state of Oklahoma. Donna has a passion for making a difference and driving positive change. She is on the Board of the YWCA, co-founded the Women in Leadership Conference at OCU, acts as the Oklahoma Event Chair for the 2020 Women on Boards National Conversation on Board Diversity and is the Women President's Organization Chapter Chair for the state of Oklahoma. Donna is often asked to speak to groups of all kinds on the topics of leading change, improving organizational performance and developing leaders.
---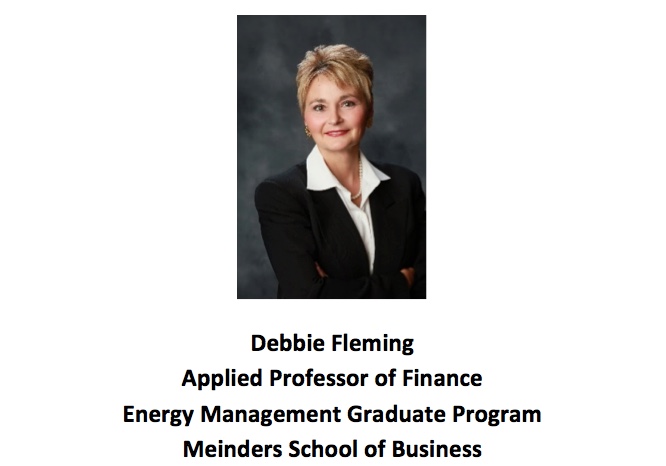 Debbie is a native of Oklahoma City, graduating from Bishop McGuinness High School and Oklahoma City University. Upon graduating from OCU with a degree in Finance, she earned an MBA from the University of Tulsa.
Debbie was the first woman management trainee at First National Bank of Oklahoma City. Upon a move to Tulsa, she worked in a variety of finance positions for Reading & Bates, an offshore driller, Bank of Oklahoma, and finally for Williams, a diversified energy company where she served as Assistant Treasurer. In 2004, she returned to Oklahoma City where she served as VP & Treasurer for OGE Energy and its subsidiaries. In 2010- 2012, she became the VP & Treasurer of SemGroup as it emerged from a messy and complex bankruptcy, successfully rebuilding its credibility with banks, rating agencies and the institutional investment community.
During her career, she has worked primarily in the Treasury and Corporate Finance area with responsibilities for all banking and rating agency relationships, budgeting and cash flow projections, issuance of debt and equity capital, acquisition and divestiture analysis, transaction structuring and management of pension and 401-K benefit plans. She also has strong expertise in corporate reorganizations, restructuring and bankruptcies. She is a Chartered Financial Analyst (CFA) and a Certified Treasury Professional (CTP).
Debbie is currently an Applied Professor of Finance in the Energy Management graduate program in the Meinders School of Business where she is an Executive in Residence. She also does financial and strategic consulting work for a variety of clients. Debbie is an active civic volunteer serving as President of the Board of Directors of the OKC Philharmonic and is heavily involved in their multi-year search for a new Music Director.
---