Description
*** Online registration closes Friday at midnight ***
When you pre-register online, you make it easy for us and easy for you. Pre-registrants will fly through a quick and easy check-in on Saturday!
Regular on-site registration starts Saturday at noon.
---


Come join us for the 2016 John Anast HeartStone Tour!
A day for bike rides, music, goats (yes, goats!), and good times with friends and family.
The 2016 John Anast HeartStone Tour has a ride for everyone, no matter your cycling level:
5:00 pm - A FREE Family Ride! 5 miles of fun for families and young riders.

4:00 pm - "Billy Goat Gruff" - A 26 mile ride on flat terrain

3:00 pm - "Hilly Billy Junior" - A 36 mile ride on rolling to moderately hilly terrain

2:00 pm - "Hilly Billy Senior" - A 47 mile ride with 5 major climbs

1:00 pm - "Hilly Billy Mountain Goat Challenge" - A 57 mile ride with 12 major climbs. This is an extremely challenging route that includes some of the toughest hills in southwest Ohio!
Throughout the day and ride, enjoy food and beverages provided by our generous sponsors and volunteers.
*** Special-edition jerseys and other cycling kit in the spirit of The Goat are available for order! Please see the FAQ below for more details. ***
The start/finish lines for all rides and the post-event celebrations will take place at the Salem Township Elementary School (605 Welch Rd, Morrow, OH 45152).
This is not "just" a bike ride; this is a day of fun and fellowship inspired by our friend, the late John Anast. ~ SHARE YOUR STRENGTH - RIDE WITH HEART! ~
After you finish the tour, plan to stay into the evening for a heartwarming gathering of friends, bikes, live music, food, a family-friendly movie, and countless good memories to take home with you.
---
— FAQ —
Do you have a question not listed here? Please email us at: heartstonetour@gmail.com
Where can I preview the routes?
All of the routes, including elevation and rest stop information, are posted at:
https://ridewithgps.com/events/15554-hs-tour-2016#routes/12019653/preview
If you will be downloading your ride into a GPS navigational device, please be sure to re-check the route information shortly before the event date. As with any road cycling event, we may need to make last-minute changes due to road closures, etc.
How to Buy Tickets
For all routes, whether the FREE Family Ride or one of the paid rides, please complete a SEPARATE registration for yourself as well as each member of your family who is coming. This is the only way we can know how many people are actually registering for the event.
Are there ID requirements or an age limit to enter the event?
Adults: Please bring a photo ID to help us verify your registration information.
Children: ID's are not required and children 12 months and older can participate. However, PARENTS are responsible for the supervision and safety of their children. Parental supervision on the course is required for all riders 13 years old and under.
You know your child best and what level of fitness and skill they possess. Please use your best judgement in helping this be a fun, successful and safe day for everyone.


Can my child ride in a bike trailer or on a tandem?
Bike trailers and other bike-based carriers for very young children will be allowed on these two routes ONLY:
The Free Family Ride

The Billy Goat Gruff Ride
Tag-a-long bikes and tandems will be allowed on ALL distances.
We are offering this all-route flexibility for adult-youth combos on tag-a-longs or tandems on the assumption of

YOUR

good judgement of your child's fitness and experience level.
Are helmets required?
A safety-certified bicycle helmet must be worn at all times you are on your bike.
Children on bikes, trailers, or carriers must also wear a safety-certified bicycle helmet at all times they are on the bike or in a moving trailer/carrier.
---
SPECIAL-EDITION JERSEYS AND CYCLING KIT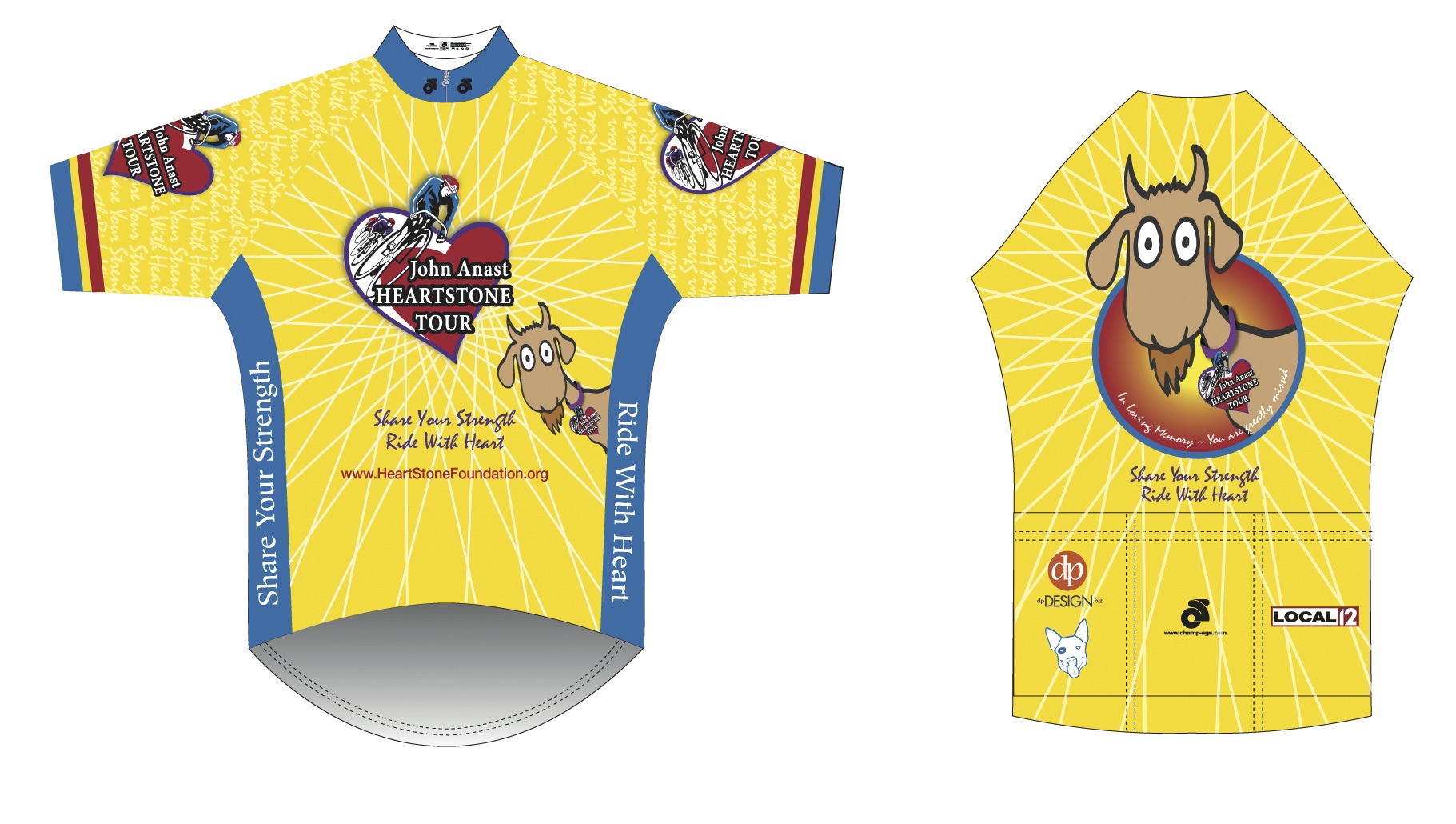 Preview of jersey design for the 2016 John Anast HeartStone Tour
These special-edition jerseys and other commemorative cycling kit will be produced for the 2016 John Anast HeartStone Tour by Champion System. This is a high-quality and comfortable brand that is popular with many cyclists in the area.
Because this is custom kit, we cannot place an order until we have at least 10 items in the queue. In addition, there is a lead time of several weeks from when an order is placed to when it is shipped.
Therefore...
Orders for jerseys and other cycling kit will NOT be available for pickup on the day of the ride.
HOWEVER... we will continually place orders as soon as we have 10 items or more on request.
So... the sooner you register and order, the sooner we can get your special-edition kit in your hands!
After you place your cycling kit order, we will periodically be in touch with order status updates.
How to place your order for your jersey or other cycling kit:
The ordering area for the cycling kit will become available AFTER you go to checkout for your ride registration.
If you are registering for the FREE Family Ride (or if you are not simultaneously purchasing a paid ride for any other reason), please add the "$1 Ticket" for jersey purchase to your cart so the merchandise options will be displayed. (By extension, if you are simultaneously purchasing a paid ride, then you do NOT need this $1 Ticket.)
We are very pleased to be offering a range of jerseys and other cycling kit for your ongoing enjoyment and remembrance of this ride. The items available are:
• Tech Short Sleeve Jersey
• Tech Sleeveless Jersey
• Tech Fleece Long Sleeve Jersey
• WindGuard Wind Vest

The TECH SHORT SLEEVE JERSEYS are made from Champion System's exclusive microfiber CS TECH polyester wicking fabric. The jerseys are anatomically shaped and tailored to a riding postion, with 3 rear pockets. For each jersey cut, we are offering a choice of a short (7-inch) zipper or a full-length zipper. Both zipper styles are concealed.
The TECH SLEEVELESS JERSEY is just like the short sleeve jersey, but without the sleeves. The sleeveless jersey includes a full-length concealed zipper, a collar, anatomical cut, and 3 rear pockets.
Sizing information for the Short Sleeve AND Sleeveless jerseys:
Men's Race Cut (a snugger fit)
Men's Club Cut (a more relaxed fit)
The TECH FLEECE LONG SLEEVE JERSEY is a delightfully warm and soft fleece-lined top (jersey-fabric exterior) that is perfect for riding in cooler temperatures (40-50F). This jersey includes a full-length concealed zipper, a collar, anatomical cut, and 3 rear pockets.
Sizing information: Men's Race Cut or Women's Cut - Tech Fleece Long Sleeve
The WINDGUARD WIND VEST is a perfect way to extend the versatiltiy of ALL your cycling kit, adding wind resistance for your core and a touch more warmth in all conditions. The vest includes a full-length concealed zipper, a collar, anatomical cut, and a reflective strip on the back.
Sizing information: Men's or Women's Cut - WindGuard Wind Vest
---
Other FAQ...
Does my registration include food?
Our generous sponsors will be offering free food and water at all of the rest stops on the rides.
In addition, each PAID registration includes one complimentary food ticket to use at any food vendor of your choice during the post-ride festivities!
What are my transport/parking options getting to the event?
There will be plenty of free parking available at the ride start:
Salem Township Elementary School
605 Welch Rd
Morrow, OH 45152
Is my registration/ticket transferrable?
Yes! You can transfer your registration to a friend or family member if needed. Please contact us at heartstonetour@gmail.com.
Will refunds be offered?
We will make every effort to carry out the event, rain or shine. Please be aware that refunds will not be given in the event of extreme weather that requires event cancelation.
Is my registration tax-deductible?
Yes! The HeartStone Foundation is a non-profit 501(c3) organization. Your ride registration plus any additional donation qualifies as a charitable contribution for tax purposes. Be sure to retain a copy of your confirmation letter and/or credit card statement showing the value of your contribution.
Can I update my registration information?
Yes! Just log onto your Eventbrite account and update your information as needed.
Especially important information to keep up to date is your emergency contact information and your ride distance selection.
Is there SAG support for the ride?
SAG support will be provided for all the routes.
The SAG support team can help you with mechanical issues, navigation, urgent hydration or fueling needs, and transport in case of unbearable fatigue or illness. If you experience a medical emergency, contact 911.
The phone numbers for the SAG support vehicles will be published on the cue sheets for each route. Be sure to bring the cue sheet with you on the ride in case you end up needing to request a SAG.
It is highly recommended to bring a cell phone with you for the ride.
If you do not have a cell phone with you, or if you do not have reception at your location, please ask another rider to call in for you, or at the very least to inform volunteers at the next water stop of your SAG request.
SAG support vehicles will be sweeping the course throughout the ride, but a direct phone call will be the quickest way to get the support you need.
SAG support will be provided through 7 p.m. If you are doing one of the longer routes, and are not beginning at the official start time for your route, please plan your start time accordingly.
If you are riding one of the longer routes and find that you may not be able to get back to the start before 7 p.m., please call SAG support and proactively inform us of your situation.
In the event of a medical emergency, call 911 immediately. After you have called 911, please contact the SAG support crew so we are aware of your situation, and are able to provide whatever non-medical backup support may be needed (e.g. bike transport).
If for some reason you decide to leave the official HeartStone Tour route and not return to the start, please contact SAG support so we know you are okay.
If you get lost, please contact SAG support so we can help you get back onto the course.
---
Where can I contact the organizer with any questions?
Please send us an email at: heartstonetour@gmail.com. We are happy to help you with any questions!