The 2013 Duke Symposium on Scaling Innovations in Global Health

Friday, April 5, 2013 from 1:00 PM to 5:00 PM (EDT)
Event Details
The Social Entrepreneurship Accelerator at Duke (SEAD) team is excited to invite you to the 2013 Duke Symposium on Scaling Innovations in Global Health! This is a unique opportunity to learn more about SEAD's initiatives and engage with global healthcare innovators and leaders from around the world.
SEAD Background
SEAD is a new cross-disciplinary collaboration between the International Partnership for Innovative Healthcare Delivery (IPIHD), the Center for the Advancement of Social Entrepreneurship (CASE) at Duke's Fuqua School of Business, the Duke Global Health Institute (DGHI), Investors' Circle, and several other partners.
Funded by the U.S. Agency for International Development (USAID), SEAD is a joint initiative aiming to provide social entrepreneurs in global health with the knowledge, systems, and networks needed to succeed. SEAD is part of the USAID's newly launched Higher Education Solutions Network (HESN), a groundbreaking partnership with seven top American and international universities tasked with developing innovative solutions to global development challenges.
Symposium Details
The Summit will take place Friday, April 5th at the Fuqua School of Business in Durham, NC. Summit activities will include networking opportunities, panel discussions and an exposition of the SEAD global healthcare innovators. Due to SEAD's multi-disciplinary focus, we strongly encourage you to participate!
Parking can be found on Science Drive across from Fuqua.
For more information on SEAD please visit http://www.seaatduke.org/.
If you have any questions, please feel free to contact Carolyn Kent at carolyn.kent@duke.edu.
Symposium Agenda
13:00 – 13:10      Public Symposium Welcome: The public event will be opened by Dr Michael Merson (Director, Duke Global Health Institute and Vice Provost and Vice President for Global Strategy & Programs) who will officially launch the SEAD program.
 Location: Fuqua School of Business, Geneen Auditorium
13:10 – 13:30      Opening Speaker by Dr. Alex Dehgan: Alex Dehgan is the science and technology adviser to the Administrator at USAID and he heads the Office of Science and Technology. Dehgan is the key focal point for implementing the Administrator's vision to ensure that USAID is the global leader on employing science, technology and creativity to help solve development challenges.
 Location: Fuqua School of Business, Geneen Auditorium
13:30 – 14:30      Scaling Innovation in Global Health Panel: The opening plenary panel will explore the need for new approaches to tackling challenges in global health and how other sectors can learn from these approaches. The session will be moderated by Dr. Michael Merson (DGHI) and will include Dr. Krishna Udayakumar (IPIHD), Greg Dees (Fuqua), Bonny Moellenbrock (Investors' Circle), and Wendy Taylor (USAID).
 Location: Fuqua School of Business,  Geneen Auditorium
14:30 – 15:30      Innovator Breakout Panel Sessions: Each breakout session will include a selection of healthcare innovators who will explore the role their models play in addressing global health challenges, the issues in scaling. Sessions will be moderated by Paul Bloom, Matt Nash and Richard Bartlett and will be hosted by MBA students Liz Charles, Lila Cruikshank and Manisha Bhattacharya.
 Location: Fuqua School of Business, Seminar Rooms B, D, F
15:30 – 16:00      Closing Keynote Address and Remarks: The Inaugural Symposium for SEAD will be closed by Ariel Pablos-Mendéz (Assistant Administrator for Global Health at USAID) who will talk about the challenges that exist in global health, how USAID is positioning itself to address these and the role that the newly formed Center for Accelerating Innovation and Impact will play in meeting these challenges around the world.
 Location: Fuqua School of Business,  Geneen Auditorium
16:00 – 17:00      Networking and Poster Session: The Summit will close with a dedicated poster session by innovators and select students giving all the participants to learn more about the SEAD innovators and program.
 Location: Fuqua School of Business, Kirby Reading room
SEAD Global Health Innovators: AMREF/We CARE Solar, Changamka, ClickMedix, Grameen Foundation (MOTECH), Heartfile, Jacaranda Health, Naya Jeevan, Operation Asha, Penda Health, Riders for Health, Sala Uno, Sproxil, Vaatsalya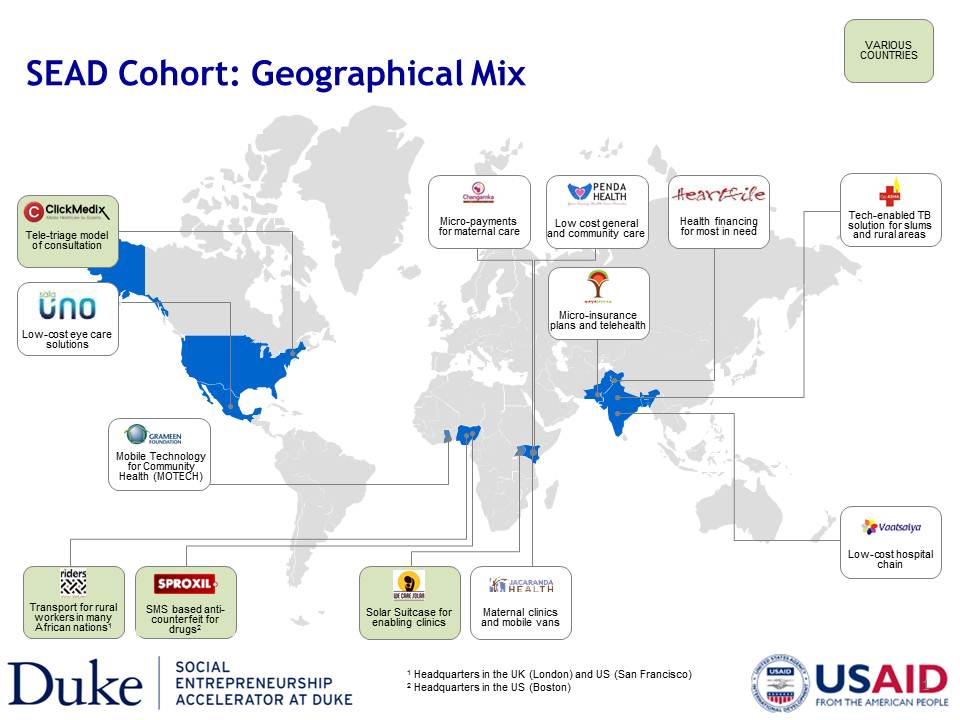 When & Where

The Fuqua School of Business
100 Fuqua Dr
Durham, NC 27708


Friday, April 5, 2013 from 1:00 PM to 5:00 PM (EDT)
Add to my calendar