The 2011 Silicon Valley Latino Leadership Summit

Saturday, May 14, 2011 from 8:30 AM to 5:00 PM (PDT)
Event Details
The Second Annual Silicon Valley Latino Leadership Summit is presented by Es Tiempo, LLC., Gracefully Global Group, LLC and Hispanic-Net. The Leadership Summit will bring together 250 leaders in business, government, education, and industry, plus selected MBA students, for a one-day conference at the Stanford Faculty Club at Stanford University. Attendees will learn first hand from successful entrepreneurs, executives and political leaders what it takes to survive and succeed in today's world. The summit is designed to inspire and suggest innovative changes needed for future Latino generations to succeed.  Last year's conference was a outstanding success and this year we listened to you and made changes to allow for more for networking opportunities. This is your chance to talk to top executives and leaders to make those contacts you have been waiting for. You will not want to miss this event. Register early – last year's event sold out.
Please contact Chairman Frank Carbajal at (408) 406-9672 or frank@estiempo.com for more information.
8:30 - Registration & Coffee
9:15 - Welcome and Opening Remarks
Speaker: Frank Carbajal, Founder, Es Tiempo, LLC and author of Building the Latino Future: Success Stories for Future Generations and El Futuro Latino
9:30 - Opening remarks via-video
Latino leadership: Civic Engagement
Speaker: Julian Castro, Mayor of San Antonio, Texas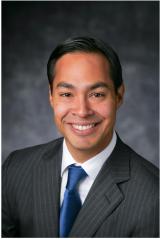 9:35-10:15 Keynote Speaker
Latinos Creating Street Smart Think Tanks to Deliver Leadership
Dr. Armando Arias
Founding Director of Solution Strategies
10:15 – Morning Break
10:30 – Morning Plenary
Paving the scholarship road for our future Latino leaders:
Lessons from educators and scholarship experts 
Facilitator: Margarita Quihuis, Chairman, Hispanic-Net
Panelists:
§         Dr. Frances Morales, Associate Dean and Director, El Centro Chicano, Stanford University
§         Martin Mares, Founder and CEO, The Ivy League Project
§         Frank Alvarez, President and CEO of the Hispanic Scholarship Fund
        Isabel Valdes, President of  IVC, Author, Speaker, Hispanic Marketing Guru

11:45 – Lunch
12:15 – Luncheon Session
Latino Community at the Crossroads: Challenges and Opportunities
Speaker: Sergio Garcia, Partner, Reed Smith, LLP
1:00 – Afternoon Workshop 1
Latino entertainment leaders, who you need to know and why
Speaker: Rick Najera Actor, Writer, Director and Producer
1:45 –  Afternoon Workshop 2
Latino lead innovation
Speaker: Graciela Tiscareño-Sato, Author of Latinnovating: Green American Jobs and the Latinos Creating Them and Founder of Gracefully Global Group LLC
2:30 – Networking & Book Browsing
Featuring published books and art exhibit
Graciela Tiscareno Sato, Author of Latinnovating:Green American Jobs and the Latinos Creating Them
Frank Carbajal, Author of Building the Latino Future "Success Stories for the Next Generation" (Wiley & Sons)
Preview Artist Alejandra Oseguera
3:00 – Afternoon Plenary
Latino success in today's economy – lessons from top executives
Facilitator: Michael Lopez, President, Hispanic-Net & President, Solid Ground US
§         Victor Arias Jr., Senior Client Partner, Korn/Ferry International
§         Kai Huang, Co-founder, President and CEO of RedOctane (Guitar Hero franchise)
§         Carlos Orta, President and CEO, Hispanic Association on Corporate Responsibility (HACR)
4:15 -  Closing keynote speaker
Sid Espinosa, Mayor of Palo Alto, California
4:30 – 5:00 - Afternoon networking & Book Browsing
Speakers and presentations subject to change
No refunds will be allowed after May 10, 2011.
Click here for speaker bios
When & Where

Stanford Faculty Club
439 Lagunita Drive
Stanford, CA 94305


Saturday, May 14, 2011 from 8:30 AM to 5:00 PM (PDT)
Add to my calendar
Organizer
Es Tiempo, LLC, Gracefully Global & Hispanic-Net
Es Tiempo LLC -Es Tiempo is a business in executive coaching and a speaker's bureau. Our coaching services and motivational speakers are designed to assist the client by moving them toward their vision and goals by using strategies that will promote healthy outcomes in business and in life. www.estiempo.com
Gracefully Global, LLC. -Created by Graciela Tiscareño-Sato, global communications industry marketing professional, author and speaker, Gracefully Global Group was created to ensure your marketing messages are on-target, unique and result in the action you desire.
If you're a business owner, designated line of business lead or executive, please contact me. I serve the diverse marketing and communications needs of small, medium and large enterprises and associations. Services include all aspects of original marketing content creation. www.gracefullyglobal.com/
Hispanic-Net -Hispanic-Net is the organization where Hispanic entrepreneurs, executives, innovators and investors come together to create market leading companies. Our organization is a robust entrepreneurial ecosystem comprised of executives in technology, Internet and life sciences companies, venture capitalists and angel investors, professionals in law, financial services and business from some of the top firms in Silicon Valley, Boston, San Diego and Latin America such as Cisco Systems, AMD, Adobe, Intel, Pillsbury Winthrop, Wilson Sonsini, PriceWaterhouseCoopers, Ricoh Innovation and others                www.hispanic-net.org