Description
"The 20% That's Out There"
DOWNLOAD SELF-EVALUATION PDF: http://bit.ly/Selfevaluation
Start now - a 20% increase in business and life's reward is waiting - Gerry's New Program for 2018.
Mission Statement:
There is a mathematically sound theory that allows any person or business to increase their yield and/or results by 20%. This theory has been proven across many industries and investment opportunities.
The 20% That Is Out There program captures and builds this opportunity over a series of sessions. You will build a better business, increase your wealth and maximize your personal potential. Although these lessons cannot be learned and applied all at once, over time, the tools and support we provide will help you accomplish these goals.
It is the mission of this program to increase the effectiveness of each person's performance and income by 20%. Where an individual can master all lessons, the increase in life's reward shall be significant.
Cohort Learning
You will be moving through this program with the same partisipants. Learning, sharing and growing in a small class setting where friendship and networking are natural outcomes.
Payment is for three months.
Vancouver Firm Dates: March 9, April 13, May 11
Balance of dates below tentative but most likely.
Sessions: 9:30am to 12:30pm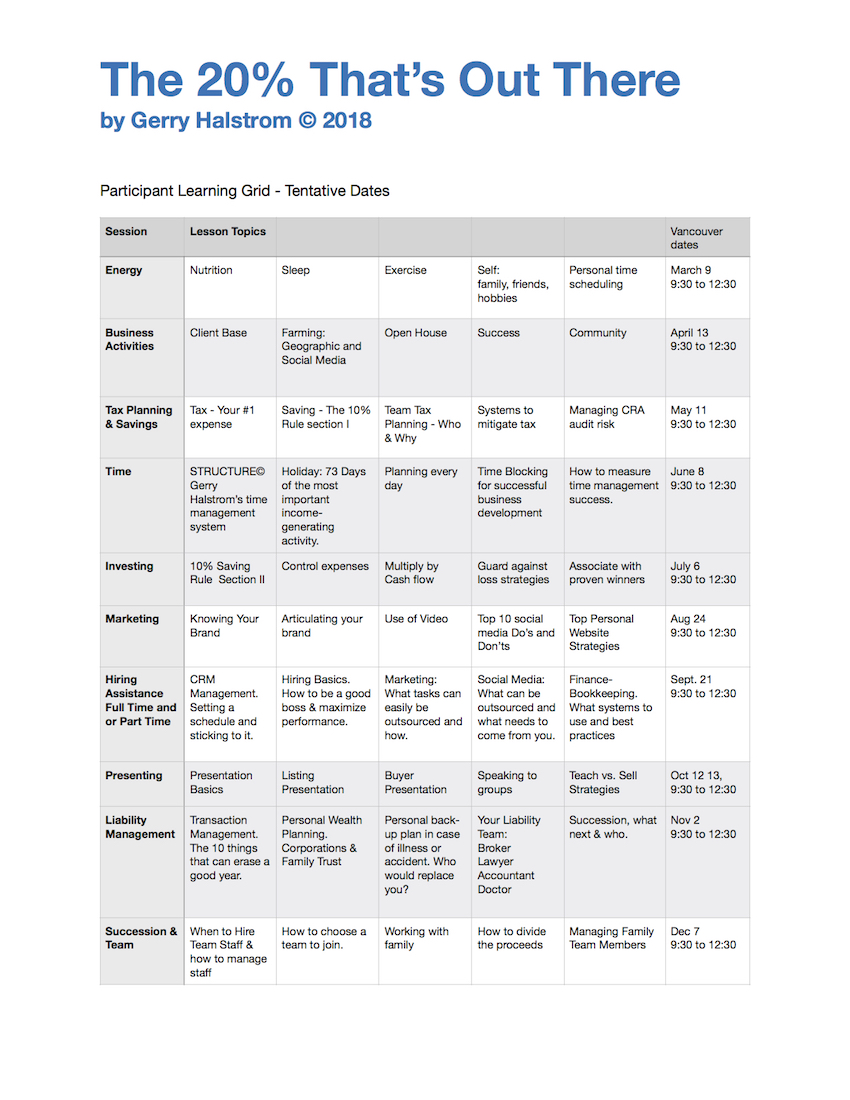 10 Cohort Sessions
Session 1, Energy:
In this session we look at how to increase and maximize energy, clarity and focus. (See the grid for session overview and dates.)
Session 2, Business Activities:
There are five key pillars of activity that drive business. You will be increase activity and function for maximum cash flow and business growth.
Session 3, Tax Planning, Tax Mitigation and Your Tax Team:
CRA can be your biggest expense and biggest liability. Learn how to best manage this elephant that is in the room.
Session 4, Time:
Time planning is central to business growth. Most business professionals do not dedicate enough time and energy to business development and therefore stunt the natural growth cycle of their business.
Session 5, Investing:
Earnings with no investment is a recipe for disaster, yet so many successful professionals only invest in their primary residence. Learn how to save and apply those savings to investments that suit your personal investor profile.
Session 6, Marketing:
This session deals with branding, messaging and media. A wide array of options exist but do you have the core messages and brand perfected for your business?
Session 7, Hiring Assistance & The Options:
Local in-person, virtual assistance, who, how much and how to manage staff are covered in this key section.
Session 8, Presenting:
Making winning presentations takes planning and skills. Find out how the pros make this key skill look so easy and how to get your skills to a professional level.
Session 9, Liability Management:
You have been working for years, only to have a potential law suit or professional complaint wipe out your savings and future business. Ever increasing liability and professional fines demand a new level of risk planning and defensive strategy.
Session 10, Teams, Family and Succession
How to build a team, how to choose a team and how the money works. The do's and dont's of working with family. This is a key session for your future and for those who join you in the journey.
---
Optional: Coaching/Mentoring Options (telephone or video conference) 20 minutes per week.
Why Coaching/Mentoring?
Business can be a lonely place. Coaching is not only about the business activities of the day, but equally about life skills, application of business strategies and accountability.
Coaching for completion vs. dependency. Our philosophy is to allow our students the flexibility to move in and out of coaching to suit their unique requirements. We believe this service is similar to personal counselling, fitness training, massage and other key life services.
We encourage all participants to have a coach/mentor throughout this program. It may be someone you currently know well who can work with through this program. However, we are available if you do not have someone who can fulfil this role.
Personal weekly session with Gerry Halstrom: $400 per month
Personal weekly session with Andrew Schulhof: $250 per month
Coaching fees are paid monthly and there is no more commitment other than the month paid for.