The 1st Annual Pocket Film Fest — The Festival of Mobile Made Films — TODAY...
Description
TODAY is the DAY!
Tickets Available at the Door.

The Pocket Film Fest is a festival of mobile-made films!

Come celebrate what's possible with a little creativity and the tools already in your pocket. We will have submissions from across Utah, the USA, and the world.

View our website to see when each entry will play.
http://www.pocketfilmfest.com/

The program kicks off at Noon at both the Echo Theater and Velour Live. Program A, the first half of entries, will play at both venues. If you're interested in asking (or answering) any questions, we'll have a brief filmmaker Q&A after each screening at the Echo Theater.

At 1:30, join us at Velour Live for a talk from BYU Film Professor Jeff Parkin on how to do more with less in filmmaking. With years of film writing, directing, and teaching experience, Jeff knows a thing or two about telling a great story on video, no matter the challenges.

Then at 2:30, we'll have a panel discussion at the Echo Theater. Hear from Studio C, Bored Shorts TV, Warialasky, and Stuart Edge. Each of them have built up audiences by turning out video after video, with little time, crew, or money. How do they do it (hint: it probably involves a lot of work)?

Program B starts at 4:00 PM, again at both Velour Live and the Echo Theater.

The awards ceremony and closing program will be at 7:00 PM on the field west of the Covey Center for the Arts.

The closing program starts after the sun goes down, so dress warm and bring a blanket! Seating will be on the grass. Come early and get some food from one of the several food trucks we'll have there!

The entire fest will be first come, first seated. Come early for the best seats.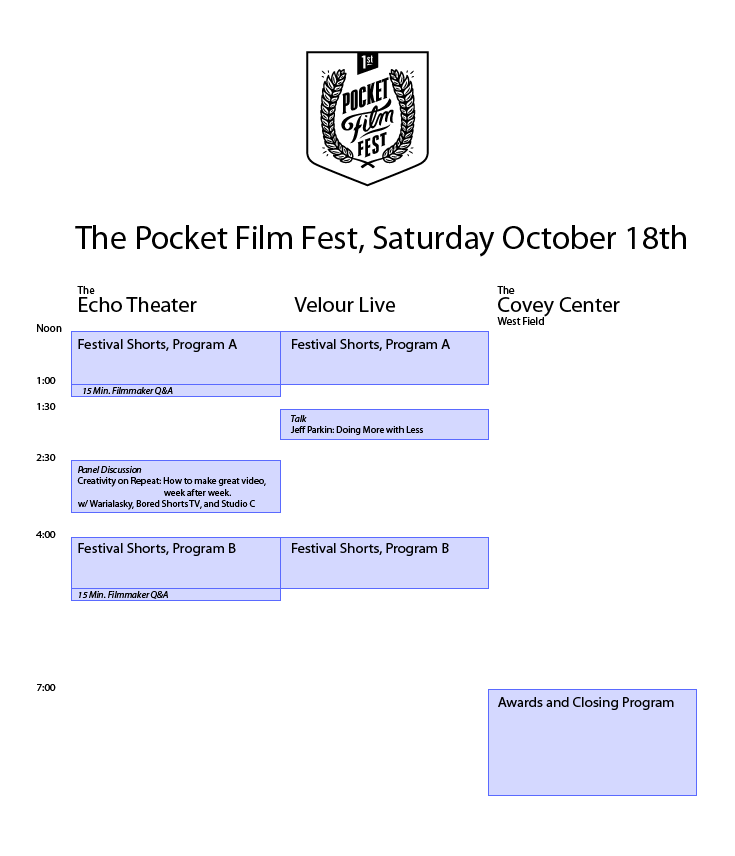 With guest judges, appearances, and films from YouTube stars like:

Stuart Edge Kid History Teddie Films Warialasky
Organizer of The 1st Annual Pocket Film Fest — The Festival of Mobile Made Films — TODAY is the DAY, tickets available at the door!