The 1st Annual @IndieDraft Concert

Tuesday, August 7, 2012 at 7:00 PM
Event Details
Most can attest to the fact that the Atlanta Music Scene is strictly reliant on political relationships and cash flow. "ThA Daily Pursuit" and "Money Makin Bros." have put together a showcase that will change the climate of the industry within the city, which is the sole purpose of the "Indie Draft". The Indie Draft is a plateau that gives true artist a stage to perform free of the political hoopla that many run into withiin the city of Atlanta. The event will feature popular acts in the city solely based on their fan base tweeting the (@IndieDraft) page stating that they want to see that artist take the stage. Artists are expected to get their fans to tweet the account and those who can gain the most involvement and support from their fans will be selected (Drafted) to hit the stage. Absolutely no amount of money shall be exchanged for a spot on the stage. This event was conceived by "ThA daily pursuit" a local company that bridges the gap between artists and their supporters via online outlets through interviews, behind the scenes footage, cyphers etc. Due to the fact that the Atlanta music scene relies heavily on the clubs both Tha Daily Pursuit & Money Makin Bros. are making an attempt to go back to Hip Hops roots by having the first annual Indie Draft Cypher, which will highlight the coldest lyricist from each side of town. The Indie Draft will take place August 7th at the Atlanta Museum bar which is located at 181 Ralph David Abernathy.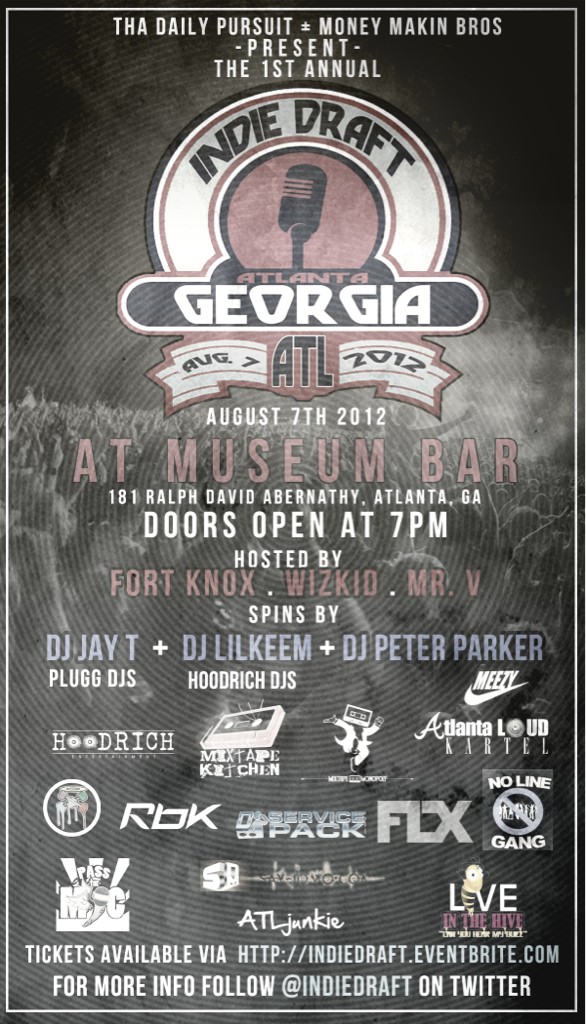 Special Guests Artist Include:
Killer Mike, Trouble, Levi Leer, Bandit Gang Marco, K-Camp, Band Geakz, Retro Phresh, Two-9, Zip Kennedy, Translee, Fly Guy Veto, SyAriDaKid, Rich Homie Quan, Money Makin Nique & Jugg.
Special Appearances By:
DJ Pretty Boy Tank, Sonny Digital, Nard of Nard & B, Beat Billionaire and many more!
More Information: http://saynomo.com/indiedraft/
When & Where

Museum Bar
181 Ralph David Abernathy



Tuesday, August 7, 2012 at 7:00 PM
Add to my calendar