'The 1964-65 NY World's Fair and the Great Big Beautiful Tomorrow' Webinar
Can't make it live? Register and get access to the full replay for one week! New York Adventure Club | www.AdventureClub.com
About this event
If a "world's fair" doesn't ring a bell, think of it as the Olympics of innovation before air travel was commonplace — a chance to show-off incredible, cutting-edge art and technology. And in the 1960s, one of the most legendary expositions of them all took place right here in New York City. This is the story of the 1964-65 New York World's Fair, an uplifting showcase of mid-20th-century American culture and technology, and bastion of the Space Age.
Join New York Adventure Club as we travel back in time to explore the 1964-65 New York World's Fair — held at Flushing Meadows-Corona Park in the borough of Queens, this global exposition covering 646 acres featured over 140 pavilions with 110 restaurants; exhibitors from 80 nations, 24 states, and over 45 corporations; and introduced the world to technologies of the future including color TV, picturephones, and even the Ford Mustang.
Led by licensed NYC guide Lloyd Trufelman, our digital showcase of the 1964-65 New York World's Fair in all of its retro glory — and past, present, and future of Flushing Meadows-Corona Park — will include:
The origins of the 1964-65 World's Fair, and why it was built on the ground plan of the previous iconic 1939 New York World's Fair
A discussion around notable exhibits and pavilions from the fair, including General Motor's "Futurama" moving chair ride through the future, Walt Disney's debut of Audio-Animatronics, and a bomb shelter modeled as an underground home
The fair's most controversial issues, including civil rights, the Vietnam War, and the art of Andy Warhol
Why the fair capped the career of Robert Moses, New York's legendary power broker, along with his grand plans for Flushing Meadows Park
Remnants from the fair that still exist today, including the NYC Pavilion/Queens Museum, Unisphere, NY State Pavilion, Hall of Science, and others
Afterward, we'll have a Q&A with Lloyd — any and all questions about the 1964-65 World's Fair are welcomed and encouraged!
Can't make it live? Don't worry, you'll have access to the full replay for one week!
See you there, virtually!
*Immediately upon registering, you will receive a separate, automated email containing the link to join this webinar
**For the best possible viewing experience, please ensure you're using the latest version of your internet browser — Google Chrome is the most compatible. Exact technical requirements and a webinar user guide will be shared in the automated confirmation email upon registration.
***A full replay of the experience will be available to all registered guests for up to a week
Testimonials
"Learned so many new things I was never aware of. Great slides and explanations. Especially liked the then and now." -Lin
"Great lecturer. Great depth of knowledge. Covered a lot of ground." -Gail
"Presenter was well informed, showed things that I was not familiar with. I have attended hours worth of panels on the 1964 NYWF and toured the fairgrounds with the Disney fan club, D23, and I am very familiar with Disney's contribution to the fair and I was very impressed with the presenters knowledge on Disney's contributions, which gave a lot of confidence in the material being presented. I will definitely recommend this to my D23 friends and I look forward to the other tours you guys offer." -Melissa
"The presenter had excellent knowledge on the subject of the different world fairs. i had attended the NY World's Fair in 1964 in my first year of high school. Thank you so much." -Muriel
"Lloyd was knowledgeable and articulate and explained things in a way that was interesting" -Merry
"The presenter had extensive knowledge of Flushing Meadows now and the time of the World's Fair. He was very complete and interesting." -Diane
"Very informative and enlightening. Made it possible to see the whole fair, which I did not get to see when I was 7 and living in Flushing, too! Lloyd knew so many details." -Gayle
"Being a displace ny'er I found it interesting to see what the park looks like today and the remnants of the Fair. It brought back so many memories for me. I spent a great deal of time at the World's Fair because my dad was the accountant for the Moroccan Pavillion. I loved it!" -Rande
"I liked all the photos and the info. I lived in Flushing at the time and went to the fair several times. (My first son was born in August, 1956!) All my family came down from Albany at various times, to go with us, too. This was sooo nostalgic!! Thank you! :)" -Nancy
"It was an excellent tour with so many great photos and videos. I learned so much and had a lot of fun at the same time!" -Lisa
"Aside from reliving some of the memories of my childhood, I really liked the way he put the development of the site over the years in the overall historical context. Fascinating!" -Dale
"It was a great walk down memory lane. My family lived in Fresh Meadows and I was 7 when attended. My sisters were 9and 12. Watched as my sister in another state did and we texted back and forth about what we did and did not remember. Also fascinated by use of footprint of '39 fair and relationship with Disney. Tour guide did a great job" -Pamela
"Guide's depth of knowledge, juxtaposition of old and new images to convey a sense of 'then' and 'now,' guide's positive attitude about and affection for the Park as it is now and hope for its continued improvement and restoration, even his cynicism about Robert Moses :-) This felt like a very personal tour. Really enjoyed it!" -Sherry
"The host was great! I loved the content and the pics really made me feel part of the fair!" -Gloria
"I liked the videos, the idea of "walking" through the tour although it was virtual and the research the presenter had done into new ideas for the area which was beyond what I expected." -Laura
"It was very nostalgic for someone who like me who attended the fair. I liked seeing what still physically existed from the fair. It was thorough and the presenter was knowledgeable." -Thomas
"I had attended the 1964-65 fair and it brought back fun memories, and I was glad to see how the lands are being used today." -Virginia
"Very organized, excellent narration, learned somethings I didn't know." -Lyn
"Presentation brought back a lot of memories, presenter shared great pics and knew a lot of interesting info" -Susan
"Tour guide was knowledgeable and witty, enjoyed the Q&A segment." -Terri
"Logical "tour" process, so you could paint a picture in your mind with the route map being followed. The photos. Such fun, nostalgic and informative, and brought forward to what's happening in the park now." -Nancy
"It was very enjoyable to relive memories from the past. While listening to the narration both my husband and I could place ourselves back at the 64 fair. The historical information presented was also very interesting. Next trip to NY, I will definitely be driving to Flushing Meadow Park to see the place again." -MaryJo
"I liked the videos, photos and great knowledge of the tour guide. The pacing was good too as was the depth of history he shared." -Miriam
"The "tour guide" had great knowledge of the subject matter, and conveyed it in a clear, concise manner. Brought back lots of memories and learned a great deal, too!" -Ernestine
"Loved all the photos and the moderator was very informative." -Cheryl
"It was cool to remember the fair. And interesting to see what is happening to site since then!" -Vicky
"I liked the portion of the event that was focused on the 1964-65 World's Fair. It's origins and visuals and verbiage that showed the fair was it was in the 1960's." -Marjorie
"Well-organized presentation with excellent slides coupled with a great narrative by the leader. I wanted to hear more, but 1 1/2 hours was enough for one session." -Norman
"Learning things that you may skip over and or not catch on your own, pics of things you may find easily, and seeing and hearing about it through a buff's eyes." -David
"Extensive knowledge of all elements of topic, Whole talk supported by pictures. Past, present and future info about the topic and the site where fairs took place. FULL of interesting information and ideas for future in person visit to site. Totally engaging 90 min." -Ruthann
"I loved the videos the best. I love the photos of all the attractions. Great narration. A great 'retro'spective." -Carolyn
"It was interesting to me to learn what came before and after the 64-65 event." -Mary
"I liked the history behind the fair itself and the many pavilions discussed. I was there several times as a young teen, and it brought back many memories." -Janet
"The speaker gave a very thorough historical overview of the events leading up to the 64-65 World's Fair, the Fair itself and what happened after the Fair up to the present." -Nancy
"I am a huge Disney fan and had heard about this Worlds Fair for many years. I jumped at the chance to attend this webinar when I saw it listed. The presenter was so knowledgeable! Love the details he provided. I could tell that he was very much invested in the topic and had truly been to the places." -Lynn
"Thoroughly fascinating. I enjoyed the details and taking a walk down memory lane!" -Ruth
"Informative, brought back memories, and how it is today." -Maureen
"I visited the 1964 World's Fair so it was especially fun to reminisce. It was also very interesting to find out about what happened to the exhibits afterwards." -Doreen
"The speaker was engaging and informative...the then and now photos, videos and structure of the tour were thoughtful and well done." -Sharon
"Memories. I attended the fair 2-3 times when I was in high school. I was thrilled to see that at least some of my memories of the fair were accurate." -Virginia
"Thorough, informative, photos and comparisons to now. Entertaining. Could have. Watched for hours more." -Patrick
"Very knowledgeable guide who was engaging even over the internet." -Barbara
"He gave us so many different articles on it and I was impressed with this." -Marilyn
"I liked the total focus the presenter had on his presentation . Interruptions can break my concentration and he was able to simply tell the tale !!! Which he did reeeeally well!!" -Jennifer
"The whole event was great. Lots of information and wonderful slides. Really enjoyed it Spent a lot of time at the 64'65 world fair." -Henry
"Presenter was excellent. I liked the laying of past and present." -Patricia
"Very knowledgeable host, interesting content, good amount of bonus info. related to the topic, nice visual material." -Roberta
"Very interesting to see so much wonderful memories and all the knowledge from Larry was excellent." -Eric
"Informative, well-organized, speaker was extremely knowledgeable, video clips and photos. Can't say enough good things about it!" -Joan
"The tour guide was very knowledgeable and engaging." -Elisabeth
"The host was knowledgeable and articulate and amiable. The visuals were engaging." -Audrey
"Lloyd was extremely knowledgeable about the subject matter and tied events together for context with timelines from what else was going on in the world." -Barbara
"It was very comprehensive. I loved the story on how the Beatles arrived by helicopter and went by armored vehicle to and from Shea Stadium." -David
"It was very informative. The tour guide was knowledgeable." -Robin
"It brought back memories and was very informative about the years before and after the NY World's Fair." -Gail
"Brought back memories from the event. Enjoyed seeing then and now photos." -Jackie
"I loved all the details and historic pictures. The presentation was well done!" -Carrie
Disclaimer
By attending a New York Adventure Club experience, you accept our terms of service.
Categories: Virtual, Moments in History
Organizer of 'The 1964-65 NY World's Fair and the Great Big Beautiful Tomorrow' Webinar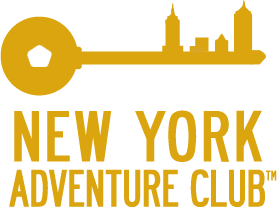 NEW YORK ADVENTURE CLUB
Unlock Your City
We give you insider access to the city's best-kept secrets. But we're so much more than a tour company.
WHO WE ARE

We are a community-driven club that curates the most unique experiences in town, with a focus on history and storytelling. We show you a city you never knew existed, and offer a community you can't live without.
You won't find our special-access tours and exclusive events anywhere else. Think after-hours tours of New York City's most celebrated spaces, themed parties in unexpected locations, and weekend excursions to incredible destinations. All of our events end with social hangouts so you can meet people who love exploring as much as you do.
THE 'CLUB' IN NEW YORK ADVENTURE CLUB

Our current community is more than 23,000 members strong and includes everyone from recent NYC transplants to lifelong residents. Whatever borough you're from (or city or country, for that matter), we'll make it easy for you to take full advantage of the unique places and great people this city has to offer.  
WHERE WE GO
To ensure a one-of-a-kind experience each and every time, we handpick events and outings specifically for the New York Adventure Club community. Recent events include:
* An after-hours tour of New York City Hall
* Special access into some of New York's most coveted private social clubs, including the Explorers Club and National Arts Club
* Petting baby kangaroos, holding sloths, and feeding leopards at Staten Island Zoo

* An NYPD Precinct tour, including a meet-and-greet with detectives and Emergency Service Unit crew members
* A tour of the Polish Consulate led by the Consul General and Vice Consul General of Poland

* A special-access tour of Brookhaven National Laboratory and its Relativistic Heavy Ion Collider (RHIC)
* A Halloween party in a historic gothic crypt, complete with a five-piece brass band
Subscribe with our newsletter to get the inside scoop on the city's most interesting events: http://eepurl.com/1cnVH
Unlock Your City with New York Adventure Club