Description
Who are the Haitian-Americans making a difference in America?
To answer that question, the 1804 List, named in honor of Haiti's year of independence, recognizes 25 Haitian-American Changemakers in the United States who have demonstrated outstanding achievement and success in their profession and proven themselves to be forces for change in their communities. They are seen as thought leaders, trailblazers, or unsung heroes who, through their deeds and accomplishments, have helped to create a better understanding of Haiti and the Haitian community.
The 1804 List also recognizes five (5) outstanding Haitian-Americans as our Ones To Watch who represent our community's innovators and rising stars from a wide range of industries and backgrounds. It also reflects the broad range of accomplishments by Haitian-Americans in the United States.
This year, HRT celebrates an important milestone, the 5th anniversary of the 1804 List. Over the past 5 years the 1804 List has inducted over 150 industry and thought leaders and has created a blueprint and visual history of Haitians who are the embodiment of excellence in this country and will be a source of pride for our community for generations to come.
The 1804 List is a movement doing its part to join with others in our community working to redefine the narrative on Haiti and Haitians. Thanks to all who have and will continue to partner with the Haitian Roundtable in celebrating achievements in our community.
As Haitians, "We are the Keepers of our Legacy".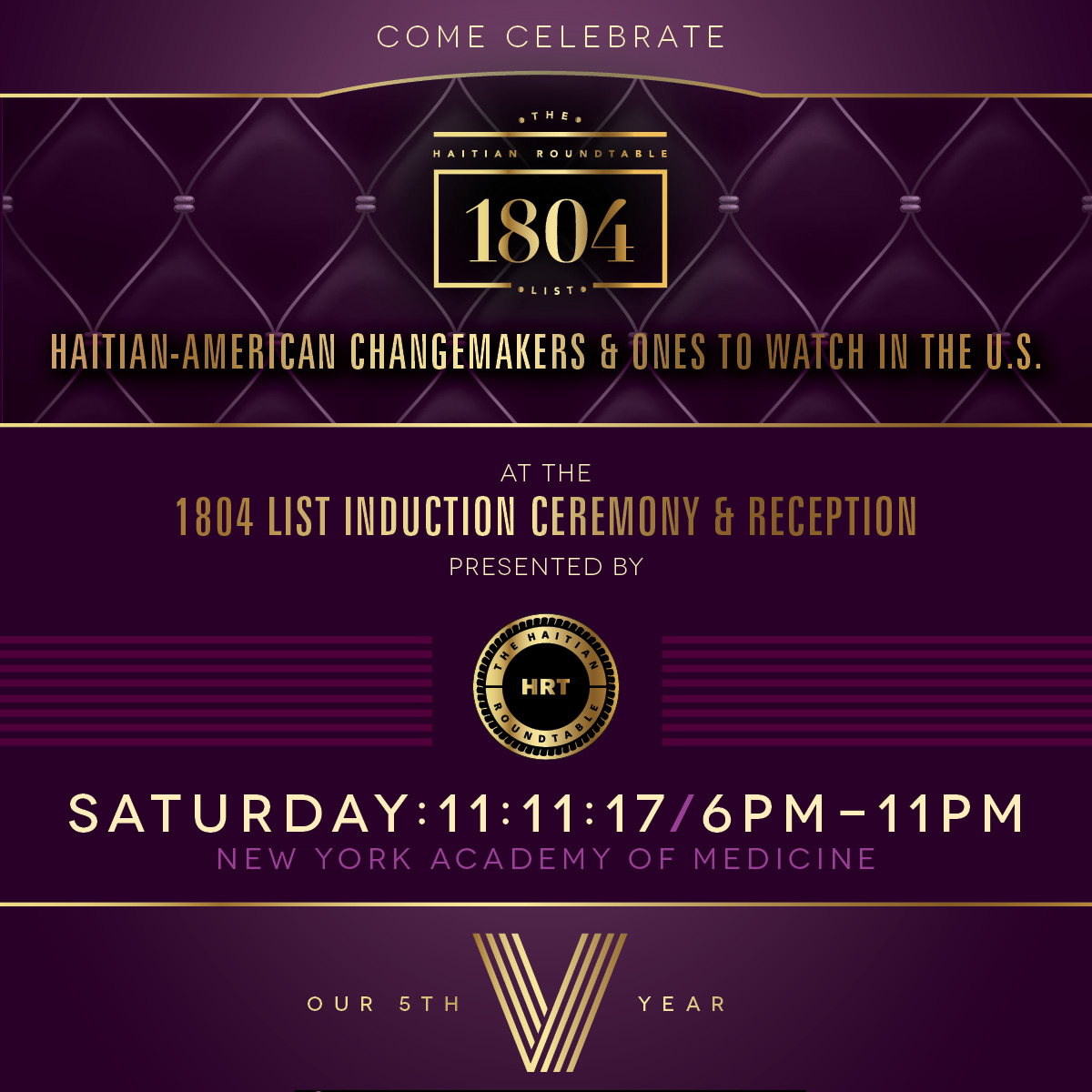 A Recognition Ceremony and Reception will be held on Saturday, November 11, 2017 from 6:00PM to 11:00PM at the New York Medical Academy.
The 2017 HONORARY EVENT CHAIRS are:
Eddy Bayardelle, President, Bronx Community Foundation
Kedma Pognon Brown Senior Vice President Operations and Project Management, Zenith
Karine Jean-Pierre Senior Advisor and National Spokesperson, MoveOn.org

Mitchell Silver Commissioner, NYC Department of Parks and Recreation
Mandell Smith Field Director/Financial Advisor, Northwestern Mutual
---------------------------------------------------------------------------------
THE 1804 LIST OF HAITIAN-AMERICAN CHANGEMAKERS & ONES TO WATCH IN THE UNITED STATES ARE:

#The1804List continues a worthwhile tradition of showcasing the best in the #Haitian community to the world. For more info about HRT contact us at:
info@thehaitianroundtable.org or (646)405-4905
We look forward to seeing you!