The 17th Annual Taste of Lynnfield

Sunday, November 7, 2010 from 6:00 PM to 9:00 PM (EST)
Event Details
 On Sunday, November 7th, 2010, a collection of some of the area's finest restaurants and businesses located north of Boston will join together to help raise money for the Lynnfield Educational Trust (LET), a non-profit that provides financial support to enhance the educational experience for all children in the Lynnfield Public schools.   
The 17th annual "Taste of Lynnfield" will be an evening filled with culinary samplings from some of the area's most recognized chefs and a silent auction featuring a variety items including:  an overnight stay at the new W Hotel in Boston, endless gift certificates to spas & restaurants, a round of golf for 3 at Salem Country Club, fine wines, a flip video camera, a photography package by Priestley Photography, a LaMer gift basket from Nordstroms and a ZOOM teeth whitening treatment.  Guests will also have the opportunity to take a chance on a Balloon Pop raffle.  There will be 200 balloons available at $10 apiece and each balloon will contain a prize worth at least $10, but others will have higher values.  A new twist this year is the addition of The Gold Rush At Home (www.thegoldrushathome.com), whose representative, Jessica Bolger, will be on hand to pay top market price for old gold jewelry (in any condition), with payment made on the spot. This new feature is a real win-win because anyone who brings gold to the event will go home with a check and The Gold Rush At Home will donate 15% of the total night's payout back to LET.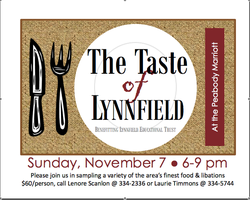 The "Taste" will be held at the Peabody Marriott on Centennial Drive in Peabody, MA.  The tasting will kick off at 6:00PM in the Marriott Ballroom and continue until 9:00PM.  During that time guests can browse and bid on the many silent auction items that will be on display.  This year attendees will have the opportunity to sample the culinary talents of some outstanding area restaurants including:   The Blue Ox (Lynn), 15 Walnut (Hamilton),  Masa (Woburn), Jalapeno's Mexican Restaurant (Goucester), Turbine Wine Bar (Lynn), T&L Wine Cellar (Lynnfield and Peabody), Cafe Jag's (Wakefield), FINZ (Salem), New England Beverage (North Reading), Focaccia (Wilmington), Guilio's Bakery (Wakefield), Mount Vernon at the Ship (Lynnfield), Sandrino's Best of Thymes Catering (North Andover), The Antique Table (Lynn), The Chocolate Truffle (Lynnfield), Edible Arrangements (Peabody), Venetian Moon (Reading), Premier Caterers of Boston (Boston) and Carrabba's Italian Grill (Peabody).  Restaurants are still being confirmed so to get the lastest list of participants please visit the Lynnfield Educational Trust website at http://lynnfieldeducationaltrust.org/.   
All proceeds from this event will go towards funding innovative and creative enrichment programs throughout the entire Lynnfield public school system.  Since its inception in 1990, the L.E.T.  has been commited to supporting students throughout their educational experience in Lynnfield, from pre-school through high school. To that end, the L.E.T. is in the process of establishing a scholarship that will be awarded yearly to a graduating senior.  There continues to be an important need for public schools to have funds over and above what is provided through taxes.  This additional funding can help to make the difference between an average educational experience and one that is more meaningful.   
WHEN: Sunday, November 7th, 2010 beginning at 6:00PM.
Schedule of Events
Doors Open at 5:45PM
Tastings until 9:00PM
WHERE: The Peabody Marriott, 8A Centennial Drive, Peabody, MA 
INFO: $60 presale, $40 Seniors age 65 and older. There will be a limited number of tickets available for sale at the door.  Cash bar. All proceeds of event go directly to the Lynnfield Educational Trust.  All contributions to the L.E.T. are tax-deductible to the full extent of the law.  Please call Laurie Timmons at 781-334-5744 or Lenore Scanlon at 781-334-2336 for more information.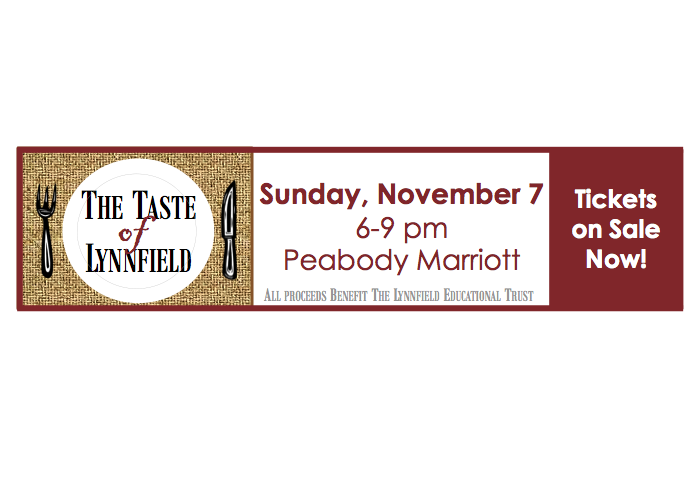 When & Where
8A Centennial Drive
Peabody, 01960


Sunday, November 7, 2010 from 6:00 PM to 9:00 PM (EST)
Add to my calendar