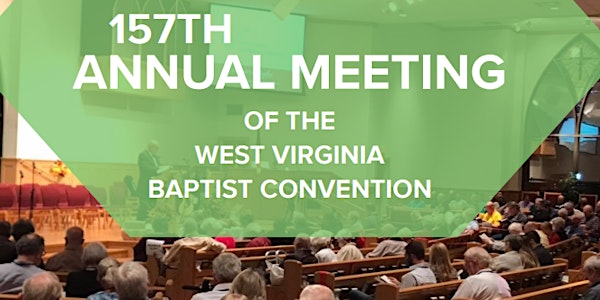 The 157th Annual Meeting of the West Virginia Baptist Convention
The 157th Annual Meeting of the West Virginia Baptist Convention
When and where
Location
Summersville Baptist Church 422 Main Street Summersville, WV 26651
Refund Policy
Contact the organizer to request a refund.
About this event
Host Association Welcome Letter
What is the second part of that wise saying: "If at first you don't succeed …?" No, it's not: "Skydiving isn't for you." It is: "Try, try again." It was actually a song that children would sing, "Tis a lesson you should heed, try, try again. If at first you don't succeed try, try again." And that is exactly what we are doing here at Summersville Baptist Church this October as we "try, try again" to host the Annual Meeting of the West Virginia Baptist Convention.
In 2020, our church had all of the committees and teams in place - excited about opening our doors and community to our WVBC family, but just like with everything else, COVID put the brakes on that. Here we are again with different committees, different teams, but the same excitement and invitation. We think this is going to be a great celebration of our mission as a Convention. It will be the perfect time to enjoy the beautiful fall foliage of central West Virginia. It will also be the perfect time to remember why we partner to do ministry together. We hope that you will make plans to join us that week … and bring somebody with you!
- Dana Gatewood (Senior Pastor , Summersville Baptist Church)
Schedule
Thursday:
9:30 AM - 2:00 PM Pre-Convention Activities
2:45 PM Session 1
5:00 PM Dinner Break (BCM Banquet)
6:30 PM Session 2
8:30 PM Alderson Broaddus University Reception
Friday:
8:00 AM Education Society Breakfast
8:30 AM Workshop Session 1
9:15 AM Session 3
11:15 AM Workshop Session 2
12:00 PM Lunch Break
2:00 PM Session 4