Description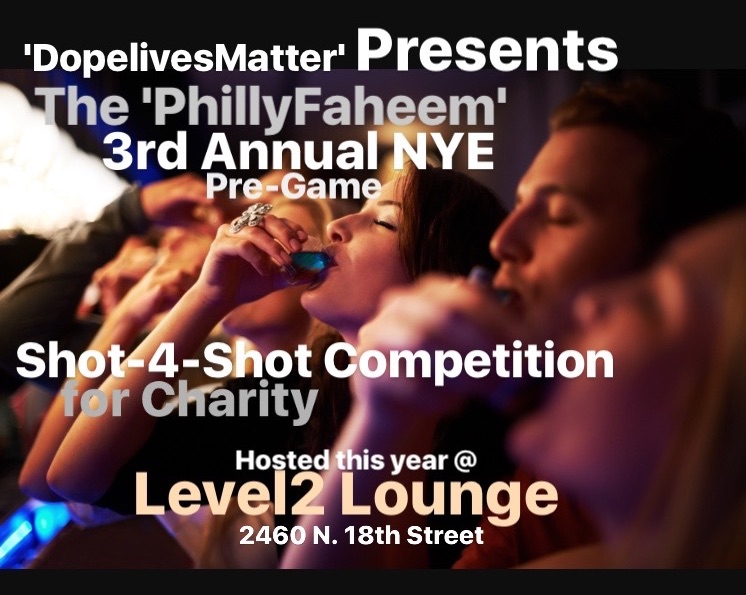 The '15 Shots' in 30 minutes Challenge for Charity!
Pre-Game with us for Charity!
Every year we hear about social injustices across the world and it really brings us down. We feel helpless and our hopelessness takes many of us to a depressive state to where we just drown our sorrows in booze. Well @PhillyFaheem and the Sophisticated Assholes of #DopeLivesMatter have figured out a way where you can make a difference and have a positive impact in the world while simultaneously drowning your sorrows in booze as well. How? By attempting to take 15 shots for Charity!
The '15 Shots' in 30 Minute Challenge for Charity & New Year's Eve Pre-Game Party!
Come Drink with us for charity. Let's show them that us alcoholics can be charitable and socially responsible adults as well. We've finally created an event where drinking is for the greater good of humanity. Yes, we're geniuses. Please support us and help make this event a success. The event will be hosted at a beautiful private social club, 'Level2 Lounge' located near the Temple University Campus. Ubers are recommended or bring a designated driver. This event will be fabulous but not to die for! Come prepared and be responsible. Bring your friends. Let's Pre-game for New Years Eve while supporting our international friends of Libya. This is a great New Year's Eve Pre-gaming event for a group of drunk friends. I'd love for our drunk friends to meet yours. Let's take a drink, make a difference in the world and help end the slavery in Libya.
All are welcomed. Make this your first stop on your New Year Eve's journey! Pre-Game with us!
Doors Open @ 7pm.
Rules:
Participants must be 21 & Older and not already visibly intoxicated.
Participants will be given and must drink an entire bottle of water prior to starting the challenge.
Participants will be given and must drink an entire bottle of water after ending the challenge.
The Event Starts at 7pm and ends at 11pm. Participants must be checked in and registered by 10:30pm at the latest.
Host will contact participants prior to event to coordinate arrival and answer any questions.
The environment will be fun and upbeat with music and complimentary hookah for the participants.
The cost to participate is $100
Participants are challenged to take up to 15 shots of either light or dark liquor only 2 minutes apart.
For every shot taken, we will donate $3 bucks, to legal fees to help end Slavery in Libya.
$15 shots are the max. Essentially, the challenge is to take 15 shots in 30 minutes.
Participants only have 1 minute between shots. After 1 minute. The Challenge is over and the total number of shots taken, multiplied by $3, is the amount of money that will be donated to support the charity in your honor.
Certificates will be presented to all participants.
Shots cannot be shared by friends.
Friends are encouraged to take the challenge together and compete.
It will be a great vibe, a Pre-NYE party and a great way to start your NYE and your 2018!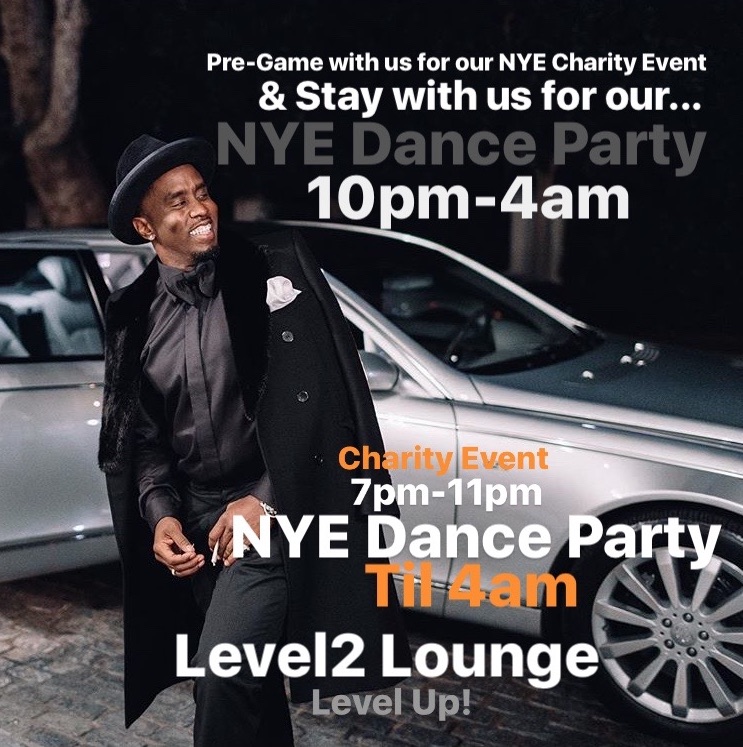 https://www.eventbrite.com/e/dopelivesmatter-presents-an-level-up-nye-celebration-level2-lounge-tickets-40990035299