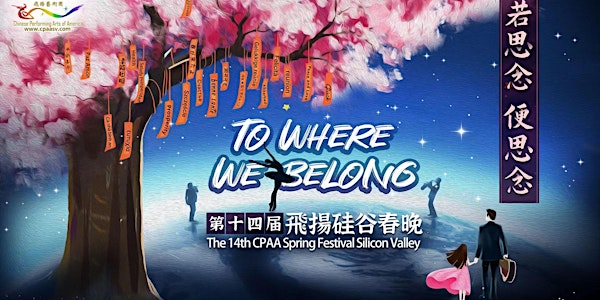 The 14th CPAA Spring Festival Silicon Valley Gala 第十四屆飛揚硅谷春晚
To Where We Belong - A beautiful theatrical production dedicated to our homes on Earth
When and where
Location
San Jose Center for the Performing Arts 255 South Almaden Boulevard San Jose, CA 95113
Refund Policy
Contact the organizer to request a refund.
Eventbrite's fee is nonrefundable.
About this event
Following the great success of the 2022 themed party "An Ode to the Golden Tang'' in Silicon Valley, CPAA (Chinese Performing Arts of America) is proudly presenting another professionally choreographed stage production: "To Where We Belong" this coming March 2023.
Surrounding the themes of longing and belonging, the show will take the audience through the four seasons and immerse in performing music, singing, and dancing of people from different ethnic groups, historical eras, and regions.
We are all residents of the Earth. No matter where we come from, we all feel nostalgia for our homeland and love for the people on that land. We all share a common home - the Earth.
The whole program goes from the vitality and hope of Spring to the heat and prosperity of Summer. To the deepness and introversion of Autumn, and finally settles back to the warmth of love on earth in Winter. Here, you will experience cordially interpreted stories of the four seasons, hear the loving songs of the people, and share a common sense of belonging with all the hearts on Earth.
We look forward to seeing you there at the gala!
继2022年的《唐绢》主题歌舞晚会在硅谷取得巨大成功之后,位于圣荷西的飞扬艺术团正紧锣密鼓地规划又一台专业编导的舞台制作《若思念,便思念》,并计划于2023年的三月倾情奉献给湾区的观众们。
这次英文主题为《To Where We Belong》的晚会,会以思念为主线,带观众穿越地球上的春夏秋冬,观赏到不同民族,不同时代,和不同地域的人们的音乐和歌舞。我们都是地球的居民,无论我们来自何方,我们都带着对地球上某一片土地的眷念,带着对那片土地上的人们的爱和关怀。我们归属于地球,地球是我们共同的故乡!
整场晚会从春天的生机希望,到夏天的火热蓬勃,再到秋天的深沉内敛,最后归结于冬天的人间温情,演绎一年四季的故事,歌唱人们对地球这个共同家园的热爱,探讨每个地球人心中的归属感。
明年草长莺飞的三月,飞扬与你不见不散!