The 12th Women's Summit 2014, The Royale Chulan Hotel, Kuala Lumpur

Monday, September 15, 2014 from 8:30 AM to 5:00 PM
Event Details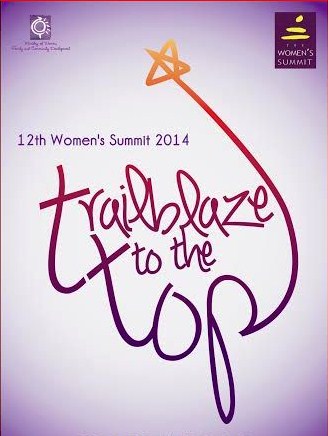 ---
 Tentative Programme
  7:30am    Registration



  9:15am    Opening Ceremony
 

  9:20am    Welcome Address by the Minister of Women, Family and Community Development,
                YB Dato' Sri Rohani Abdul Karim



  9:30am    Keynote Address by the Deputy Prime Minister,
                YAB Tan Sri Dato' Haji Muhyiddin Bin Mohd. Yassin



  9:45am  Moderated Q&A with the Deputy Prime Minister



10:15am  Announcement of the Life At Work Awards.
 
 
10:30am  Tea break
11:00am  Panel : CEOs "Get It: Driving Diversity & Inclusion"
              Moderator: Johan Merican, CEO Talentcorp
              Panelists:
                1. Janet Yap (Accenture)
                2. Ahmad Izham Omar (Media Prima)
                3. Prakash Chandran (Siemens)
                4. Sridharan Nair (PWC Malaysia)
12:00pm  Spotlight
               "Communications in 4Dimensions" by Elisabetta Franzoso, a communications expert
               in seeking an effective and holistic approach to communication for men and women who
               want to nurture authenticity and real connection when they communicate.


   1:00pm  Eat to 'connect' vs 'Connect' to eat (Lunch)


  2:00pm  Afternoon Highlight
               "Find The Power In Your Voice" by Cynthia Zhai


  3:00pm  Breakout
               #1 "Commanding An Executive Presence" by Hamidah Naziadin,
                   Group Chief People Officer, and
                   Head of Group Corporate Resources,
                   CIMB Group Holdings Bhd.
               #2 "Negotiating Pay Rise" by Boonsiri Somchit-Ong,
                   Corporate Vice President for Finance at
                   Advanced Micro Devices Global Services, AMD
               #3 "How To Build a Successful Career in a Global Multinational Company" by
                   Clare Muhiudeen
               #4 "Life At Work: Hear It From The Winners"
  4:00pm  "We Don't Have To Feel Guilty About Being Good" by Ida Nerina
  5:00pm  End of Event
When & Where

The Royale Chulan Hotel Kuala Lumpur
5, Jalan Conlay
Kuala Lumpur, The Federal Territory of Kuala Lumpur 50450
Malaysia

Monday, September 15, 2014 from 8:30 AM to 5:00 PM
Add to my calendar