The 12th Annual Red Carpet Showcase for Emerging Artists & Authors
Announcing the 12th Annual Prince William County Alumnae Chapter of Delta Sigma Theta Sorority, Inc. Red Carpet Showcase
About this event
Each year, the Prince William County Alumnae Chapter of Delta Sigma Theta Sorority, Inc. (PWCAC DST) hosts a Red Carpet Showcase for Emerging Artists, Authors and Musicians to provide an opportunity for Black individuals to showcase their talent and work to the community. This is a free program the chapter hosts each year to encourage literacy and exposure to the arts.
PWCAC DST will host their 12th Annual Red Carpet Showcase on Saturday, Dec. 4, 2021, from 11 a.m. to 12 noon. Until December of 2019, this annual event was held in person. Because of the Covid pandemic, the Red Carpet Showcase was held virtually last year, and out of an abundance of caution, it will be hosted via Zoom again this year.
This year's Red Carpet Showcase features four talented authors:
• Tonja Ancrum wrote "Maneuvering Through the Storms of Life: A Breast Cancer Survivor's Journey and Faith Walk" to encourage and inspire others to navigate the ups and downs of life, providing helpful insight and guidance, based on her experiences battling breast cancer.
• Kim B. Miller is Prince William County's first Black Poet Laureate, and she has written four books of poetry, including the one she will read from during the program, "My Poetry is The Beauty You Overlook."
• Dawn Rutland authored "Hair-ish Journal: The Love Hate Entanglement with Our Crowns" as a fun, nostalgic piece that all Black women can relate to as we recall the past and current challenges of caring for our beautiful, Black hair.
• Karen Roberts Turner penned "The Other Twin," an intriguing fiction novel, about the tumultuous relationship between twin sisters.
Attending this event is a great opportunity to support arts in the local community, and it presents a chance to do some holiday shopping, as each author will provide details for anyone interested to purchase an autographed copy of their book.
Please join PWCAC DST for this exciting arts event on Saturday, Dec. 4, from 11 a.m. to 12 noon by visiting https://bit.ly/PWCACDST_RedCarpet2021.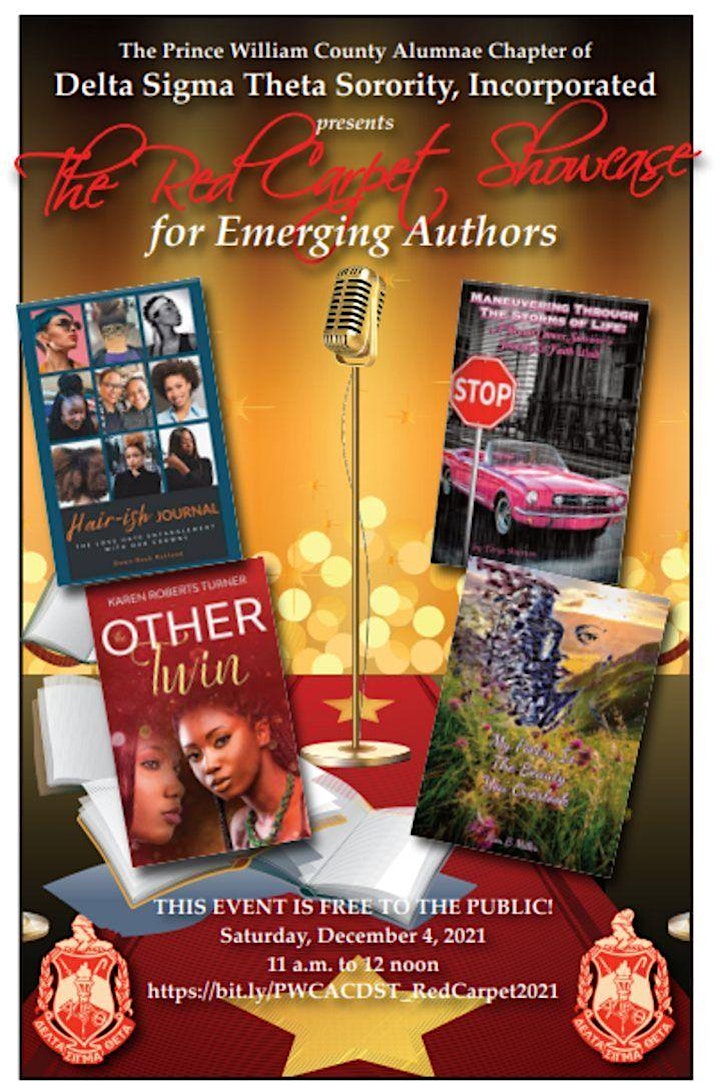 Organizer of The 12th Annual Red Carpet Showcase for Emerging Artists & Authors
The Sorors of Prince William County Alumnae Chapter of Delta Sigma Theta Sorority, Inc. are members of a sisterhood of college educated women, actively engaged in achieving the organizational programs of public service. We demonstrate our commitment by sponsoring a myriad of community projects for the public good that are an outward manifestation of our inner values. We enhance our identity through our respect for academic values of scholarship and intellectual achievement. Our members are predominately African American and carry a historic memory of a peoples struggle and survival.