Description
NC VS THE WORLD 2018


FRIDAY AUG 3RD - SUN AUG 5TH, 2018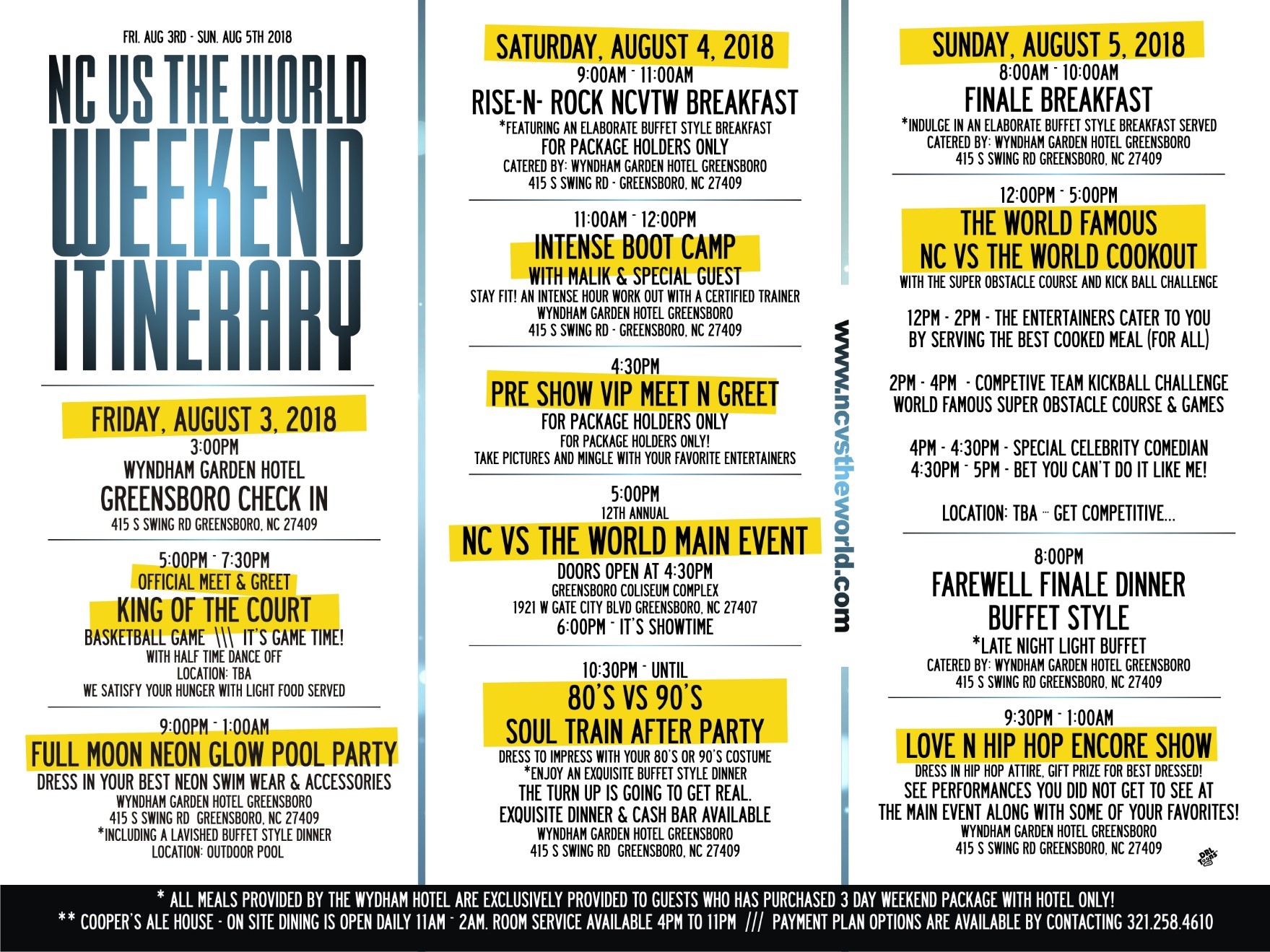 FRIDAY, AUGUST 3, 2018
3:00PM – WYNDHAM GARDEN HOTEL GREENSBORO CHECK IN
415 S Swing Rd
Greensboro, NC 27409
5:00PM – 7:30pm – OFFICIAL MEET & GREET
KING OF THE COURT BASKETBALL GAME
It's Game Time! With Half Time Dance Off
Location: TBA
We satisfy your hunger with Light Food Served
9:00PM – 1:00AM – FULL MOON NEON GLOW POOL PARTY
Dress In Your BEST Neon Swim Wear & Accessories
Wyndham Garden Hotel Greensboro
415 S Swing Rd
Greensboro, NC 27409
Location: Outdoor Pool
---
SATURDAY, AUGUST 4, 2018
11:00AM – 12:00PM – INTENSE BOOT CAMP WITH MALIK & SPECIAL GUEST
Stay Fit! AN Intense Hour Work Out With A Certified Trainer
Wyndham Garden Hotel Greensboro
415 S Swing Rd
Greensboro, NC 27409
4:30PM – PRE SHOW VIP MEET N GREET FOR PACKAGE HOLDERS ONLY
For Package Holders Only! Take pictures and Mingle with your favorite entertainers
5:00PM – 12TH ANNUAL NC VS THE WORLD MAIN EVENT
Doors Open at 4:30pm
Greensboro Coliseum Complex 1921 W Gate City Blvd Greensboro, NC 27407
10:30PM – UNTIL – 80'S vs 90'S SOUL TRAIN AFTER PARTY
Dress To Impress with Your 80's or 90's Costume
The TURN UP is going to get REAL. Cash Bar Available
Wyndham Garden Hotel Greensboro
415 S Swing Rd
Greensboro, NC 27409
SUNDAY, AUGUST 5, 2018
12:00PM – 5:00PM – THE WORLD FAMOUS NC VS THE WORLD COOKOUT
WITH THE SUPER OBSTACLE COURSE AND KICK BALL CHALLENGE
12PM - 2PM – The Entertainers Cater To You By Serving The BEST Cooked Meal (FOR ALL)
2PM - 4PM - COMPETIVE TEAM KICKBALL CHALLENGE, WORLD FAMOUS SUPER OBSTACLE COURSE & GAMES
4PM - 4:30PM - SPECIAL CELEBRITY COMEDIAN
4:30PM – 5PM - BET YOU CAN'T DO IT LIKE ME!
Location: GREENSBORO, NC
GET COMPETITIVE…
9:30PM – 1:00AM – LOVE N HIP HOP ENCORE SHOW
Dress in Hip Hop Attire, Gift Prize for Best Dressed!
See performances you did not get to see at The Main Event along with some of your favorites!
Wyndham Garden Hotel Greensboro
415 S Swing Rd
Greensboro, NC 27409
ROOM: Main Ballroom
* Itinerary may differ slightly from the Weekend Package Itinerary with Hotel. For best package option, upgrade to the 3 DAY WEEKEND PACKAGE WITH HOTEL. For more info pertaining to packages, contact 321.258.4610
** Cooper's Ale House - On Site Dining is open daily 11am – 2am. Room service available 4pm to 11pm
ALL PAYMENTS ARE NON-REFUNDABLE *& NON-TRANSFERABLE
PAYMENT PLAN OPTIONS are available by contacting 321.258.4610