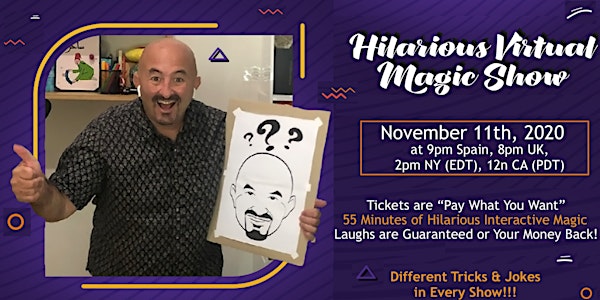 The 11-11 Virtual Magic Show
Each Show is Different & Specially Created to Perform Online. 55 Minutes of Hilarious Interactive Magic! Stunning, Funny, & FUN!
Refund Policy
Contact the organizer to request a refund.
Eventbrite's fee is nonrefundable.
About this event
If the video above does not play, please visit the YouTube link directly: https://www.youtube.com/watch?v=euAHpG7ZQEo
-------------------------------------------------
Honestly Harris, Really really enjoyed it. I know most of your magic, yet you were able to surprise me! I had some good laughs. Everything was set up perfectly. So yeah, thumbs up!
- Antonio Hurtado, Transforma BCN
-------------------------------------------------
FunnyBald Guy, Harris Fellman, presents...
The 11/11 Virtual Magic Show
In case you haven't figured it out by now - I like to make the days of my shows something easy to remember. Thus, the show is November 11th (11/11) and will be 55 minutes of pure comedy magic. It's a live show, so check your timezone: 9pm in Spain, 8pm in UK, 3pm in NY (EDT), 12n in CA (PDT)
Much of the magic performed in my online shows are not even possible to do in any other format (not stage, not in person, not on YouTube, not even on TV).
Each show is filled with completely different tricks, jokes, and shenanigans.
As an audience member, you'll be asked to bring some items to the show - usually a deck of cards, pen & paper. Depending on the show, maybe some coins, rubber bands, candy, or the full contents of your wife's handbag. :)
There are three basic types of magic you'll experience: Visual, Interactive, and In-Your-Hands.
This means you will either: watch the magician, guide the magician, become the magician.
All of this happens with a good mix of comedy and laughter (as long as you do your job and laugh!) The show's comedy, magic tricks, and pacing are all designed for adults (I perform a lot of this stuff for my corporate clients.)
HOWEVER, children 10 and up will still have a good time as well! So, feel free to watch together with your family if you'd like... or send the kids to bed and have all the fun yourself.
No matter what happens - you'll be left scratching your head and the laughs are guaranteed. I promise you'll have fun & you'll be talking about it for weeks!
-------------------------------------------------
We both loved your show last night - I had a long and frustrating day at work so the laughter and excitement of "wow, how did he do that?" was very needed! Josh really enjoyed it too and was clapping so vigorously next to my ear that I may have a concussion!
- Cathy Crompton, Cathy Hart Vocals
-------------------------------------------------
If the above video doesn't play, try it here: