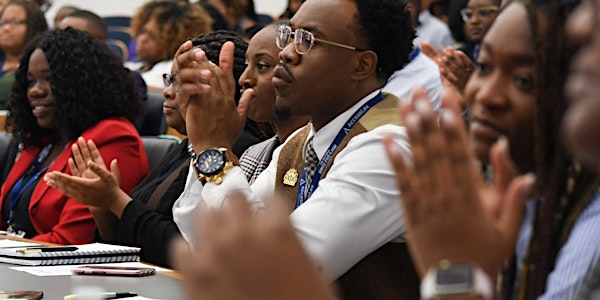 The 10th Annual National HBCU Pre-Law Summit & Law Expo 2023
Celebrating a DECADE as the only major national event created especially for HBCU students and alumni interested in becoming lawyers!
Date and time
September 21 · 10am - September 23 · 10pm EDT
Location
University of the District of Columbia 4340 Connecticut Avenue Northwest Washington, DC 20008
Agenda
Thursday, September 21
Friday, September 22
Saturday, September 23
9:00 AM - 5:30 PM
Thursday, September 21, 2023 - DC-Area Law School Tours
---
Tour guide-led tour of Washington, DC area law schools including American University Washington College of Law, Georgetown University Law Center, The George Washington University Law School, and Cath...

9:00 AM - 3:30 PM
U.S. Capitol Building and U.S. Supreme Court Tours
---
Tour guide-led group tours of the U.S. Capitol Building and U.S. Supreme Court. The U.S. Capitol Building is open from 8:30 am to 4:30 pm. The U.S. Supreme Court is open from 9:00 am to 4:30 pm. Cour...

6:30 PM - 8:30 PM
Networking Night
---
You will not leave without a new friend! Participate in structured networking games and activities! We will proactively help you find your tribe! You will find potential accountability partners and m...

About this event
2 days 12 hours

Mobile eTicket
PRIMARY EVENT DAYS: FRIDAY, SEPTEMBER 22, 2023 AND SATURDAY, SEPTEMBER 23, 2023
LAW SCHOOL RECRUITMENT & RESOURCES EXPO: FRIDAY, SEPTEMBER 22, 2023 | 6:00 P.M. - 8:00 P.M.
BONUS OPTIONAL DAY: THURSDAY, SEPTEMBER 21, 2023 (DC LAW SCHOOL TOURS, U.S. CAPITOL BUILDING AND U.S. SUPREME COURT TOURS, NETWORKING NIGHT)
******************************************************************
WHAT IS THE NATIONAL HBCU PRE-LAW SUMMIT & LAW EXPO? Founded by Attorney Evangeline M. Mitchell in 2014 (an HBCU alumna), The National HBCU Pre-Law Summit is the one and only major national pre-law event created especially for students and alumni of historically Black colleges and universities (HBCUs) interested in going to law school and becoming lawyers.
It provides critical information that those aspiring to become lawyers need to know. However, it fills a void by directly addressing the unique issues, concerns, and challenges that HBCU students face. Speeches, workshops, master classes, and panel discussions cover pre-law school preparation, law school admission, law school selection, the law school experience, the bar exam, career success, and much more.
WHAT ABOUT THOSE WHO DIDN'T ATTEND HBCUs FOR UNDERGRAD? Even though this event was created for those who attend and those who have graduated from HBCUs, ALL are welcome!
WHAT ELSE IS UNIQUE ABOUT THIS EVENT? This event will also be of special interest to those with an interest in attending one of the six HBCU law schools including Howard University School of Law, Texas Southern University's Thurgood Marshall School of Law, Southern University Law Center, the University of the District of Columbia Clarke School of Law, Florida A&M University School of Law and North Carolina Central University School of Law. It will provide them with the opportunity to speak with representatives from those schools and hear directly from their deans during the HBCU Law School Deans Showcase. Participants will gain a better understanding of the histories and missions of those institutions, and their significance and legacies in legal education, in the legal profession, and particularly in the community in providing greatly needed legal services for the underserved who would not have access to lawyers.
THIS YEAR'S EVENT IS FULLY LIVE AND IN-PERSON!
EVENT FEATURES:
This year's event will feature the following benefits:
Pre-Event Orientation on "How to Make the Most of the National HBCU Pre-Law Summit" (On-Demand) by Event Founder Evangeline M. Mitchell
Digital Conference Strategy Booklet, Summit Notes Booklet, Sponsorship Guidance Booklet for Pre-Law Students, and 10th Anniversary Commemorative Souvenir Program Book
Complimentary Continental Breakfasts + Snack Breaks + Receptions
Complimentary Conference Tote Bag or Backpack
Dynamic Keynote Speakers, Special Guest Speakers, Panelists, Moderators, Presenters, Introducers and Facilitators - some are HBCU students or graduates!
Informative and Insightful Panel Discussions on HBCU Law School Admissions, Pre-Law Preparation Programs, The Black Law Student Experience (PWIs vs. HBCUs), Law School Success, Careers, The Bar Exam, and The Role of the Black Lawyer
Workshops on the Law School Admission Test (LSAT), Financial Aid and Scholarships, and Writing the Law School Personal Statement and Diversity Statement
LAW EXPO - Law School Recruitment and Resources Expo - In-Person
Aspiring Lawyers Pinning Ceremony - The Aspiring Lawyers Success Pledge and Symbolic Legal Eagle Pin
Structured Networking Opportunities
Special Invitation to Join our NEW Exclusive National Black+HBCU Pre-Law Membership Networking Community :0)
FREE Downloadable Resources
Complimentary 10-Year Anniversary Champagne and Cupcakes Celebration Networking Reception
Opportunity to Participate in Group Visit to the U.S. Capitol Building and U.S. Supreme Court
Opportunity to Participate in Tours of D.C. Area Law Schools
AND MORE!!!
Please don't miss out on this amazing opportunity to gain information, resources, and connections!
COMPLETELY FREE OF CHARGE TO PRE-LAW STUDENTS, LAW STUDENTS, PRE-LAW ADVISORS, AND LAWYER MENTORS!!!!
http://www.hbcuprelawsummit.org | #hbcuprelawsummit
PLEASE DOWNLOAD THIS YEAR'S PLANNING GUIDE HERE ==>>>
https://www.dropbox.com/scl/fi/7yy7ugy4rpov8akbt8qnr/HBCU-2023-Planning-Guide.pptx?dl=0&rlkey=1xpipwnmcsnwoah4p2mjjz4ka
FOLLOW US ON SOCIAL MEDIA!
HBCU Pre-Law Summit Facebook: https://www.facebook.com/NationalHbcuPreLawSummit
HBCU Pre-Law Pre-Law Network - Aspiring Lawyers Community Facebook Group: https://www.facebook.com/groups/246589532622552
HBCU Pre-Law Summit Instagram: https://www.instagram.com/nationalhbcuprelaw/?hl=en
HBCU Pre-Law Summit Twitter: https://twitter.com/hbcuprelawevent
HBCU Pre-Law Summit LinkedIn: https://www.linkedin.com/showcase/national-hbcu-pre-law-summit/
PHOTO/VIDEO CROWD RELEASE/NOTICE OF FILMING AND PHOTOGRAPHY:
By entering an event or program of the National HBCU Pre-Law Summit, you are entering an area where photography, audio, and video recording may occur.
Your entry and presence on the event premises constitute your consent to be photographed, filmed, and/or otherwise recorded and to the release, publication, exhibition, or reproduction of any and all recorded media of your appearance, voice, and name for any purpose whatsoever in perpetuity in connection with the National HBCU Pre-Law Summit and its initiatives, including, by way of example only, use on websites, in social media, news, and advertising.
By entering the event premises, you waive and release any claims you may have related to the use of recorded media of you at the event, including, without limitation, any right to inspect or approve the photo, video, or audio recording of you, any claims for invasion of privacy, violation of the right of publicity, defamation, and copyright infringement or for any fees for use of such recorded media.
You understand that all photography, filming, and/or recording will be done in reliance on this consent. If you do not agree to the foregoing, please do not enter the event premises or attend any of the in-person events.
Frequently asked questions
Do I have to be an HBCU student to register for this event?
How will I know how to maximize my experience at the National HBCU Pre-Law Summit?
Where will the event take place?
If I drive to the venue, where do I park my car?
How do you get to the UDC School of Law from the Van Ness-UDC Metro stop?
How do you get to the UDC Student Center and Theater of the Arts from the Van Ness-UDC Metro stop?
Are there any recommended hotels near the host venue - the University of the District of Columbia?
Where can I find the schedule for the in-person and virtual events?
What is the cost to attend?
If I don't have the personal funds to make the trip to DC, what can I do to attend?
How can I cut costs so the trip can be more affordable?
What is the expected attire for the event?
What is the fee for the visits to the U.S. Capitol Building and the U.S. Supreme Court?
Who can I contact to address specific questions about the event?
About the organizer
HBCU Pre-Law LLC is dedicated to serving the HBCU pre-law community.