The 10 Lenses Live - Save the Date

Tuesday, November 7, 2017 from 9:00 AM to 12:30 PM (EST)
Event Details

Tuesday, November 7, 2017, from 9:00 AM to 12:30 PM
The United States Navy Memorial 701 Pennsylvania Ave., NW Washington, DC 20004
Explore and develop the mindset and skills to succeed in a time of intense identity and cultural tensions
You live in a global society where people, ideas, products and capital cross-geographic borders in milliseconds, but it has not meaningfully prepared you to deal with the different belief systems you encounter every day.
The 10 Lenses will help you understand where people are coming from, especially related to cultural identity. This half-day event will help you recognize and deal with the powerful mindsets that influence identity dimensions such as race, ethnicity, sexual identity, national origin, social class, gender, where you live, and generations differently.

During this exciting half-day event you will learn to recognize which of the following ten lenses you, your colleagues and community members are using in day to day interactions.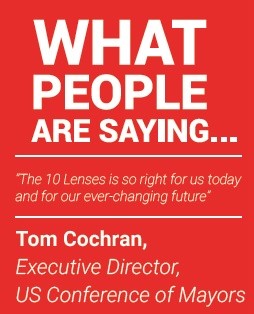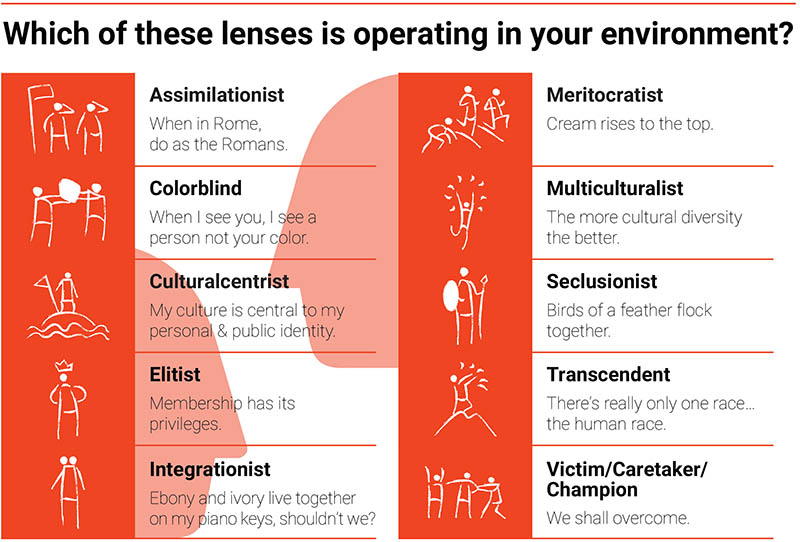 Mark and his team will help you understand how your lenses affect:


What you see

How you interpret what you see

The strengths and weaknesses of each lens
You will learn why your colleagues and community members have different takes on important issues like:

Majority, minority, and cultural subgroups rights and power

Diversity and inclusion, and the resistance and backlash they generate

What it means to be a legitimate citizen

The appropriate formal and informal norms, values, and behaviors for the workplace and society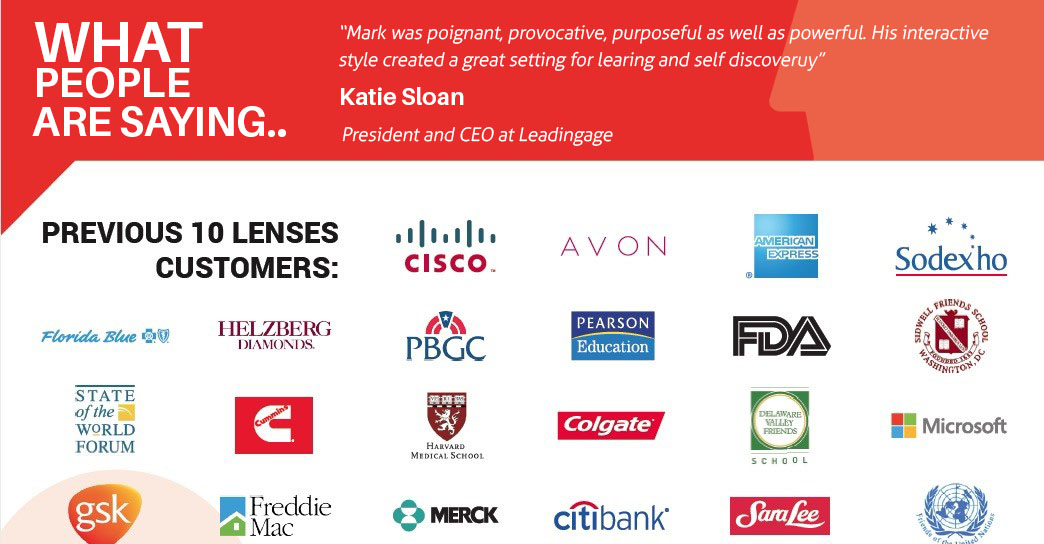 Human Resource Professionals • Federal, State and Local Government Employees* Diversity and Inclusion Professionals • Equal Employment Opportunity Professionals • Senior Leaders*Team Managers • Marketing and Sales Professionals • Community Affairs Professionals • Learning Officers* Media Professionals • Community-Based Organization Leaders • Elected Leaders and their Staffs.
When & Where

The United States Navy Memorial
701 Pennsylvania Avenue Northwest
Washington, DC 20004


Tuesday, November 7, 2017 from 9:00 AM to 12:30 PM (EST)
Add to my calendar
Organizer
Mark has authored five books, including the best-selling business book, The Ten Lenses, Your Guide to Living and Working in a Multicultural World, which has been validated by extensive research conducted by the Gallup Organization.  Many local, state, and federal government agencies, Global 500 corporations, communities, institutions of higher education and industry conferences have used the 10 Lenses to develop strategic insights about workforce motivation and management, as well as customer relations.