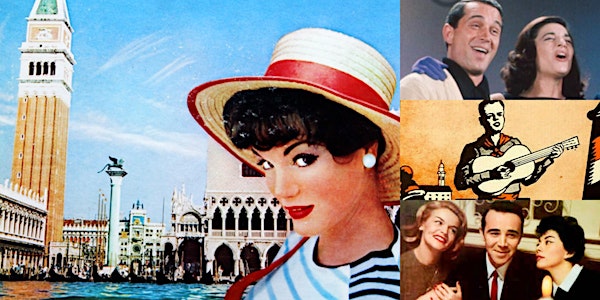 'That's Amore! The Great Italian American Songbook and Singers' Webinar
Can't make it live? Register and get access to the full replay for one week! New York Adventure Club | www.AdventureClub.com
About this event
American music has always been a melting pot of different styles brought over from immigrants and migrants throughout the globe. And while tunes from the African-American and Jewish communities were well established by the mid 20th century, the Italian-American community joined their ranks when some of the era's best singers (Italian and otherwise) began adapting classic Italian songs for the American ear. This is the story of the rise of Italian songs in American pop music, and how legendary artists like Frank Sinatra, Dean Martin, Tony Bennett, and Connie Francis helped solidify the Italian-American sound in popular singing for multiple generations.
Join New York Adventure Club as we celebrate the Great Italian American Songbook and spectacular roster of Italian songs to filter their way into the American pop music circuit, from "Volare" and "An Evening in Roma," to "Non Dimenticar" and "You Don't Have to Say You Love Me."
Led by award-winning author Will Friedwald, who is widely considered one of the nation's most prolific music writers, our Italian-American musical journey will include:
An overview of the rise of Italian songs in American pop culture
Traditional Neapolitan songs like "Sorrento" and "O Sole Mio" — the latter became an American pop hit more than once as "There's No Tomorrow" by Tony Martin and "It's Now Or Never" by Elvis Presley
Analyzing Italian novelty and comedy songs like "Angelina (The Waitress from the Pizzaria)," "I No Wanna," as well as "Mambo Italiano" — most famously sung by Rosemary Clooney
A look at Italian high culture as represented in American pop, such as English language versions of the quartet from Rigoletto and sextet from Lucia Di Lammermoor, as well as Frank Sinatra crooning "La Ci Darem" from Don Giovanni
A "deep-dish" dive into Italo-American musical numbers about love and food
A discussion of Italian pop songs that criss-crossed the continents, like "Botch-a-me" and "Tu Vu Fa Americano"
Afterward, we'll have a Q&A with Will — any and all questions about the Italian American songbook are welcomed and encouraged!
Can't make it live? Don't worry, you'll have access to the full replay for one week!
See you there, virtually!
*Immediately upon registering, you will receive a separate, automated email containing the link to join this webinar
**For the best possible viewing experience, please ensure you're using the latest version of your internet browser — Google Chrome is the most compatible. Exact technical requirements and a webinar user guide will be shared in the automated confirmation email upon registration.
***A full replay of the experience will be available to all registered guests for up to a week
About Will
Will Friedwald is a featured arts writer for The Wall Street Journal and Vanity Fair, and the award-winning author of ten books on music and popular culture, including the new Straighten Up and Fly Right: The Life and Music of Nat King Cole, as well as A Biographical Guide To The Great Jazz And Pop Singers, Sinatra: The Song Is You, Stardust Melodies, Tony Bennett: The Good Life, Looney Tunes & Merrie Melodies, and Jazz Singing. He has written over 600 liner notes for compact discs, received ten Grammy nominations, and appears frequently on television and other documentaries. He is also a consultant and curator for Apple Music.
Testimonials
"Great information and lovely choice of songs." -Kathryn
"I love the great historical material about this wonderful music and the eclectic selections." -Rosemary
"It was entertaining and educational to the max." -Robert
"Host is very knowledgeable; love the old clips and the music." -Amy
"The interesting little known facts revealed in the presentation and the variety of music and performers. Very much liked the host's demeanor and refreshing fact-based approach to the material. Good sense of humor too." -Rose Marie
"Will never disappoints. He had so much information that it felt the time flew by." -Laura
"The presentation by Will. Also, the music. Very entertaining and well done." -Helen
"I like the way Will assembles a topic from so many disparate pieces along a timeline and makes it quite cohesive." -Steve
"This event combined really delightful music with enlightening historic context courtesy of the ever-erudite Mr. Friedwald. I appreciate that this event was curated smartly and respectfully. Depictions of Italian-American culture often fall back on lazy stereotypes, and this presentation avoided such pitfalls." -Bee
"It fulfilled a hankering for Italian music and performances while having an Italian dinner." -Jayne
"I loved the content! I am half Italian and it brought me back to my childhood. Wonderful!" -Kenda
"I learned more about the songs and actors that's sang them." -Rosemarie
"Posters,historical films,research, great variety. Apleasure to remember the calm past we all grew up with." -Lynne
Disclaimer
By attending a New York Adventure Club experience, you accept our terms of service.
Photo Credit: Main Photo - Connie Francis Sings Italian Favorites, MGM
Categories: Virtual, Art & Entertainment