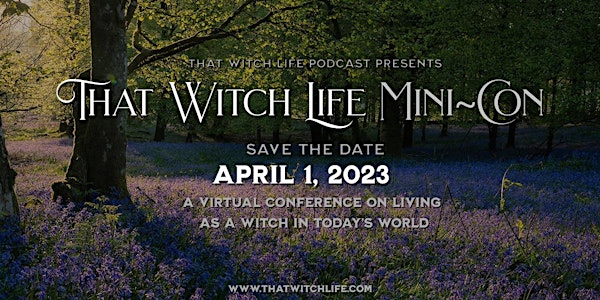 That Witch Life Mini-Con '23
A one day, virtual conference with the TWL hosts, Najah Lightfoot, and a special Master Class with Fio Gede Parma!
By That Witch Life Podcast
Date and time
Saturday, April 1 · 9am - 6pm PDT
Refund Policy
Refunds up to 7 days before event
Eventbrite's fee is nonrefundable.
About this event
Did you love So Mote That Con??? Want more virtual Witch-tacular learning and community??? Then mark your calendars for That Witch Life Mini-Con: April 1, 2023!!! A full-day, virtual conference with workshops led by the TWL hosts and Najah Lightfoot, plus a Master Class with Fio Gede Parma!
Fio Gede Parma- The Land is Our Grimoire, the Body is the Book : In the deep and sensual mysticism of traditional witchcraft we are oriented to the great compass and crossroads of all being and knowing. Through practices and processes of discernment, movement, stillness, dissolving, and alignment we witches are able to connect in with the web of life that is distilled as the land where we are and the lands we carry in us… we drop into the crossroads of power that helps concentrate our magic and refine our relationships with the ancestors and spirits. The land and the body meet and commune. Ever and ever.
Najah Lightfoot- The Power of Inner Knowing : Beginner, Seeker, Practitioner: Those of us who are called to this Path, come because of something we often can't put into words. Some may call it a nudge, whispers from the unseen, spirit speaking to us, or for many it's an inner knowing, something that has been with us since childhood, that's always been there, something we can't ignore that grows stronger with time. Some are blessed with heredity guidance to help nurture this inner calling. While many others must blindly stumble upon one path after another until they find their footing and continue the journey of a lifetime. They find themselves seeking, practicing, discarding, discerning, until they truly find what works for them, and put into practice, practices and methods that truly connect them to the magical spiritually divine. So is the journey of the Witch, the Beginner, the Seeker, the Practitioner. We all seek the way, the knowledge, and the information to truly help us keep going. In this workshop we'll listen to music from the "Powerful Juju" playlist and discuss ways to help you keep looking, while you journey to that magical/magickal place that fuels your soul.
Kanani Soleil- Cauldron Magick for the Extra AF: We will discuss the benefits of using cauldrons as a magickal tool. Different types and uses for your cauldron in your magickal practice.Tips, tricks and spells that you can use while working with your cauldron. Join us as Kanani answer's the age old question, "Does size really matter?" Spoiler alert... Absolutely
Hilary Whitmore- Shadow Work: Leading with Truth and Integrity: You've probably seen people talking about shadow work are wondering what it's all about. Shadow work is the act of uncovering the parts of ourselves that we keep hidden deep down so that we can examine, address, and heal them. In this class we will be learning about how shadow work can deepen and enhance your magick. As witches we always want to strive to be our most authentic selves. Sometimes that takes some digging into the parts of us that aren't our favorite, the parts we worry about, and judge ourselves for. By doing this important self-discovery work we are able to me more authentic in our intentions and address some of our biggest fears. Doing this work is so worth it because it allows us to enhance our magickal power and lead with truth and integrity.
Purchase your tickets now and save $$$! Early bird price goes up March 6th, so get your tickets now and we'll see you in April!!!