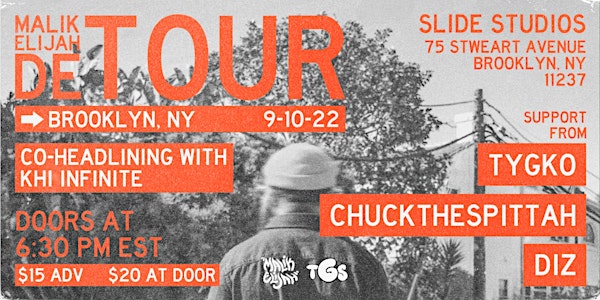 That Good Shit Presents: Malik Elijah's The deTOUR
The deTOUR continues its run at Slide Studios in Brooklyn, New York
When and where
Location
75 Stewart Ave 75 Stewart Avenue Brooklyn, NY 11237
About this event
That Good Shit Presents: The deTOUR - New York at Slide Studios
This amazing lineup features Malik Elijah , Khi Infinite, Diz, TYGKO, ChuckTheSpittah
ADVANCE: $15
DOORS: $20
Instructions for entry to the show will be emailed to the email used to purchase tickets the morning of the show.
*ALL SALES ARE FINAL NO REFUNDS*
Malik Elijah is a Maryland-born musical artist whose sound is difficult, in the best way, to put in a box. Pulling inspiration from a wide range of musical styles, he has something in his bag for everyone. He's started off 2022 with a bang, opening up for EARTHGANG and Mike Dimes on the BIODEGHETTABLE tour as the Pigeons & Planes select artist, and dropping a handful of singles that have earned him a place on This Song Is Sick's "Independent Rappers You Should Know", and attention from outlets such as Daily Chiefers, Modrnation, Show & Tell, ShrekKnowsRap, and more. This year is setting up to be a big one for the Alternative Hip-Hop artist, with whispers of a sophomore mixtape on the horizon that will continue to establish him as people's new favorite artist.
The 21 year-old, Virginia native Khi Infinite stands tall as an artist of his time, with music that emulates the spirit of Bedroom Pop, Hip-Hop and Alternative R&B. It's not only his fresh blend of sounds and captivating writing that sets him apart, but also his versatility. When asked, Infinite explains that he derives inspiration from a myriad of different sounds, including but not limited to those of Mos Def, Andre 3000, and his own father, hip-hop producer Nottz. Infinite aims for a fashion of music yet to be touched upon but somewhat familiar. With psychedelic nods accompanying flirtatious hints of 90's sunshine, Khi Infinite's vocals and verses glide across tracks laden with tasteful guitar riffs and lolling synths. Just from his arrival in 2020 Infinite has begun to pique the interest of the masses, having secured features on a number of editorial playlists across DSPs (including "Alternative R&B" and "tear drop" on Spotify), landing Snapchat's "Featured Sounds" in-app playlist, and earning praise and features from Our Generation Music and BBC Radio's 1Xtra. Press highlights include write-ups from Lyrical Lemonade, Ones To Watch, LA Leakers, Earmilk, Elevator Magazine, and more.
TYGKO ("tee-why-jee-kay-oh") is a Cleveland-born, Chicago-based rapper, songwriter, and performer taking the music world by storm. With feature placements with major names like Quiet Bison and Moore Kismet, selling out most every small room in Chicago, and scoring a recent guest spot at Lollapalooza this year, TYGKO is one to watch.
Diz is a 19 year old hip hop artist and jazz musician, studying at the Berklee College of Music. Known for his emotional, soulful sound, Diz is a poet, pioneer, and leader in the new generation of hip hop. His latest album "ULTRA.VIOLET" received overwhelming support from the underground hip hop community, as well as publications like Pitchfork and Earmilk.
The only thing you can expect out of ChuckTheSpittah is the unexpected. Born Charles Watkins, the Baltimore-bred artist has been perfecting his craft since the age of 13. Citing inspiration from hip hop stars Tyler, the Creator, Lil Wayne, and A$AP Rocky, Chuck absorbs every corner of the culture around him to carefully construct his own brand of organized chaos. Receiving initial recognition for his aggressive, textured flows and bombastic energy, Chuck received early comparisons to his contemporaries due to the maturity and seasoned nature of his delivery. However, Chuck has since taken these comparisons as a cue to prove his versatility, launching his music career into a multitude of different directions. ChuckTheSpittah released his debut project "LIVE A LITTLE MORE" in 2020, followed in 2021 by the boisterous and multidimensional "WHERE? NOT AGAIN." With these albums, Chuck combines off-the-wall bangers with lovestruck melodies to expand his soundscapes and storytelling abilities in a more vulnerable and eclectic direction than ever before. Now in 2022, Chuck is coming off his most experimental and genre-defying release to date, "my GOD." Chuck compliments otherworldly, climactic instrumentals with a raging, combative flow on explosive tracks like "PENDULUM" and "GAMEBOY." With an ambition to innovate and an affinity for the uncharted, ChuckTheSpittah has put himself on the path to become one of the most influential artists of the next generation.