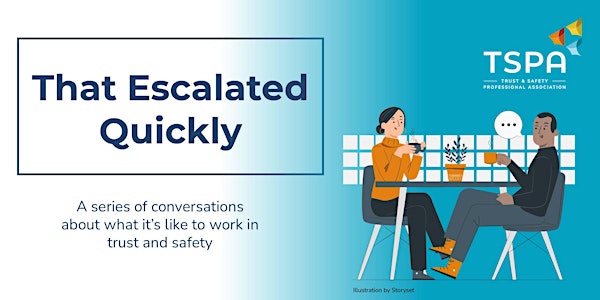 That Escalated Quickly - January Conversation
A series of conversations about what it's like to work in trust and safety
About this event
That Escalated Quickly: What It's Like to Work in Trust & Safety - January Conversation
Trust and Safety is a vast field, with various functions and responsibilities. A T&S professional could be moderating content, writing policy, building products, responding to government requests, measuring quality assurance, and doing so much more. Those who work in T&S also come from diverse backgrounds.
In this series, TSPA brings to you fireside chats with TSPA members about their careers. We'll explore the diversity and breadth of those doing this work. We'll talk about what they do, how they got into trust and safety, and what advice they would give to those wanting to do the same thing they do.
January host and guest: Dali Szostak & Chanell Daniels
Dali Szostak
Dali Szostak is head of UX for Google Trust and Safety leading a team of designers, researchers and content strategists with the goal of shaping the user experience of all the products, systems and tools that counter abuse in Google platforms. She shaped her knowledge of digital security by speaking to (and being inspired by) countless activists, human rights defenders, journalists and experts during pivotal times in places like Ukraine, Zimbabwe, Kenya, Venezuela, and India, leading Google in the understanding of the people using our products that are at high risk. One such group of people are Content Moderators, individuals who are at the front lines of keeping our digital lives safe and are not immediately considered as key stakeholders in the way that technology is designed. 
Chanell Daniels
Chanell leads the Community Safety Team at the fashion resale marketplace Depop and has previously worked on incident response and crisis mitigation at Meta. In the offline trust and safety world, she has experience working in UN peacekeeping operations in Sub-Saharan Africa, environment policy at an EU agency, consumer protection with the UK government, and on EU-China trade relations in Beijing.