ThanksLiving Soiree with Humanity+ and Alcor to celebrate and give thanks to all those who have contributed to anti-aging and longevity.
About this event
In Person via Zoom:
Join Alcor Ambassador Max More, Humanity+ ED Natasha Vita-More, members of Alcor and Humanity+, and the global futurist community for a 2-hour social gathering with friends from the ever expanding community of advocates of longevity to explore advances in science, technology, arts, and humanities that are bringing about a healthy and prosperous future. A video production will be available from Humanity+ with historical transhumanist events over the past 30 years. For the ThanksLiving Soiree, a Zoom link will be available! Stay tuned!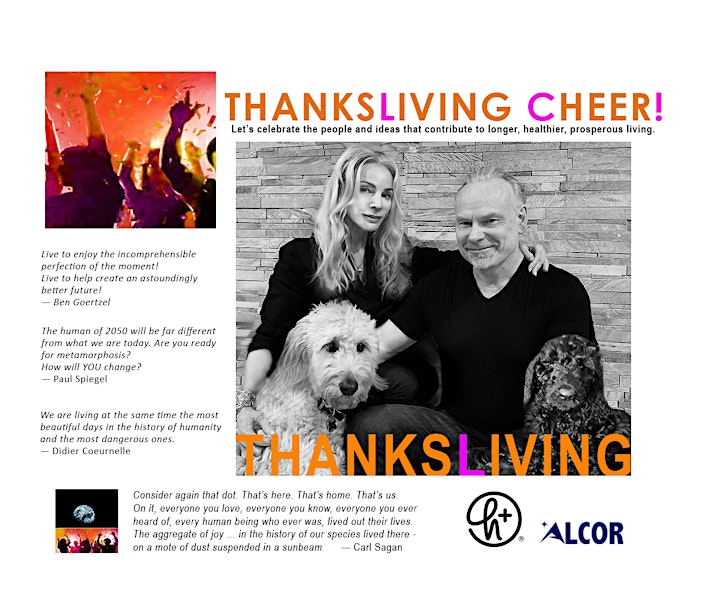 During the ThanksLiving Soiree Humanity+ and Alcor members will joint Natasha and Max with other longevity advocates across the planet to thoughts and experiences about advances in anti-aging and life extension and what they hope to see in 2021.
Event Data Blitz Talks:
• Ben Goertzel
• Allison Duettmann
• Aubrey de Gray
• Nell Watson
• Max Marty
• Jose Cordeiro
• Paul Spiegel
Including existing projects:
• Vladislav Kozlov
• Gennady Stolyarov
• Mark Sackler
Including: new projects
• Women 2050 – socio-economic-political Renaissance
• Transhumanist Studies
______________________________________________
We are going to see more technological changes in the next two decades than in the last two millennia. Put on your safety belts! — Jose Cordeiro
Life is full of unexpected adventures and you have the power to create. The future is in your hands. — Amy Li