Celebrate Thanksgiving over a formal six course Vegan dinner with entertainment and sharing of Thanksgiving stories
About this event
The menu speaks for itself.
Tickets go on sale November 20th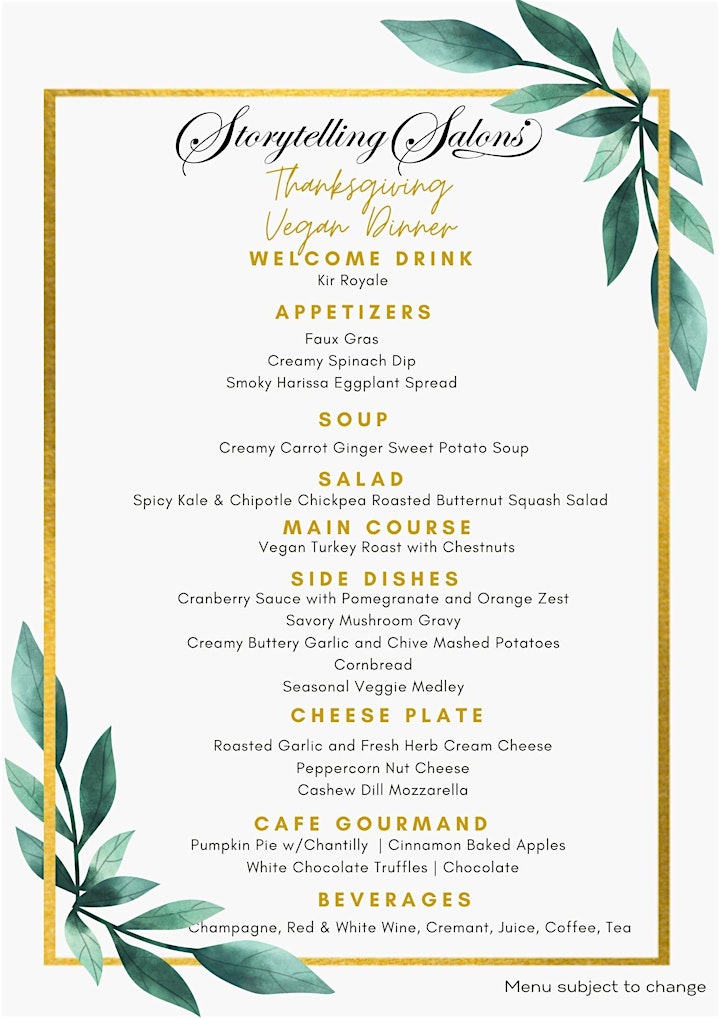 Organizer of Thanksgiving Vegan Dinner. SOLD OUT
Hello, bonjour and thank you for your interest in the Storytelling Salons. Launched in 2016 (with almost 100 to date), the Storytelling Salons are a modern-day reflection of the 17th and 18th century Parisian Salons, adapted to the 21st century. Storytelling Salons gather online and in Paris, storytelling enthusiasts from across the globe featuring a Storyteller (performers, musicians, artists, writers), who entertain, enthrall, enlighten AND share their story.
My story - I am originally from Los Angeles of Irish, German, and French descent and have lived and worked in Asia, Europe and the US.  Since 2002, I call Paris and Seattle home and feel truly "Euro-American". As host of the Storytelling Salons, I am delighted to welcome virtually and in Paris, guests from all walks of life and nationalities who share a common thread and passion for storytelling.

Yours in story,

Bernadette