Description
Thanksgiving is a time for Gratitude, Prayer and Reflection.This Thanksgiving, give yourself the gift of Meditation.
'Meditation is a private retreat from the problems of the world' - Sant Rajinder Singh Ji Maharaj.
Join us for a Thanksgiving Meditation Retreat with International Speaker, Ravi Kohli, who will help us explore ways to make meditation integral to our lives. He will lay out all the guidance, tools and help available for our highest inner growth. Meditation sittings are included. Stay for a Celebratory Vegetarian Thanksgiving meal following the session. The retreat is sure to leave you feeling peaceful yet energized. No prior meditation experience necesssary. Families are welcome. Program is FREE of cost.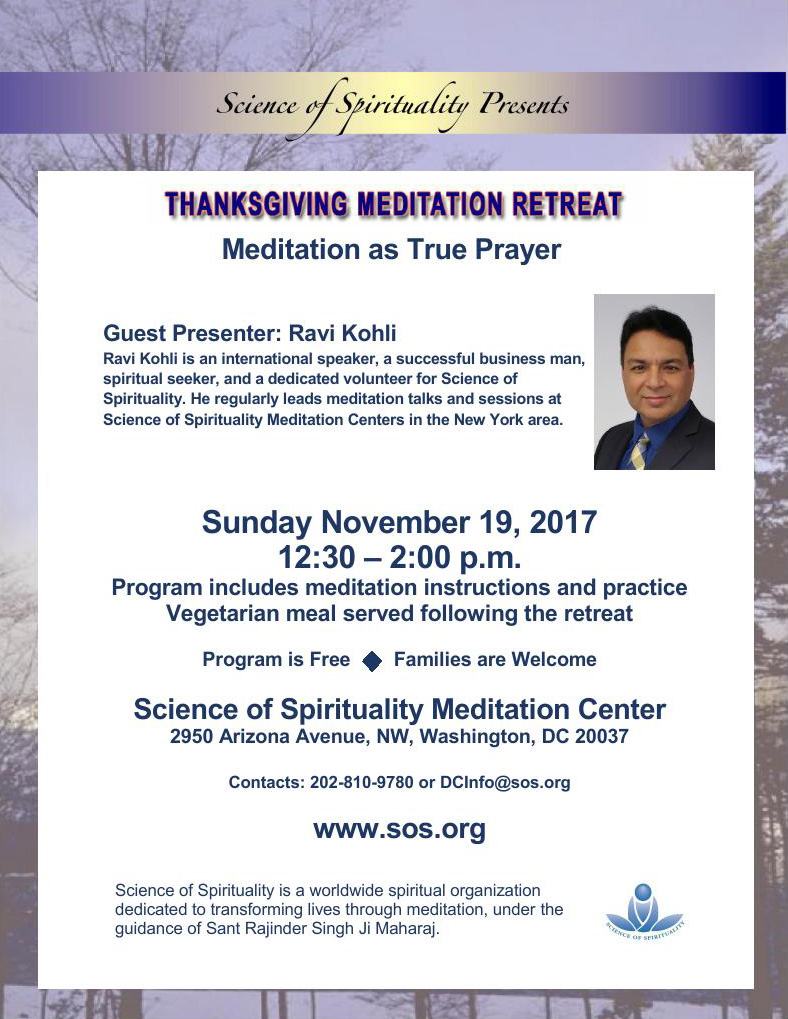 Science of Spirituality Meditation Center, 2950 Arizona Ave NW, Washington DC 20016
Sunday, November 19th 12pm - 3pm.
12:00 pm - 12:30 pm Welcome , light snacks and meet other participants
12:30 pm - 2pm 'Meditation as True Prayer' Talk and Meditation practice led by KeynoteSpeaker - Ravi Kohli
Special Program for children will run in parallel.
2pm - 3pm Vegetarian Thanksgiving Meal.
If you have any questions, please reach us at DCInfo@sos.org or 202.810.9780
Ravi Kohli is an international speaker, successful business man, spiritual seeker and a dedicated volunteer under the guidance of Sant Rajinder Singh Ji Maharaj. He regularly leads meditation talks and sessions at the Science of Spirituality Meditation Centers in the New York area.