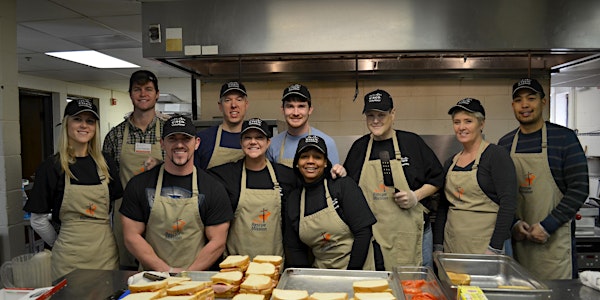 Thanksgiving Meal Hosts 2019
When and where
Location
Raleigh Rescue Mission 314 East Hargett Street Raleigh, NC 27601
Description
Holiday Meal Hosts - Thanksgiving 2019
Rescue Mission serves between 80 and 130 men, women and children three meals a day every day of the year. Our Holiday Meal Host program will enable your group--family, church small group, co-workers, neighbors, etc.-- to provide one of the three meals served at the Mission during the Thanksgiving season, so that our kitchen staff is free to prepare for our Gobbles to Go Outreach Program meals.
As Holiday Meal Hosts, your group will provide the food, prepare and serve the meal and clean up afterward. The estimated cost for hosting a meal is $250-$300. Raleigh Rescue Mission will provide all paper goods, cooking equipment and serving utensils. We ask that your group include at least 4 and no more than 10 volunteers. All group members must be at least 13 years old. For new groups, we will schedule a short orientation session. Please note that we do not need individual volunteers for this opportunity.
If your group would like to sign up for a Holiday Meal Host shift over the Thanksgiving Holiday, please review the dates and times below and choose the shift that fits best wtih your schedule. A suggested menu will be included in your sign up. If your group would like to prepare something other than the suggested menu, please include that information in your sign up or email volunteer@raleighrescue.org. Please feel free to get creative (bring flowers and/or for the tables, bring music, etc. One church group in the past asked their youth group to "wait on" our residents (residents usually come up to the food line to get their food) and served residents their meal at the table. Our clients attend many devotionals, so we ask that you do not "preach" during mealtime. But, we encourage you to be creative and serve in the way that your heart feels called.

(Please note: You do not need to register each member of your group. You need only register ONCE for your group.)
Thank you for helping to make the holidays special for our residents at Raleigh Rescue Mission!