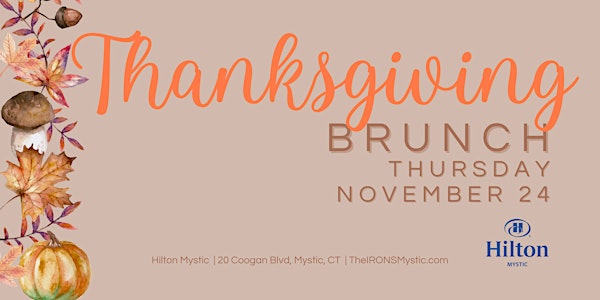 Thanksgiving Grand Brunch Buffet at Hilton Mystic, Mystic, Connecticut
Grand Thanksgiving Brunch Buffet, Hilton Mystic, November 24, 2022. Two Seatings, 12 p.m. and 2 p.m. Advanced Reservations Required.
When and where
Location
Hilton Mystic 20 Coogan Boulevard Stonington, CT 06355
About this event
Enjoy time with your family this year at our Grand Thanksgiving Brunch Buffet, Hilton Mystic, Thursday, November 24, 2022. We'll do the cooking so you can create memorable moments with your family.
This event will take place in our ballroom with separate seating for all ticketed parties.
Two Seating Times: 12 p.m. and 2 p.m.
Each seating is limited to 90 minutes.
MENU - all you care to eat buffet stations.
Charcuterie & Local Cheese
Soppressata, Capicola, Salami, Maple Cheddar, Baked Brie, Moody Blue Smoked Blue Cheese, Gruyere, Cranberry and Onion Marmalade, Oven Roasted Tomatoes, Marinated Olives, Roasted Peppers, Long Stem Artichokes, Pickled Vegetables, Roasted Red Pepper Hummus with Pita Chips, Artisan Breads, Roasted Garlic Olive Oil, Balsamic Vinegar
Soups
Butternut Squash Bisque | Chorizo and White Bean Soup
Local Farmer's Market
Baby Kale, Baby Romaine Spring Mix, Grape Tomatoes, English Cucumbers, Red Onions, Shredded Carrots, Diced Beets, Bell Peppers, Radishes, Chopped Egg, Cremini Mushrooms, House Smoked Bacon, Grilled Chicken Breast, Candied Walnuts, Chickpeas, Dried Cranberries, Garlic Balsamic Vinaigrette, Balsamic Vinaigrette, Avocado Ranch, Creamy Blue Cheese
From the Carvery
Ginger Brined Roasted Whole Turkey, Truffle Gravy
House-made Red Wine Cranberry Sauce
Mustard Cider Glazed Pork Loin, Apple Cider Jus, Brandied Apple Butter
Hot Station
Orange Fennel Salmon, Oven Dried Tomatoes
Haricot Vert and Herb Roasted Carrots, Apple Cranberry Stuffing
Roasted Brussels Sprouts, Caramelized Honey Gastrique
Butternut Ravioli, Brown Butter and Sage
Dual Mashed Potato Bar
Sweet and Red Bliss Mashed Potatoes
Scallions, Marshmallows, Cheddar Cheese, Sour Cream,
Candied Pecans, Bacon Bits
Sweets & Treats
Pumpkin Pie, Apple Brown Betty, Chocolate Pecan Pie, Miniature Tartlets, Dessert Squares, Assorted Truffles, Petit Fours
Child Friendly Selections
Chicken Fingers, Tater Tots, Mac & Cheese, Applesauce
Cash Bar Available | Beverages not included in ticketed pricing.
Tickets/Reservations
Each ticket provides access for one person to their timed event seating.
Tickets may be purchased for 12 p.m. or 2 p.m.
If you are purchasing tickets separately from your group, please let us know who is part of your group, so that we can facilitate seating you together.
Minimum Table size is 4 people | Maximum Table size is 10 people.
Pricing:
Adults: $55 plus gratuity and sales tax. Full INCLUSIVE Ticketed Price: $68.94
Children 5 - 11 years old: $22.50 plus gratuity and sales tax. Full INCLUSIVE Ticketed Price: $33.22
Children under 5: Free
All tickets are pre-paid and include the price of the meal, gratuity and sales tax. Pricing is exclusive of EventBrite Ticketing Fees. Pricing does not include alcoholic beverages.
Tables/Seating Arrangements: Guests will be sat with their ticketed groups. Minimum group size is 4, Maximum table group is 10.
Cancellation Policy: Cancellations received BEFORE 10 a.m. Monday, November 21, 2022, will receive a full refund minus the EventBrite ticketing fees. We will not accept fully refundable cancellations after November 21. Cancellations may be requested via EventBrite or by emailing marketing@distinctivehospitalitygroup.com. Eventbrite fees are not refundable. Refunds are issued in the same manner in which you paid.