Description
Get ready for an unforgettable Thanksgiving morning with the Thanksgiving Day Parade Viewing and an exquisite brunch experience at this intimate and elegant restaurant in the heart of Bryant Park New York!


Guaranteed view of the Parade from indoor viewing area through the floor to ceiling windows

Gourmet brunch with unlimited specialty cocktails and prosecco

Coffee drinks & hot chocolate from award-winning barista team

Guest entertainment: magician, face painter and more

Professional photographer and VIP Coordinators On-Site

Your VIP Pass offers sophisticated access to the biggest parade in the world. From the extravagant floats and famous balloons to the intricate performances and beyond, the parade has something for everyone.
OUR PROMISE
VIP EXPERIENCE - Private and trendy restaurant located on the parade route
UPSCALE FOOD - Innovative Brunch and Artisanal Cocktails
PREMIUM ACCESS - NYPD Credentials for Easy Access
FAMILY FRIENDLY - Entertainment Including Kids Activities
PREMIUM VIEW- Windows Facing 6TH Ave and 57th St Overlooking Parade


TRENDY, MODERN AND CHIC RESTAURANT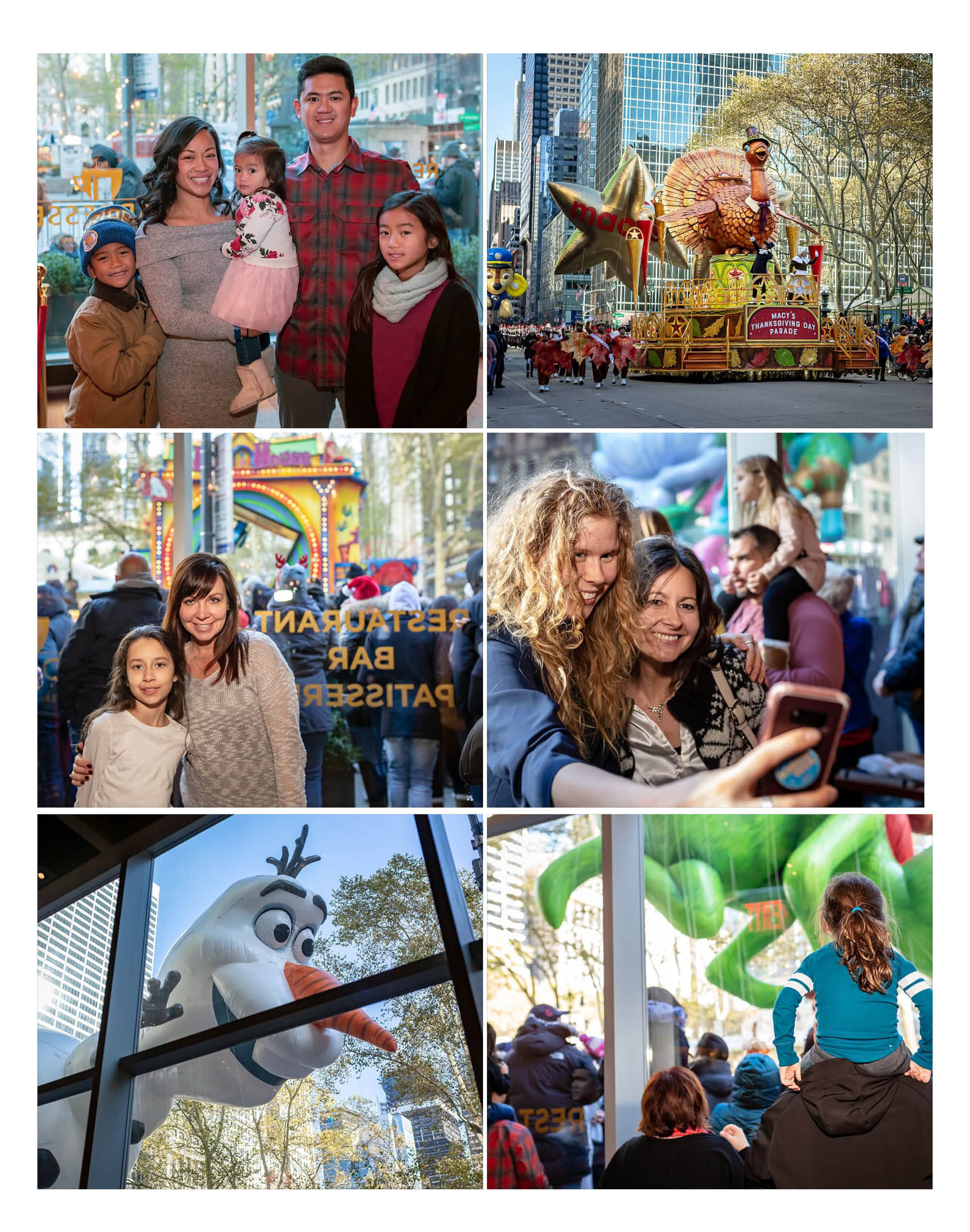 WHAT YOU CAN EXPECT
MODERN AND UPSCALE RESTAURANT OFFERS INNOVATIVE FOOD AND COCKTAILS.
An elegant continental breakfast will be served upon arrival and will be followed by an innovative and gourmet full brunch served to your table family style. The beverage program will feature unlimited specialty Mimosas, Bloody Marys and sparkling wine as well as one-of- a-kind coffee drinks prepared by an award-winning barista team. Upon arrival, guests will also be served their signature hot tea made with a variety of exotic juices. Desserts are created on site in the classic French tradition in collaboration with their world-renowned pastry chefs.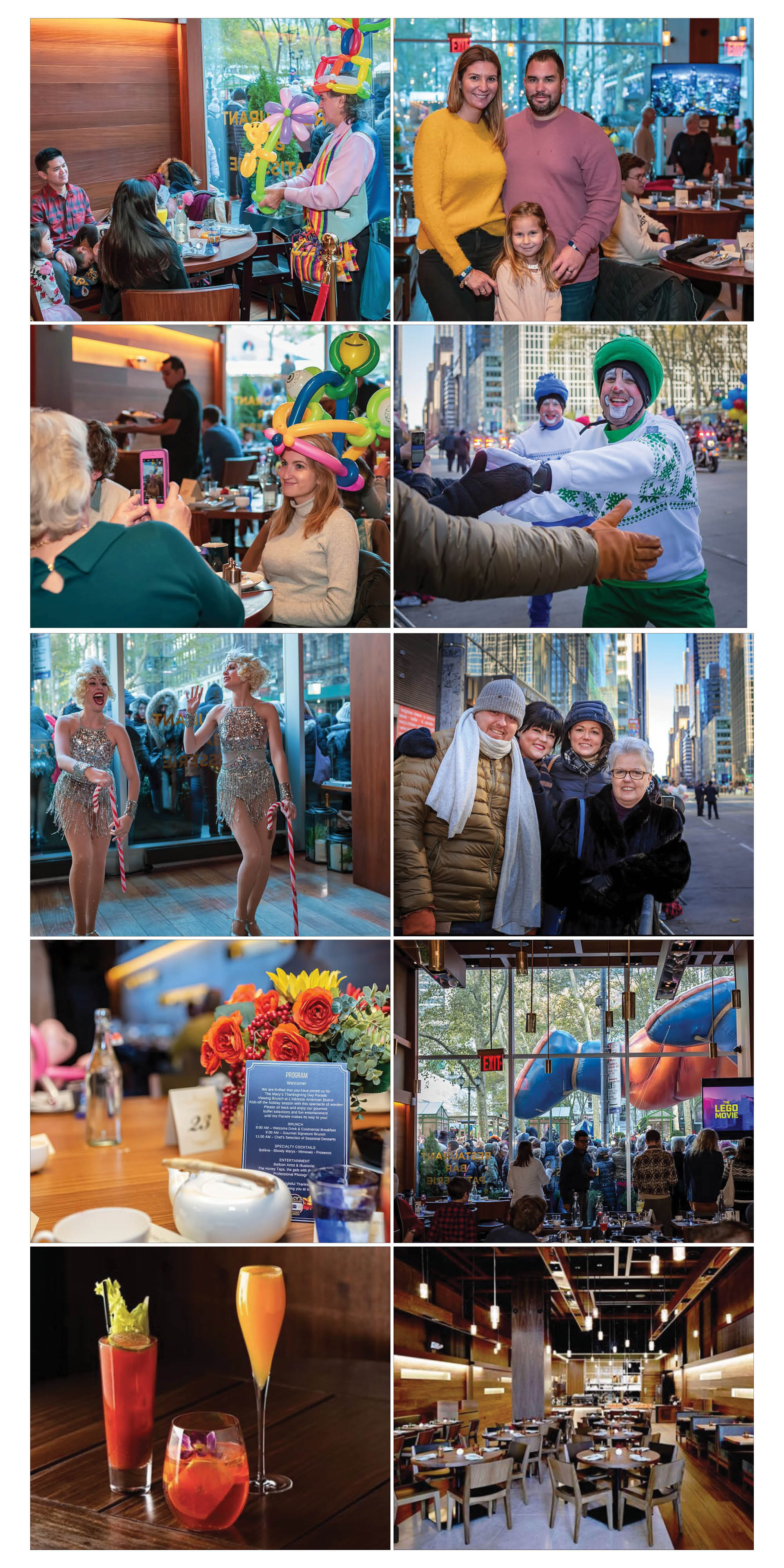 ---

WHAT PEOPLE SAID ABOUT OUR THANKSGIVING DAY EVENTS
"Your VIP Pass did an amazing job with organizing our Thanksgiving Weekend in New York City. We loved the way they handled everything from our arrival to our departure! The Brunch was incredible and we really enjoyed it. We had the chance to take great pictures as well!"

- JOSH, SEATTLE

"My family and I flew across the country for this event and we had so much fun! Location was perfect! We were able to see the Parade up-close and personal without having to deal with hundreds of people outside! The quality, freshness and the choice of food was terrific. The cocktails were my favorite."

- DAVID, DENVER


"My experience with VIP Pass went above and beyond my expectations. From the booking process to the day of the Parade – my experience was seamless without any hassle. The access to the event was perfectly located. The selection of food and drinks was impressive. I will definitely book their other events."
- NICOLE, CHICAGO