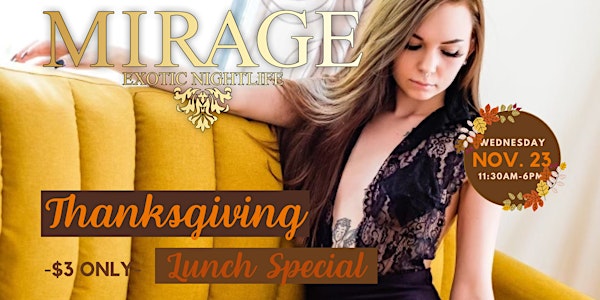 Thanksgiving Day Lunch Special @Mirage Exotic Nightlife 11:30am-6pm!!
Don't miss out on the sexiest Thanksgiving around! Mirage Exotic Nightlife is hosting their Thanksgiving Day Lunch Special from 11:30am-6pm!
When and where
Location
Mirage Exotic Nightlife 6430 Burnt Poplar Rd Greensboro, NC 27409
About this event
I spy with my little eye, a turkey, some stuffing, and some BABES!! Let us spice up your Thanksgiving at Mirage Exotic Nightlife on Thursday, November 24th from 11:30am-6pm and season you just right!
Get stuffed this Thanksgiving with your Mirage Exotic Nightlife Family with our $3 Lunch Special all afternoon long. Come get basted with us, and have a Thanksgiving you'll never forget!
Call (336) 253-9975 for more information on how you can reserve YOU and all your friends an EXCLUSIVE VIP Bottle Service Booth today!!!
Bring your friends or else they'll find themselves listening you brag about the sexiest Thanksgiving you've EVER had!!
It's never too early for a party at Mirage Exotic Nightlife!! See you turkeys soon! *winks & kisses*