This year's Online Thanksgiving Charity Event is to empower & edify attendants on the subject of who we are in Christ over the world's idea.
About this event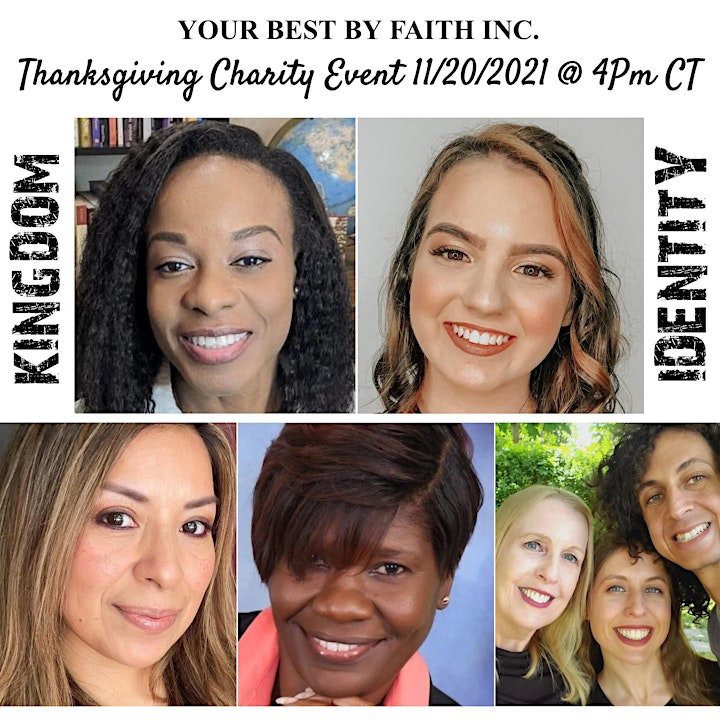 Join us for enlightenment, empowerment, and renewal (spirit, soul, and body).
There will be two licensed beauty experts and practitioners; one of whom is also an international trainer and educator in beauty therapy, cosmetology, skin care, spa, and massage therapy for decades. Both will share their knowledge and expertise on the history and practice of beautification as well as the current beauty trends in America, including what might be considered normal to potentially extreme or unhealthy. You will also receive the Word of God concerning your identity in Christ and who you were created to be. This will empower you to overcome any personal insecurities, and bring inner healing in areas where you might feel overshadowed or burdened by worldly expectations and definitions. Eyes will be opened and renewal will come not only to your inner perspective but also a fresh outlook on your Kingdom identity that will remove barriers in your relationships (with self and others), and in your endeavors, and destiny. It is going to be informative, uplifting, and a whole lot of fun!!
WHO THIS IS FOR:
Women, men, boys, and girls
Those who want to learn about who they truly are - your identity in Christ
Those who have ever been hurt or burdened by societal expectations on looks
Those who feel they have to always hide themselves: appearance/ essence/ voice/ worth/ talent/ desires/ hopes/ dreams due to fear of rejection
Those who feel that they have accepted the world's definitions and limitations, which are affecting their self-value, relationships, career, family, business, health, endeavors, and destiny
Men who want to learn how and why women beautify, and women who want to learn what men think and endure from societal pressures too
Those who want to break out and break through into a new sense of self and victory
Hear testimonies of inner healing and the blessings that follow
Get tangibly blessed with giveaways
Please share with your family, friends, and associates to help us reach those who could benefit from the enrichment this thanksgiving season.
We are excited and looking forward to what God will do for, in, and through you!
Join our Kingdom Business Circle to get exposure, connect, learn, and grow your business today: https://yourbestbyfaith.com/kingdom-business-circle/
Help support the ongoing charitable causes and activities of Your Best By Faith Inc here: https://yourbestbyfaith.com/donate/
Organizer of Thanksgiving Charity Event: Beauty, Appearances, and Kingdom Identity
Your Best By Faith Inc. is a 501(c)(3) Nonprofit Corporation founded by Shelly-Ann Brown and officially incorporated in October 2017. We are here to help you become ALL God deposited in you, navigate and rise above challenges; be trained, strategically retooled, empowered, and practically assisted so you are positioned to succeed and live your best lives by faith.
WHO WE SERVE:
Individuals
Organizations (for profit & non-profit)
Christian Businesses
Schools
Students
Entrepreneurs
Women
Others
WHAT WE PROVIDE:
OTHER SERVICES AND SOLUTIONS
Visit our website for details, and booking information at: www.yourbestbyfaith.com