"Thank You for Your Service": Veterans, PTSD, & Access to Treatment
About this event
PTSD will affect 28 million Americans during their lifetimes. It is the #1 health concern of veterans, regardless of when or where they served. This event will feature the personal story of recovery of one veteran who experienced PTSD, addiction, and homelessness after returning from Iraq. The panel will also discuss military culture, the impact of prior life experiences on military personnel, and local services and supports for veterans experiencing PTSD.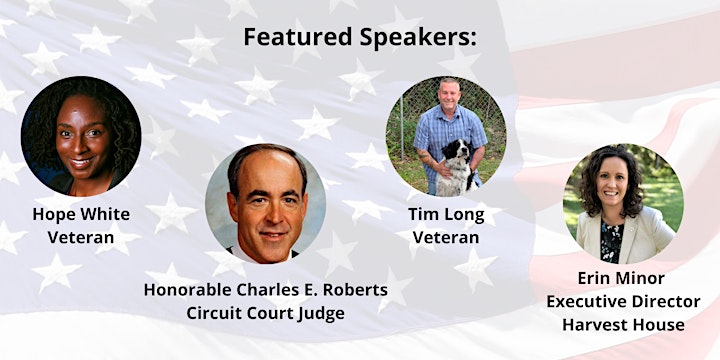 Hope White has taught K-12 students nationally and internationally, and enjoys using her Ed.M. in Education Policy and Social Analysis to research the intersection between trauma and the impact policy initiatives have on everyday Americans. Hope uses data and case studies to propose solutions through a humanistic and resilient lens. Hope is also a veteran, paratrooper in the U.S. Army, and 3-time boxing champion. When not working, you'll find her having a philosophical debate with a friend, listening to a podcast while either working out or walking her Frenchie Charlie.
Erin Minor is a Certified Addictions Professional, Mental Health Professional, and Alcohol and Drug Counselor. Erin continues her parents' legacy as the Executive Director of Harvest House and led the team responsible for the creation of the Home Again and VETS programs, the expansion of the men's Freedom program to Manatee County, the creation of the New Heights program for unaccompanied youth, and many other accomplishments.
Tim Long is a former firefighter and Iraq War veteran who lives in Northport, Florida. He recently became certified as a peer recovery specialist and hopes to work with veterans and individuals with substance abuse disorders in jails and prisons.
Honorable Charles E. Roberts has been a Circuit Court Judge since January 2003. He has a JD from American University College of Law and a BA from Duke University. He presides over the Twelfth Judicial Veterans Treatment Court, which is designed for Veterans who have substance abuse, mental health, or problems adjusting to civilian life and have been charged with a felony or misdemeanor crime.
Organizer of "Thank You for Your Service": Veterans, PTSD, & Access to Treatment