About this Event
💘THANK GOD IT'S YOGA, FESTIVAL💘
Uit de zweverige stoffige studio's en op naar het strand. Wij maken yoga toegankelijk voor iedereen. Yoga is tegenwoordig immers net zo gewoon als naar de supermarkt gaan en minstens net zo goed voor je als een sportschool bezoekje.
Van een pittige yoga bootcamp tot een meditatieve yin yoga les, voor ieder wat wils. We gaan jullie verrassen met een paar geheime yoga lessen en zullen "nog niet" verklappen dat wij na de rave-yoga les, een full-moon party laten gebeuren.
Naast het yoga programma kun je meedoen aan gave activiteiten die yoga raken, zoals ayurveda, meditatie workshops, yoga therapie of langs een yoga kraam gaan, om mooie yoga kleding te passen.
Dit is je kans om op een laagdrempelige manier, allerlei verschillende yoga vormen uit te proberen in een lekker sfeertje en met de beste yoga teachers. Natuurlijk onder het genot van een drankje, zon, zee strand en leuke mensen. Alles in het teken vanuit yoga de nieuwe gezonde levensstijl, om meer beheersing over je ademhaling, lichaam en mind te krijgen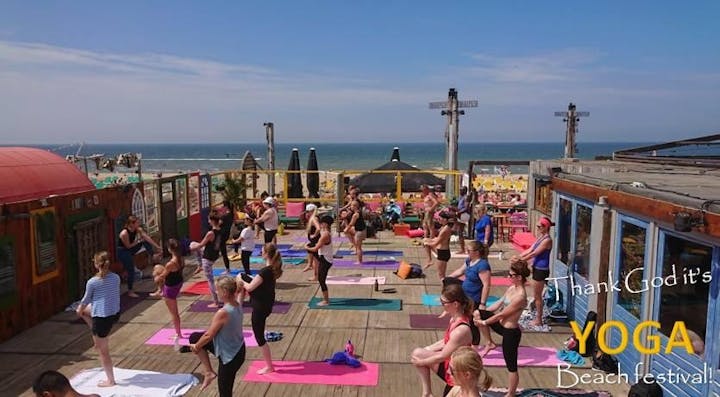 🎀 TICKETS 🎀
Festivalticket: € 30,00 pre-sale, € 43,- aan de deur (incl. Full-Moon party)
Festival duo ticket 2 personen: € 49,00 enkel pre-sale (incl. Full-Moon party)
Full-moon-party ticket zaterdag: € 17,50 pre-sale, € 32,00 aan de deur
Dagticket: € 21,00 pre-sale, € 33,- aan de deur (excl. Full-Moon party)
Kinderen tot 6 jaar gratis, vanaf 7 tot 12 jaar:
Festivalticket: € 10,00 pre-sale, € 15,00 aan de deur
Dagticket € 5,00 pre-sale, € 7,50 aan de deur
📌LOCATIE📌
Samen met het The Hague Beach Stadium in Scheveningen, organiseren wij het Thank God It's yoga festival. Wij als organisatie van het TGI yoga festival, zijn dolenthousiast over deze locatie. Het stadion is één van de toplocaties voor sport in Nederland en hiernaast zeer goed bereikbaar.
De enthousiaste crew op deze locatie, zorgt voor een opzwepende en bijzondere sfeer, welke goed bij het yoga festival past. Vanaf 2019 wordt het stadion de thuisbasis voor het TGI yoga festival.