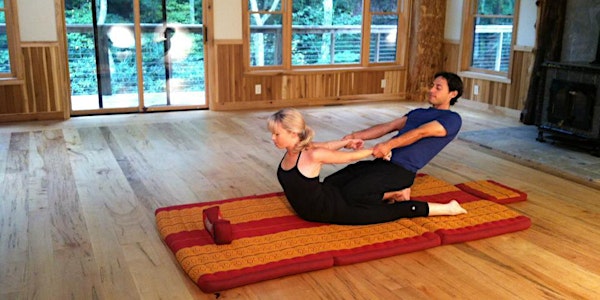 Thai Yoga Bodywork Certification Training - Live Webinar (36 CE's)
Learn Thai Yoga Bodywork, Get Certified & Earn CE's (at home).
Refund Policy
Contact the organizer to request a refund.
Eventbrite's fee is nonrefundable.
About this event
Learn Thai Yoga Bodywork in the comfort of your own home...This training is the same as the live 'Hand's On' training but this one will be live using the Zoom Webinar format. Participants will still be able to attend a future 'Hands on' course for no extra charge. The at home option does provide CE's and is approved by NCBTMB. You can choose to work with a practice partner or just watch the presentation and practice at a later date. More info about the Webinar format including FAQ's at: https://www.thaiyogatrainings.com/webinar.html
This training prepares one in all the skills necessary to offer a complete and safe full body Thai massage. In three weekends you can get certified as a Thai Yoga Bodywork Practitioner, while learning six hours of relaxing and therapeutic Thai Massage techniques. These can then be combined in various ways to create individualized treatments for your friends, family and/or clients. You can choose to take single days, a weekend or the first two weekends to learn the full 'Foundational Flow.' Add in the final weekend for therapeutic applications and certification*.
   With a strong emphasis on proper body dynamics and how to use leverage, you will learn how to effortlessly apply pressure to sore muscles, energy lines & trigger points as well as learn how to bring your partner through a series of assisted yoga stretches to open, relax and rejuvenate your clients. The Therapeutic weekend will focus on the more creative and advanced Thai Massage techniques. In addition, you will learn how to apply PNF techniques into the stretches to target and release specific muscles with ease. We will look at how to treat various conditions such as sciatic pain, tight hamstrings, and low back pain. We will also learn techniques to easily release the Psoas, the QL and how to bring the hips into balance. 
   This training has been refined for over a decade to offer all students the ability to master these skills in a short amount of time. After completing the course, all dedicated practitioners should be able to offer a profoundly healing and delightful treatment.
  Each day you will learn a new one hour routine focusing on a specific body area in a specific position, ultimately resulting in six hours of techniques. Courses can be taken individually or you can sign up for the full training at a discount. This is a wonderful way to complement the massage or yoga that you are currently offering and provide yourself with a new skill and income stream. You will receive a detailed guidebook with pictures and descriptions to aid in your ongoing practice. The entire course is recorded and available to stream on your computer. Upon completion, you will be given free online lifetime access to the entire training so you can review it any time.
  Previous massage and/or yoga studies are recommended but not required. This work is dynamic and does require some strength and dexterity. Please watch the video clip below to see if you can imagine yourself being able to perform such maneuvers. If you have any questions or concerns please contact me.
Dates:
3/13: Module #1 - Supine Position
3/14:Module #2 - Side Lying Position 
4/17: Module #3 - Prone, Child's & Seated Position
4/18: Module #4 -Double Leg Stretches & Energy Work
5/15: Module #5 - Therapeutic Stretches 1
5/16: Module #6- Therapeutic Stretches 2
10:00-5:00pm Each Day
 * *For certification, you will need to complete all six days and also complete 10 practice sessions, including 1 session with a LMT...
Investment:
$125 per day or $545 for all six days (36 CE's)
NCBTMB approved for 6 CE's per day
To avoid Eventbrite fees, I also accept payments by check or Venmo:
For Venmo use: Michael Sitzer -1 (make sure you see a picture of my face)
 For checks use: Michael Sitzer, 14 Lookout Rd, Asheville, NC 28804
contact Michael directly at 828-774-2662 or michaelsitzer@gmail.com
more info at: www.thaiyogatrainings.com
If no video appears below, go to: https://www.youtube.com/watch?v=PernZOKvbb0