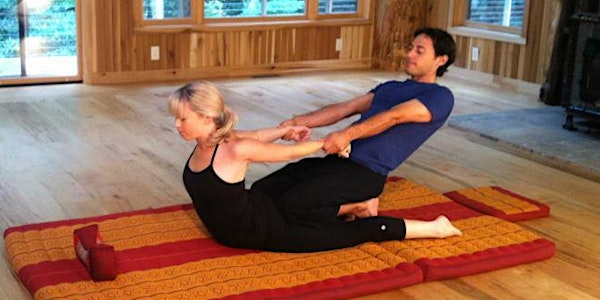 Thai Yoga Bodywork Certification Training in John's Creek, GA (54 CE's)
Learn the art of Thai Yoga Bodywork with a qualified instructor who has been dedicated to both teaching and practicing this for 20+ years.
Date and time
October 7 · 10am - December 3 · 6pm EDT
Location
Lift Yoga in Johns Creek 11705 Jones Bridge Rd C105 Johns Creek, GA 30005
Refund Policy
Contact the organizer to request a refund.
Eventbrite's fee is nonrefundable.
Agenda
10:00 AM - 11:00 AM
Intro, warm up, Theory
11:00 AM - 1:00 PM
1st Sequence -Demo & Practice (Give and Receive)
2:30 PM - 5:00 PM
2nd Sequence - Demo & Practice (Give & Receive)
About this event
57 days 9 hours

Mobile eTicket
This training prepares one in all the skills necessary to offer a complete and safe full body Thai Yoga Bodywork treatment. In three weekends you can get certified as a "Thai Yoga Bodywork Practitioner", while learning three hours of relaxing and therapeutic Thai Massage techniques. These can then be combined in various ways to create individualized treatments for your friends, family and/or clients. You can choose to take just a weekend (two modules) or all six modules for certification*.
For more specific details, please visit my website: www.thaiyogatrainings.com
   With a strong emphasis on proper body dynamics and how to use leverage, you will learn how to effortlessly apply pressure to sore muscles, energy lines & trigger points as well as learn how to bring your partner through a series of assisted yoga stretches to open, relax and rejuvenate your clients. The Therapeutic weekend will focus on the more creative and advanced Thai Massage techniques. In addition, you will learn how to apply PNF techniques into the stretches to target and release specific muscles with ease. We will look at how to treat various conditions such as sciatic pain, tight hamstrings, and low back pain. We will also learn techniques to easily release the Psoas, the QL and how to bring the hips into balance. 
   This training has been refined for over a decade to offer all students the ability to master these skills in a short amount of time. After completing the course, all dedicated practitioners should be able to offer a profoundly healing and delightful treatment.
  Each day you will learn a new thirty minute routine focusing on a specific body area in a specific position, ultimately resulting in over three hours of techniques. Courses can be taken individually or you can sign up for the full training at a discount. This is a wonderful way to complement the massage or yoga that you are currently offering and provide yourself with a new skill and income stream.
   The entire course is recorded and available to stream on your computer. Upon completion, you will be offered free lifetime access to the entire training program online (a $345 value). This includes all the talking demo's of all the techniques that we cover as well as the lectures. You can also earn 18 additional 'Home Study' CE's for simply watching and passing a short quiz.
  Previous massage and/or yoga studies are recommended but not required. This work is dynamic and does require some strength and dexterity. Please watch the video clip below to see if you can imagine yourself being able to perform such maneuvers. If you have any questions or concerns please contact me.
If this course is unable to run as a live 'Hand's On' event, a full refund will be offered as well as the opportunity to take it at a later date or as a 'Live Webinar'.
Dates:
Oct. 7: Module 1- Supine Position (6 'Hand's On' CE's plus 3 Online CE's)
Oct. 8: Module 2- Side Lying Position (6 'Hand's On' CE's plus 3 Online CE's)
Oct. 28: Module 3- Prone Position (6 'Hand's On' CE's plus 3 Online CE's)
Oct. 29: Module 4- Double Leg Stretches & Energy Work (6 'Hand's On' CE's +3 Online CE's)
Dec. 2: Module 5- Therapeutic Stretches 1 (6 'Hand's On' CE's plus 3 Online CE's)
Dec. 3: Module 6-Therapeutic Stretches 2 (6 'Hand's On' CE's plus 3 Online CE's)
* *For certification, you will need to complete all six days and also complete 10 practice sessions, including 1 session with a LMT...(There is done in your own time and space and there is no extra charge for this).
Investment: 
$230/weekend (18 CE's) or $545* for all six days (54 CE's)
*= with $50 early discount before 8/7/23
NCBTMB approved for 9 CE's per module (6 'Hands On' CE's plus 3 'Home Study" CE's)
This course will satisfy CE requirements for all states, including NC, SC, GA and FL.
To avoid Eventbrite online registration fees, I also accept payments by check, Paypal (michaelsitzer@gmail.com) or Venmo (Michael Sitzer@michaelsitzer).
Michael Sitzer
14 Lookout Rd
Asheville, NC 28804
Feel free to contact Michael directly at 828-774-2662 or michaelsitzer@gmail.com
more info at: www.thaiyogatrainings.com
if no video appears below, go to: http://www.youtube.com/watch?v=Oss102RRNfI
Frequently asked questions
Can I avoid the extra Eventbrite registration fees?
Do I need my own Thai mat?
Do I need to have previous massage or yoga experience?
Do I need to be massage therapist to take the course?
Do I need to bring a practice partner to class?
What if I can't make all the dates in a series?
Can modules be taken out of order?
About the organizer
Learn the art of Thai Yoga Bodywork with a qualified instructor who has been dedicated to both teaching and practicing this for 20+ years.
Michael offers a series of weekend workshops ultimately leading to a complete 54 hour certification training in Thai Yoga Bodywork...