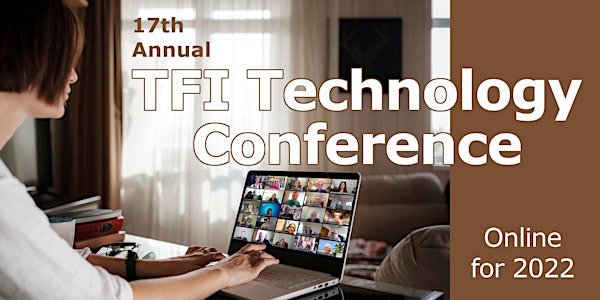 TFI Technology Conference Jan 2022- ONLINE
Industry leaders and professionals gather to share the latest trends and developments impacting communications and asset valuation.
Refund Policy
Refunds up to 30 days before event
Eventbrite's fee is nonrefundable.
About this event
Venue:
The 2022 TFI Technology Conference will be conducted entirely online.
— • —
Registration Information:
Conference Dates:
Thursday & Friday, January 20-21, 2022, 1:00-5:00* pm CST
Networking 1/2 hour before (12:30-1pm) and after (5-5:30pm).
To register, click the green "Tickets" bar at Top Right of Page
General Admission Rate: $245
Assessor/Academic/Government Rate: No Charge
[Substitution/Cancellation/Refunds]
— • —
2022 Conference Sponsors 
Thank you to the sponsors of our 17th Annual TFI Technology Conference:
Please Contact TFI about Sponsorships

— • —
Start the year with the latest knowledge and insights on the key forces impacting your organization!
We will be examining changes in wireless communications, broadband and video, network technologies, and a range of cutting-edge technologies coming onto the market. We hope you'll join your colleagues in 2022 in what promises to be another interesting and important event!
Gain Background, Insights, and Forecasts:
Wireless Communications, including 5G and 6G
Broadband & Video, including Gigabit networks and OTT
Network Technologies
Cutting-edge technologies such as virtual and augmented reality
Stay Relevant and Timely:
High level review of top communications trends
Informative presentations on key technologies
Illuminating discussions of current and emerging issues facing the communications industry
Important insights on the impact of these changes on asset valuation
Multiple opportunities to connect and reconnect with community and thought-leaders
You Should Attend If:
You have a business or policy interest in the communications network's future, or
You are involved with the valuation of communications assets, or
You are impacted by changes in the telecom, wireless, and cable television networks, and
You value learning, sharing, and collaborating with industry leaders and professionals
— • —
Schedule and Speakers
THURSDAY JANUARY 20, 2022 (Central Time)
12:30 ‐ 1:00 Zoom opens for Networking
1:00 ‐ 2:00 Broadband Keynote – HFC and FTTH Advancements: What and what for?
Alan Breznick, Practice Leader, Cable/Video, Light Reading

2:00 ‐ 2:30 Discussion Session
2:30 ‐ 3:30 Policy Update

3:30 ‐ 4:30 Economic Update
Michael A. Sadler, Ph.D., Department of Economics, Department of Finance, McCombs School of Business, University of Texas at Austin

4:30 ‐ 5:00 Discussion Session
5:00 ‐ 5:30 Virtual Reception & Networking
FRIDAY, JANUARY 21, 2022 (Central Time)
12:30 ‐ 1:00 Zoom Opens for Networking
1:00 ‐ 2:00 TFI Forecasts Update

Ray Hodges, Senior Consultant, Technology Futures, Inc.

2:00 - 3:00 pm Wireless Keynote


3:00 ‐ 3:30 Discussion Session
3:30 ‐ 4:30 Communications Technology Update
August (Augie) Grant, Ph.D., Professor, School of Journalism and Mass Communications, University of South Carolina; Co‐Editor, Communications Technology Update and Fundamentals

4:30 ‐ 5:00 Discussion Session
5:00 ‐ 5:30 Virtual Reception & Networking
— • —
Previous TFI Technology Conferences
Please visit our TFI Technology Conference pages on our TFI-CTFG site for Schedule, Slides, Videos, and Bios from previous TFI conferences. (In red menu box at top.)
— • —
Past attendees include those from:
Communications Policy
Finance, Asset Valuation and Property Tax
Strategic Forecasting
Market Strategy
Network Planning
Legal and Regulatory
Depreciation and Asset Lives
New Technology Startups and Developers
— • —
What Attendees Say
"Great program... information is timely and program ties together well. Good for attendees with various background and interests. I highly recommend it."  ―Jeffery S. Binkley
"...a unique learning experience to be had via the lectures and interaction with the audience and TFI." ―Robert G. Strong, Tax Director, AT&T
"Practical information from industry insiders provided me insight I haven't found anywhere else." ―Augie Grant, Professor, University of South Carolina
"Great conference as always! Too many excellent speakers to list. Particularly remember 5G presentation."―Dmitriy Matsyshen, Sr. Tax Manager, T-Mobile
"5 Stars! Informative sessions with dedicated speakers." ―Paul Tucker, Independent Appraiser
"Nice update on technology. ..."  ―Charles Burkhardt, Senior Consultant, CostQuest
"Great range of topics & speakers that were both fascinating and provocative."  ―Jim Dombrowski, Property Tax Manager, Verizon
"Based on TFI's knowledge, skills and experience, I strongly recommend this conference to anyone who is involved in assessing telecommunications equipment or anyone involved with telecommunications in some form or another."  ―Raul Reyes, Business Personal Property Supervisor, Dallas Central Appraisal District
"...Proper valuation must take into account technological externalities that will diminish the value of the existing assets. The technological innovations are having a such an impact that keeping up is essential. This conference keeps me up to date." ―Roger Grabowski, Managing Director, Duff & Phelps
"Great conference for all of those who want an update on trends in the communications industry and the technologies impacting it. As an academic, I found it especially valuable in providing me ideas of what I need to be looking out for in my own areas of interest.―Kim Houser, Business Law Professor, Washington State University
— • —
Previous Attendees: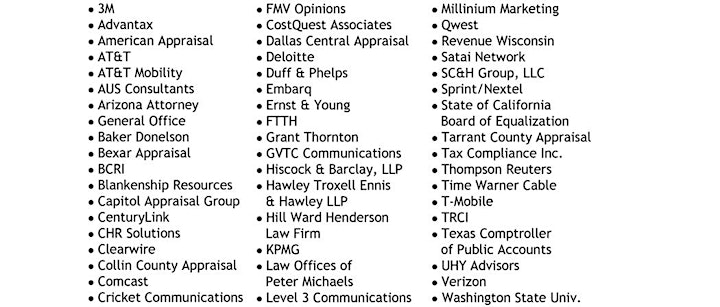 We are looking forward to our Online 17th Annual TFI Technology Conference. January 20-21, 2022, 1:00-5:00* pm CST (Networking 1/2 before and after). To register, click the green "Tickets" bar at Top Right of Page.
We hope you can join us.
The TFI Team John, Larry, Helen Mary, Ray, and Carrie