Session 1 is a sewing intensive that demonstrates methods of assembling textiles to create unique collage pieces.
About this event
Session One teaches basic sewing machine use and simple techniques of joining fabrics. Session Two (separate Eventbrite) introduces more advanced methods of material manipulation - with a prerequisite: completion of Session 1 or mastery of basic sewing machine use.
Sewing machines and ALL supplies including fabric are provided. This Rock Paper Scissors Collective hosted class will be held at Warehouse 416, 416-26th Street, Oakland. This space is an accessible space with ASL interpreter funded by a grant from NADC at UCLA.
About the instructor: CC Clark a lifelong sewist, experienced textile artist-instructor and passionate upcyclist has taught all ages and abilities to sew in a variety of Bay Area locations. CC has years of experience teaching people how to use a sewing machine, how to repair clothing and repurpose it to make new items. She has taught at PLACE, Ace Maker Space, Oakland Public Libraries, East Bay Depot for Creative Reuse, Bay Area Swap-O-Rama-Rama meetup group, Camp510, MakerFaire and College of Alameda Fab Lab. She is also experienced in sewing machine troubleshooting and repair and has worked in Costume Design. Learn more about her at: https://vimeo.com/304042788
Class limit 9 people, 6 people required to run the class. Ages 16 and up unless accompanied by an adult.
4 hour class fee: $60-$40 Sliding Scale. See suggested income levels to decide which amount is right for you.
Please email spiralmosaic@aol.com with any questions.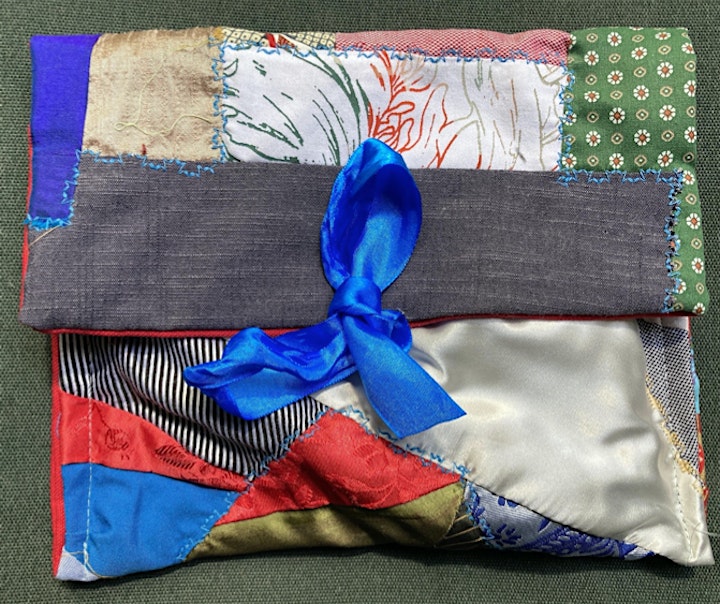 Organizer of Textile Collage: Basics & Beyond (Session 1)
Rock Paper Scissors Collective (RPSC) is a member-directed, all volunteer-run 501(c)(3) nonprofit organization that fosters creativity and collaboration in order to strengthen local communities, encourage sustainable practices, and explore alternative models. We promote the sharing of ideas, skills, and resources through the celebration of art, craft, education, and performance. RPSC currently realizes this mission through low-cost art workshops, curated and open-call gallery exhibitions, retail of handmade and independently produced goods, pop-ups, a variety of community events, and youth involvement. In 2021, we are thrilled to open our new storefront at 2120 MLK, at the corner of MLK and 22nd St. Come say hello!