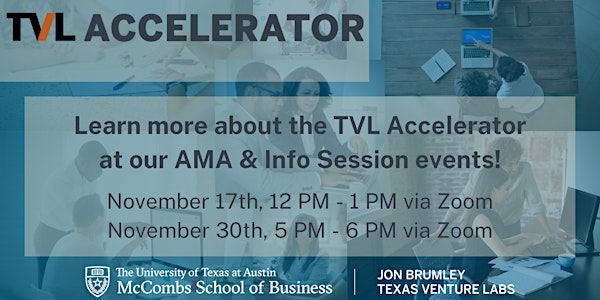 Texas Venture Labs Ask-Me-Anything: TVL Accelerator Info
Mellie Price - TVL Exec Director, Founder, Investor - shares how TVL's unique accelerator helps early-stage founders & growth startups win.
About this event
Join Mellie Price and the JBTVL team to learn about the various ways we can help your early-stage startup. During this info session about the TVL Accelerator, we will cover our various programs with a focus on how we engage with startups, what the application process looks like, and the results we've seen from our alumni companies. Mellie will also share her perspective on what it takes for an early-stage startup to successfully get to market and position itself for growth. There will be ample time for Q&A and interaction with Mellie and the rest of the JBTVL team.
Since 2010, Jon Brumley Texas Venture Labs (JBTVL) has worked with both pre-revenue and post-revenue startups from the Texas region to help them by consulting on strategy, planning, and competitive market research projects. These free consulting projects conducted by highly talented UT graduate students have helped hundreds of companies solve business problems and accelerate growth to reach the next milestone.
You can take a look at our JBTVL Company Application to see what questions you might have about the application process or what will be required, or if you feel ready to apply, go ahead and do so. Either way, we look forward to answering any questions you have about our accelerator or other programs.
To be considered for the Spring 2023 cohort, apply by 11:59 PM on December 4, 2022: bit.ly/JBTVLAccelerator