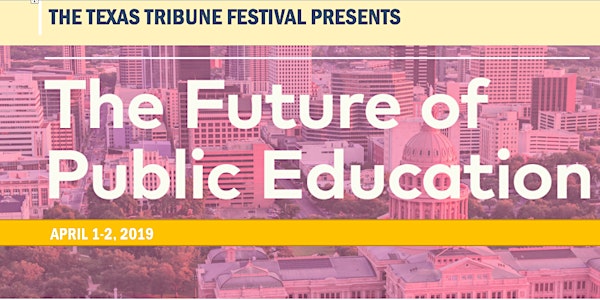 Texas Tribune Festival Houston Watch Party
When and where
Location
3131 Eastside Street, Ste 100 Houston, TX 77098
Description
What are the most pressing issues facing students and educators across Texas, and what can lawmakers do to address these concerns and help set the next generation of Texans up for success?
On April 1-2, the Texas Tribune will present The Future of Public Education, a series of thoughtful and informative discussions featuring elected officials and experts from across the state on range of topics including school finance, early childhood education, accountability, teacher preparation, and more.
WE INVITE YOU TO JOIN US FOR A LOCAL WATCH PARTY!
Speakers will include: Mike Morath, Texas education commissioner; state Rep. Dan Huberty, R-Houston, chair of the House Public Education Committee; state Rep. Diego Bernal, D-San Antonio, vice chair of the House Public Education Committee; Raymund Paredes, Texas commissioner of higher education; state Rep. Ken King, R-Canadian; Betsy Price, mayor of Fort Worth; Margaret Spellings, former U.S. secretary of education; Ruth Huggero Hughs, chair of the Texas Workforce Commission; Robert Kaplan, president of the Federal Reserve Bank of Dallas; Superintendents Michael Hinojosa of Dallas ISD, LaTonya Goffney of Aldine ISD, Art Cavazos of Harlingen Consolidated ISD and Kim Alexander of Roscoe ISD; Libby Doggett, former deputy assistant secretary for policy and early learning at the U.S. Department of Education; Todd Williams, chairman and CEO of The Commit Partnership; Tom Torkelson, founder and CEO of IDEA Public Schools; Miguel Solis, former Dallas ISD trustee and candidate for Dallas mayor; John Fitzpatrick, executive director of Educate Texas; Lizzette Gonzalez Reynolds, vice president of policy for ExcelinEd; and Cody Huie, vice president of programs for Raise Your Hand Texas.
Agenda
Tuesday, April 2
8am – Breakfast & Registration Open
8:30am-12pm – Panels
12pm – Lunch
12:30-4pm – Panels