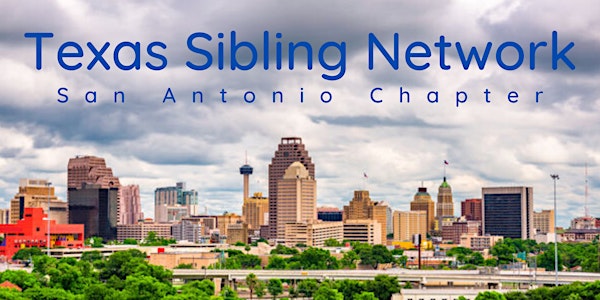 Texas Sibling Network's San Antonio Chapter - Sibling Support (18+)
Sharing stories and wisdom to support each other and our loved ones!
About this event
The Texas Sibling Network strengthens and builds skills through education, community, and advocacy to support all family members.
The Texas Sibling Network (TSN) creates a community for adult siblings of people with disabilities by adult siblings of people with disabilities. The Network provides support, resources, leadership, and advocacy skill building opportunities for siblings. It is recognized that siblings have very different experiences and visions and aim to provide a community to welcome and honor those experiences.
The Texas Sibling Network is housed at Texas Center for Disability Studies (TCDS) as the state chapter of the national Sibling Leadership Network, There are currently chapters in Austin, Houston, Lubbock, DFW, and Permian Basin with plans to expand and create multiple chapters across Texas to represent every community. The long-term vision is local chapters throughout Texas, on college and university campuses, to provide a hub of information for siblings.
The San Antonio Chapter will cover the greater San Antonio area and will meet at 8 pm on Zoom! This meeting will be a chance for us to get to know one another, discuss what types of meetings our group would like to have (educational lectures and potential topics and/or social events such as mixers), as well as some options for best times to meet.
We all know having a sibling with special needs presents its own benefits and challenges but I truly believe we are all better people for it. Come share your triumphs and travails with people uniquely qualified to understand what you've been through, the journey you are on and where you hope it will lead you.
Registration is required and you will be sent the Zoom information via email 45 minutes before the meeting starts.