Description
Texas Scottish Festival Highland Games

Athletic Registration
May 5-7, 2017
This is the athletic registration for the Highland Games at the Texas Scottish Festival. Registration will close on May 3rd without exception. So please enter as soon as you can.
Competition will go as follows:
Friday, May 5th: Novice Class Only.
Sign-in 5:5:30 at the Athletic Tent. Competition will begin at 6pm.
Saturday Morning, May 6th: Masters and B Class
Bloth Classes will sign-in 9-9:30 and competition will begin promptly at 9:30am.
Saturday Afternoon, May 6th: A Class and Pro Class.
A Class sign-in at 12:00-12:30p and begin competition at 12:30pm.
Pro Class wil Sign-in from 2:30-3:00pm and will begin throwing at 3pm.
Sunday, May 7th: Open Women, C Class, Light Weight Class
Women and C Class will sign-in 9-9:30am. Competition begins 9:30am.
Light weight Class wil Sign-in at 11am and competition begins at 11:30a.
All 9 events will be contested in each class using the prescribed weights for that class. If you any question about what class you should enter refer to the table below.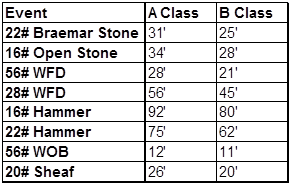 I hope that you will join us in 2017, and as always, I bid you all CEUD MILE FAILTE, a 100,000 welcomes.
Aaron Woods, Athletic Director