Texas Regional Congress

Friday, May 1, 2015 at 8:00 AM

-

Saturday, May 2, 2015 at 12:00 PM (CDT)
Event Details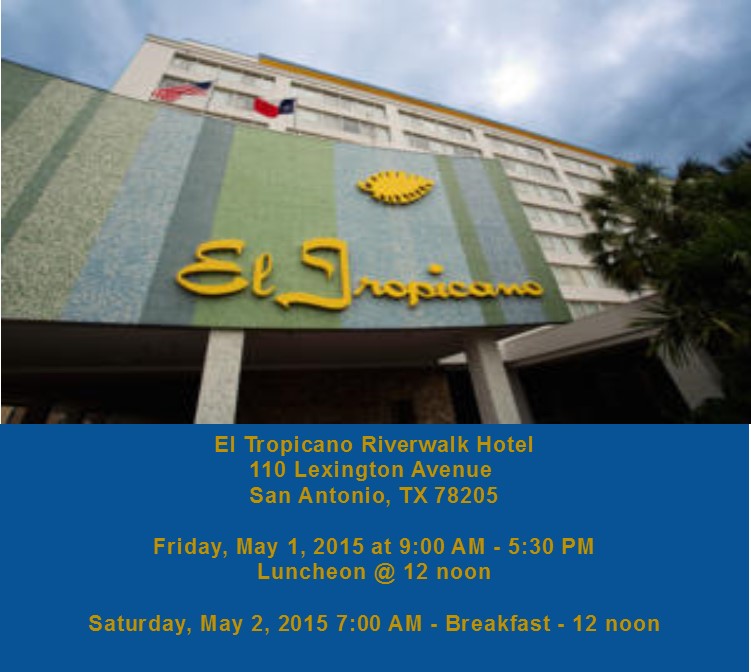 Money Concept Discovery Day Workshop on April 30th at 5:00 p.m. The Money Concept Opportunity Show
will be held in San Antonio, Texas on April 30th and May 1st to show how to increase your Income
and Net Worth with Money Concept International. Money Concept was the first company in th e United
States to start a Fi- nancial Planning and Investment Management Company from the ground up. And
now thirty-five years later, it is one of the fastest growing "Financial Services," "Financial
Planning," "Wealth Management," "Asset Management" and "Commission and Fee-Based" companies in
America. It does what five Broker-Dealers Compa- nies and five Life Insurance Companies do plus add
some special investment companies and world lass money managers and a fina ncial service
representative, insurance agent, tax-professional has access to a non franchise-franchise business
system that can fit any professional's current business plan.
The system has opened the doors for CPA's and Tax-Professionals, after the 1996 Court Rulings that
allowed CPA's to make commissions and fees on ALL financial products and services. Its sales and
new clients on the same type of sales that they had been making since they sta rted and for all
financial and professionals it gave them the opportunity to own their business and sell it for
"Market Value" and increase their net worth substantially. It is because of the "secret" of a
"non-franchise- franchise business model" Maximizing your Financial Services Business by increasing
your Income by $50 per hour over your cur rent income and/or your current fees, commissions and not
adding any additional hours of work. Money Concepts has developed 4 Business Models that can fit
your cur rent practice without adding any addi- tional hours. One of the major ways the wealthy and
the top Financial Service Advisors increase their income and net worth is to "increase the average
commissions or
fees on their sales to clients and customers," That's it, and by implementing one of the Business
Models you can INCREASE you r annual income by 50k to $100k, within
the same amount of hours your work now, over and above your present income.
Guest Speaker 1: "The Baby boomer 'Retirement BOOM' is here, 10,000 boomers are retiring every day,
and just as boomers created a "High-Rise Boom' at every age since birth, from Gerber Baby Food, to
the "College Boom," the "Fast Food Boom," the "Real Estate Boom," the "Health-Fitness Boom," to the
present "Retirement Boom," that is to last for eighteen years. It is estimated that the market wil
l grow exponentially to ten times? One hounded times? Be part and get you "some."
Guest Speaker 2: "From the Team that created the simple "Social Security" software system that
shows your clients which is the best model for them to choose, to increase the maximum amount of
Social Security monthly checks, by as much as $250k plus. You wil l also learn why charging a "Fee"
for Social Security consulting is one of the fastest growing fees in the financial service
industry. Here comes the "Baby Boomers!"
Guest Speaker 3: How to add a "Fee Based" business to your present business, easily. See how to
receive asset -management fees every quarter for the rest of the client's life and the largest
amount of time was spent in setting up the client on the first meeti ng ( some call it Residual
Income for Life)
Guest Speaker 4: See the wonders of the 21st Century in Financial Services and learn how Money
Concepts International can subsidize
100% of your feels, licenses, registration, federal and state fee, exams, E&O Insurance, training
and workbooks, the business secrets of the "non- franchise franchise system. In other words: How
Money Concepts can pay for your 1st year's requirements and get you on the road to success. Re-
member just a little success with "Baby Boomer," (just a little) and it can turn out to be a
six-figure income.
Yes, 4 speakers, but e ac h will only take about tw e n ty m inu te s to give you the
"Perks-Highlights," but you can ask as many questions after the event. This way those that "heard
enough" and understand the opportunity can leave.

To register for the Money Concepts Texas Congress and Awards Dinner please go to link below.

https://texasregionalmay2015.eventbrite.com
Friday, May 1st, 2015:
8:00 am Money Concepts 500 'Regional CUISD Centers' Texas for School Districts.
Ruben Ruiz, MSFS, ChFC, Regional Director Texas
9:00 am When will the 'Bear Market' hit, and what will the Bond Market do'.
PIMCO Investments, LLC, Mike Brennan, RVP , NYC, NY
10:00 am Using Social Security and Medicare to increase clients.—SR. SALES
Senior Market Sales, Chris McDonald, SVP, Kansas City, Kansas
11:00 am VALIC, the dominant all–funds 457 partner for Texas. -----VALIC
VALIC, Stewart Gooding, RVP, Houston, TX
 12: Noon Working Lunch,
'The Liberty 10000' Traveling Show, with Peter O as the 'sleazy salesman', 
selling of course the 'power–sleazy-syrup' so after just one bottle, you will be able to predict 
the future on which stocks & bonds to buy and sell, and make a 'fortune or a 'zillion dollars,
whichever is higher.
Alcatraz Financial LTD, Peter O, Chicago, IL

1:15 pm The '457' Texas ISD Program for providing unlimited qualified prospects and
conquering the Texas Teachers Retirement Plan marketplace; With the Mullen Pension Benefits Group,
Diane Mul- len, President. (All contracts will be explained and signed during the session) Also,
Live presentations on 457's from the Mullen PBG top leaders, OR making a $100k with educators.
Diane Mullen, CEO Ray Garcia, RFC, & Jocelyn Sturguess - Mullen Pension Benefits Group, San Antonio
TX
2:30 pm 'Investments into 'Preferred Apartments' for you clients to collect the rent'. PA
Alan Shaw—Preferred Apts, Dallas TX
3:30 pm 'Business Owners' IUL, the 'COLI Product'. Watch it, it bites'. Nationwide -
Marketing Financial Jesse Allen, Nationwide,
Columbus, Ohio

4:30 pm Tom Devine presents 'RMD—Required Minimum Distributions' minimum or maximum;
which is it' ? Tom Devine, CFP, InSource Financial, Houston, TX

5:30 pm The NEW '401k in America Today' and working your ERISA qualified plans'.
George Beale, AIF , RVP- Security Benefit , Denver, CO
7:00 pm Networking Reception

Saturday, May 2nd, 2015
7:00 am Breakfast— Thomas Russell on 'MetLife Strikes Back' with new Income Products that
'tear up the competitors', nuff'said.
Thomas Russell, MetLife - Houston, TX
8:00 am Selling 401k, 457, 403bs, to Non-Profits and Business Profit Companies'.
Jim Pedrigo, Marketing Financial Florida
9:00 am Number one tax-deferred VA with no riders, low-low-expenses. Jackson Life
Burvell Williams, Jackson Life, San Antonio TX

10:00 am Comparing Variable Annuities, Index Funds, and plain old 'dividend paying growth
stocks'. Liberty Group Peter Orth, Liberty One, Chicago, IL

11:00 am 'Retiring Easy', a 3.5 hr. college-level course on planning an employees retirement,
that will be the last piece of the 'ISD' Texas Program to be the dominant advisors in provid- ing
the best of the best for educators. P.S. There are 4 more courses.
Ruben Ruiz, MSFS, ChFC, RFC Regional Director
11:45 am Congress adjourns.
h ttp ://tin yu rl.com/Re tir in gE asy --The college-level course for those boomers that really
want to make the best decisions in all aspects of retirement planning & options.
When & Where

El Tropicano Riverwalk Hotel
110 Lexington Avenue
San Antonio, TX 78205


Friday, May 1, 2015 at 8:00 AM

-

Saturday, May 2, 2015 at 12:00 PM (CDT)
Add to my calendar
Organizer
RUIZ FINANCIAL GROUP, LLC