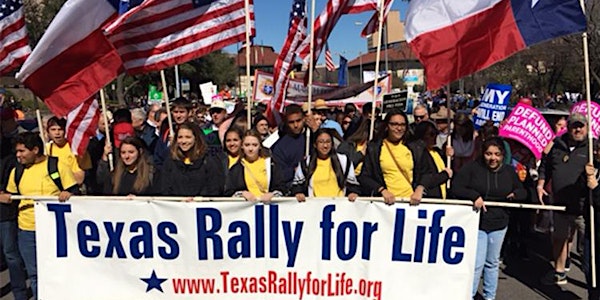 TEXAS RALLY FOR LIFE, JANUARY 28, AUSTIN CAPITOL
DEANERY CO-OP PROLIFE BUS TO THE RALLY FOR LIFE!
When and where
Location
Texas Capitol 1100 Congress Avenue Austin, TX 78701
About this event
The Supreme Court overturned Roe v. Wade returning the power to legislate abortion to the people and their elected representatives. It is as important now as ever before for YOU to attend the Texas Rally for Life!
Join thousands of Texans from across the state at the 2023 Texas Rally for Life. Show our elected officials, the media, and the Supreme Court that Texas is pro-life!
This event commemorates the Supreme Court's tragic Roe v. Wade decision that imposed legal abortion on Texas and the entire nation throughout all nine months of pregnancy and celebrates the overturning of the terrible precedent set in 1973 … let's continue the work of turning the tide against this injustice.
1. SIGN UP USING THIS EVENTBRITE SIGN UP: 
With your $15 fee, you will receive a light breakfast, juices, bottled water and transportation to/from St. Stephen to the listed events.  Please follow this 1, 2, 3, 4, 5 list and prepare accordingly.  
2. Consent Forms: We will be requiring ALL passengers to submit a Consent Form prior to boarding the bus.  Please have the parent of any minors (youth) fill out the appropriate Parental Consent Form and all the adults (chaperones, attendees, participants) fill out the corresponding Adult Consent form (both attached herewith).  Please inform me of any students/children under the age of 10 as the transportation team requires this information.
3. Plan on arriving St. Stephen at 7:30 a.m. at the latest to ensure that all forms are submitted, you get your breakfast/bathroom break, and that we don't miss any "last minute" issues.
4. The following is the schedule of pickup/drop off locations and approximate departure times.  PLEASE plan on staying with the group in order to avoid "losing" passengers mid-event. 7:30 a.m. Submit Consent forms and eat breakfast/use facilities, MEET IN PARISH HALL.8:00 a.m. Bus ride will depart from SAINT STEPHEN, SALADO and return approximately by 4pm.
9:20 a.m.  Rosary of Mercy and HealingMass University Catholic Center2010 University Ave, Austin, TX 7870510:00 a.m. Mass of Thanksgiving for the Gift of Human Life, University Catholic Center
Main Celebrant: Very Rev. James Misko, Vicar General
Noon: Break for quick "Dutch Lunch" (Walking options from Univ Catholic Center include "Burrito Factory", "Poke Bay", "CkickFilA", and "P Terrys".   Riders are expected to return to the bus by 12:45.)12:45 p.m. Load buses and ride to 1204 San Jacinto Blvd, drop off1:00 p.m. March to the Capitol2:00 p.m. Rally at the Capitol3:00 p.m. Load buses and ride home4:00 PM Approx return time to St. STEPHEN.
5. CALL TO ACTION!
DIAPER DRIVE - please bring A PACKAGE/BOX of baby diapers of any size (most pregnancy resource centers always are short on size 5 and size 6). We want to make a HUGE pile on stage. Bring the diapers to the MEETING LOCATION at 14th & Brazos