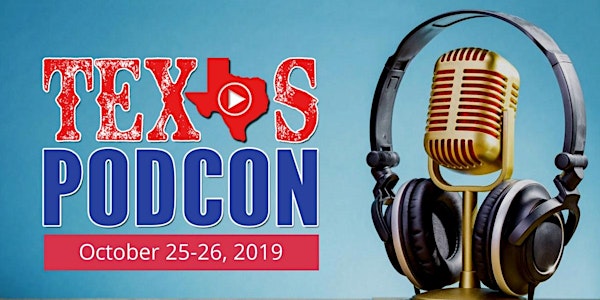 Texas Podcast Conference - TexasPodCon
When and where
Location
Tripoint - Grantham Hall 3233 N. St. Mary's St. San Antonio, TX 78212
Description
Welcome to TexasPodCon
Listen up, Texas! Are you looking to add a podcast to your marketing efforts? Are you interested in learning recording secrets that will amp up the quality of your production with minimal investment? Are you wondering how podcasts can increase your brand recognition? You've come to the right place.
The podcasting industry is on the rise and TexasPodCon is amped up to share best practices and insider tips that will elevate your podcast and keep your audience listening. From open forums to hands-on demonstrations, we're excited to break down the barrier to entry in this rising field. Whether you're a business, solopreneur, agency, or sound enthusiast, we invite you to join us for the first annual Texas Podcasting Convention.
More event details can be found on the Texas Podcast Conference site.
What Business Professionals Will Learn
Ready to take the deep dive into podcasting to share your business message?
Then the Texas Podcast Conference is the best place to start! Learn from podcast industry professionals with 15 years of experience. Meet with podcast production companies who can take the heavy lifting out of the tech side of podasting so you can focus on sharing your message with the world. Test out micropones, room treatments, home and office studio setups, and more at this hands-on conference.
Best of all immerse yourself in the world of podcasting for two days filled with in-depth knowledge to take your podcast from idea to launch. From mobile podcasting options to full fledged studio setups, you will leave knowing exactly which level of podcasting will fit your business best and how to take immediate action to launch your podcast now!
Our Speakers
Ready to get the inside scoop from industry experts? Join us for daily sessions with guest speakers who will delve into the importance of quality production and share the keys to developing a successful podcast. Morning and afternoon sessions are included for all TexasPodCon attendees, so make the most of your ticket!
Featured Sessions & Interactive Experiences
Unlike most conferences, we recognize that hours of lectures can start to feel repetitive and downright boring. We're excited to present keynotes from high profile industry experts as well as action packed short nuggets of information. Get ready for hands-on learning environments, interactive experiences, key insights and more! Record yourself in a sound booth and compare the difference to recording amongst a rack of coats. Get up close and personal with a high-quality recording interface. Join your peers in an experience like no other.
Find out more at the Texas Podcast Conference site.
Podcasting for Everyone
The beauty of podcasting is that anyone can do it. At TexasPodCon we're on a mission to break the entry barrier to the podcasting world so businesses and individuals alike can feel comfortable diving in. We'll provide you with educational materials, introduce you to professionals who can get your podcast idea off the ground, and show you how to set up your own at-home studio. Podcasting is the best way to share your marketing message in a way that truly captures your target audience attention.
Get Heard
Not sure how to break into the podcasting business? You're not alone. TexasPodCon wants to open the doors of the podcasting industry to small businesses, individuals, agencies, music studios, and hobbyists. There's no better way to make your voice heard than launching your own podcast. Join us to learn how to get started and jump into the action. We can't wait to hear what you've got to offer!
Speaker and session info can be found on the Texas Podast Conference site.
---
Featured Sessions:
The Four Levels of Podcasting: From Mobile to Production Team this session will give you the clarity you need to know which level of podcasting is right for you.
Business Success with Podcasts: You've got a great product or service and need to reach your target market. You might be surprised that successful entrepreneurs and business owners are using podcasts to propel their profits forward.
Starter Guide to Content Creation: You're ready to share your message through podcasting, but what should you talk about? In this session learn the tried and true content creation strategies the pros use.
Hands-on Sessions:
• Microphone Demos: Mobile solutions to full fledged studio mics. Test out the mics to hear which one makes your voice sound warm and smooth.
• Room Treatments: From open rooms to walk-in closets and moving blankets to acoustic panels learn everything you need to know to get the best sound no matter where you record.
• Podcast Recording Sessions: Don't go home empty handed! We'll have a production team on hand to record your first podcast episode.
Speakers and more sessions will be updated soon.
---
speakers, sessions, vendors, and more!
---
Sponsor TexasPodCon and Support the Movement
Interested in becoming a sponsor? You're in good company! We are building the premier podcasting conference in Texas. Why? Because we like everything big and bold in Texas! We're also passionate podcasting evangelists who believe podcasting is the next horizon for marketing and media.
Through TexasPodCon, our sponsors will recieve focused exposure both at the conference and through our multi-media social media presence. Put your product, service or message in front of business professionals and business leadership by sponsoring TexasPodCon. Get in touch if you'd like to learn more about our plans or need additional information about our partner packages.
---
Grantham Hall Lobby