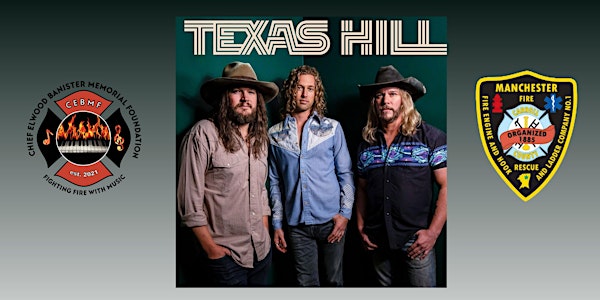 Texas Hill at Manchester Volunteer Fire Company
Event Information
Location
Manchester Volunteer Fire Company Carnival Grounds
3297 York St
Manchester, MD 21102
Refund policy
Contact the organizer to request a refund.
Eventbrite's fee is nonrefundable.
Nashville recording artist Texas Hill comes to Manchester Volunteer Fire company
About this event
Tickets: $30.00 General Admission
$35.00 at the gate
$40.00 VIP ( includes premium seating and free drink )
Bring lawn chairs and blankets.
Adult beverages, soft drinks and food will be available for purchase.
Texas Hill is the new vocal trio of Craig Wayne Boyd, Adam Wakefield and Casey James. Craig Wayne Boyd offers a voice full of gospel-tinged country smoke, Adam Wakefield blends a rootsy bluegrass-and-Americana rasp, and Casey James wraps it with a blue-eyed soul quality and deft blues guitar chops. The result is a band that's both rock solid and highly adaptive. Texas Hill is instantly identifiable, thanks to its well-developed signature sound: a proud, in-your-face harmonic wall. Each of the individual Texas Hill members earned a national presence as contestants on TV music competitions – Boyd and Wakefield were both members of Blake Shelton's team during different seasons of NBC's The Voice, and James developed a following during the Simon Cowell era of FOX's American Idol. Texas Hill's highly anticipated debut album Heaven Down Here was recently released January 21, 2022. Sounds Like Nashville praised the project, "With its real-life-inspired lyricism and multi-genre stylistic influences – which melds soul, R&B, country, southern rock, and even some Memphis blues – Heaven Down Here encapsulates the true spirit of down-home music... an easy-listen and strong appeal to both country and non-country fans."
https://www.texashillofficial.com/
Josh Christina, a local Baltimore singer songwriter and Nashville recording artist founded the Chief Elwood Banister Memorial Foundation to honor his grandfather, the late Elwood "Woody" Banister. Woody and his wife, Boots, both passed away within one week of each other from COVID‐19 in late 2020. The mission of the foundation:
 to assist volunteer fire companies in their fundraising efforts;
 to support these fire companies through financial assistance; and
 to support those who are interested in joining the fire service through scholarships.
Christina's vision is to bring together local communities nationwide for community concerts to raise money to fulfill the mission of the foundation.
In his announcement, Christina noted, "My grandfather recognized the dependence of volunteer fire companies on fundraising. With this foundation I hope to continue his vision to raise funds for fire companies. He truly was a legendary figure and valued the history and tradition of the fire service."
Chief Banister was a tremendously important figure in the history of the Baltimore County Fire Department and the Baltimore County Fire Service. The Fire Service was Chief Banister's life, and he made a profound impact on so many in the fire service. His legacy is one that will resonate through time.
Chief Banister joined BCoFD in 1956 and rose through the ranks until 1991, when he was appointed Chief. He retired as Fire Chief in 1994. During his 38‐year career, he was a leader at the state and national levels, participating in numerous fire organizations. He was fluent and skilled in virtually every aspect of the profession and established many traditions—such as an annual Baltimore County Fire Service memorial service and formation of an honor guard—that continue to this day.
In retirement, Chief Banister was a constant presence and powerful force in Baltimore County. He was an active member of the Cockeysville Volunteer Fire Company for 66 years. He was a most conscientious custodian of Fire Service history and tradition; the Fire Museum in the lobby of the Public Safety Building originated with him.
To learn more about Josh Christina and to be involved in the Foundation, visit http://www.joshchristinamusic.com/cebmf
Date and time
Location
Manchester Volunteer Fire Company Carnival Grounds
3297 York St
Manchester, MD 21102
Refund policy
Contact the organizer to request a refund.
Eventbrite's fee is nonrefundable.