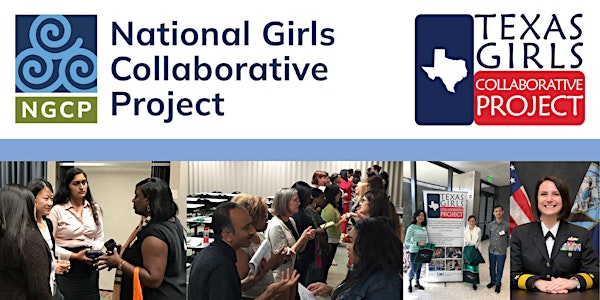 Texas Girls Collaborative Project: Houston Navy Week STEM Coffee Chat
Join STEM advocates & educators from across Houston for a Houston Navy Week STEM Coffee Chat with US Navy Rear Admiral Jennifer Couture
When and where
Location
Hampton Inn & Suites Houston (East Beltway 8) 14120 Karissa Court Houston, TX 77049
About this event
Join STEM advocates and educators from across the Houston area for a Houston Navy Week STEM Coffee Chat with Rear Admiral Jennifer Couture of the United States Navy. Get a behind-the-scenes peek into STEM in the Navy: technology advances and innovations that are keeping our country safe and secure, STEM career pathways in the Navy, and more!
Agenda:
8:00 – 8:10 a.m. Welcome, TxGCP Overview, Introductions
8:10 – 8:30 a.m. Rear Admiral Jennifer Couture, United States Navy
8:30 – 9:00 a.m. Q&A
9:00 – 9:30 a.m. Open Networking
About Rear Admiral Jennifer Couture:
Rear Adm. Couture is a native of Vineland, New Jersey. She commissioned through the NROTC program at the George Washington University in 1995 and she received a Bachelor of Arts in International Relations. She holds a master's degree in International Studies from Old Dominion University, and she completed her Joint Professional Military Education as a student of the U.S. Naval War College and the Joint Forces Staff College.
At sea, Couture served onboard USS Wasp (LHD 1), USS Saipan (LHA 2) USS Elrod (FFG 55), USS Leyte Gulf (CG 55), and USS Porter (DDG 78). She commanded USS Kauffman (FFG 59) and Destroyer Squadron 28 where she deployed twice as the Sea Combat commander with Harry S. Truman Carrier Strike Group. She has deployed in support of Operations Joint Endeavor, Active Endeavor, Iraqi Freedom, Enduring Freedom and Inherent Resolve.
Ashore, Couture served as current surface operations officer for Commander, U.S. Atlantic Fleet; flag secretary to Commander, Naval Surface Force Atlantic; contingency plans officer, U.S. Joint Forces Command; and, assistant chief of staff for Manning, Manpower, and Personnel (N1) for Commander, Naval Surface Force Atlantic. Couture also served as a federal executive fellow at the Center for a New American Security and as special assistant for legislative matters to the Chief of Naval Personnel.
Her most recent assignment prior to Naval Service Training Command was as director for the Commander's Action Group, for Commander, Naval Surface Force Atlantic.
She has earned numerous personal awards including the Legion of Merit (second award) as well as various other personal, unit, and service awards.
_____________________________________
The Houston Navy Week STEM Coffee Chat is led by the Texas Girls Collaborative Project Houston Regional Leadership Team and Houston-area Champions Board members.
THANK YOU to Hampton Inn & Suites Houston East Beltway 8 for providing the space and opening the doors to TxGCP and the Navy for this exciting event!
All registrants will be added to the Texas Girls Collaborative Project monthly eNewsletter.